Enterprise Products Partners L.P. (NYSE:EPD): Put Your Money on Cruise Control with This High-Yield Stock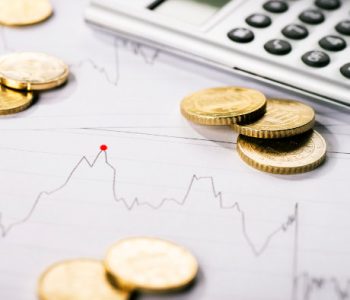 iStock.com/gopixa
Cash Cow Business Paying Investors 6.84%
Imagine putting your money in a stock, collecting a rising stream of dividends, and never having to worry about that position again. That would be the perfect scenario for income investors. Unfortunately, not many companies offer this kind of opportunity. An earnings miss, a bad reading from an economic indicator, or simply an unexpected move in commodity prices, are just few of the things that can keep a stock market investor up at night.
Today, I'm going to show you a stock that actually allows investors to put their money on cruise control. And it comes from a quite unexpected sector: energy.
Enterprise Products Partners L.P. (NYSE:EPD) is a master limited partnership (MLP) headquartered in Houston, Texas. The partnership specializes in providing midstream energy services. It went public in 1998, with approximately $715.0 million of assets. Today, EPD is one of the largest players in the business, commanding more than $50.0 billion in market cap.
In a market where the average S&P 500 company yields less than two percent, Enterprise Products Partners stands out due to its generous payout. The partnership currently pays quarterly distributions of $0.4225 per unit, giving the stock an annual yield of 6.84%.
Also Read:
MLP Stock List: Earn Reliable Income From These Energy Partners
Of course, there are plenty of stocks with even higher yields. But, with those ultra-high yielders, there's usually some concern about their dividend safety. And, for income investors, few things are worse than getting into a stock before its dividend gets cut.
With EPD, there's little need to worry about the safety of its distributions, because the company basically runs a cash cow business.
You see, EPD's main business is to operate midstream energy infrastructure, which includes approximately 50,000 miles of pipelines, storage terminals, natural gas procession plants, and import and export terminals. Energy companies pay EPD a fee to move, store, or process their energy products. The fee-based nature of EPD's business, combined with a growing asset base, allowed the partnership to pay not just a steady dividend, but an increasing one.
The chart below shows EPD's distribution history for the last five years.
Enterprise Products Partners L.P. Distribution History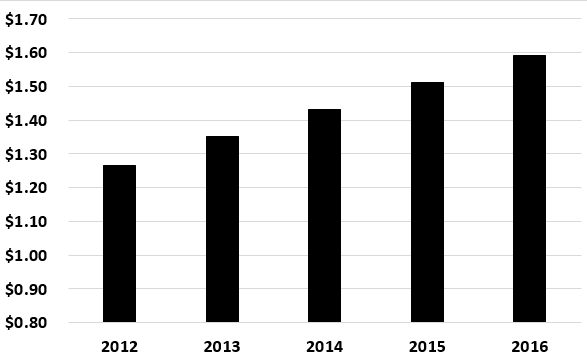 (Source: "Distribution Payments," Enterprise Products Partners L.P., last accessed October 27, 2017.)
In 2012, Enterprise Products Partners declared and paid total distributions of $1.27 per unit. By 2016, the amount had grown to $1.59 per unit, for an increase of 25%. And since the partnership's initial public offering (IPO) in July 1998, it has raised its payout a total of 62 times, the latest 53 of which were consecutive quarterly increases.
In other words, income investors of EPD stock have been getting a pay raise every three months for more than a decade. Neither the Great Recession nor the recent downturn in commodity prices stopped the partnership from raising its payout.
And, because EPD's business is capable of generating oversized cash flows, its payout is more than safe, despite the frequent increases. In the second quarter of 2017, Enterprise Products Partners generated $1.1 billion of distributable cash flow, which provided 1.2 times coverage for the $0.42-per-unit cash distribution for the period. (Source: "Enterprise Reports Results for Second Quarter 2017," Enterprise Products Partners L.P., August 3, 2017.)
In the first half of 2017, the partnership's dividend coverage ratio also came in at 1.2 times, leaving a sizable margin of safety.
Not all high-yield stocks are safe picks. But, with a midstream business that's capable of generating steady cash flows through thick and thin, Enterprise Products Partners could be worth considering for those looking for a "set and forget" income investment.