Enterprise Products Partners L.P.: Insiders Buying This 6% Dividend Stock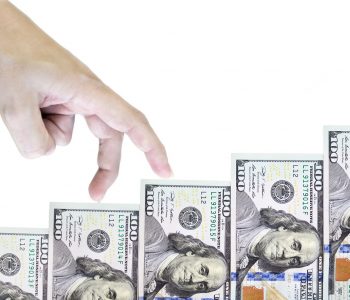 Insiders Love Enterprise Products Partners L.P.
If you want to make money in stocks, then you need to follow one simple rule: "Watch what people do, not what they say."
Every executive says their business has great prospects. But it's only when they put their money where their mouth is and buy shares that you know they're serious.
For that reason, I always watch insider purchases to spot new investment ideas.
Case in point: pipeline giant Enterprise Products Partners L.P. (NYSE:EPD).
In a series of transactions in December, Enterprise Products executives bought over 2.1 million EPD units. These purchases had a total value of $58.3 million. (Source: "Enterprise Products Partners L.P. (EPD) – Insider Trading," Insider Monkey, last accessed January 15, 2020.)
This string of purchases by insiders represents a large vote of confidence in the business. Income hunters should take notice.
Executives sell shares for all sorts of reasons, but there's only one reason why they buy: they think their company's stock has a lot of upside potential.
Admittedly, the energy patch has fallen out of favor on Wall Street. And for good reason.
The industry has suffered under the weight of soaring costs and low oil prices. Only one in 10 U.S. shale drillers generate free cash flow, and investors have tired of the growing losses on their income statements.
Traders haven't even spared "steady Eddie" pipeline stocks. Enterprise Products Partners L.P., whose infrastructure assets have thrown off growing cash flow in spite of lower oil prices, has traded sideways for five years.
Today, EPD units sell for just 12 times last year's profits. This is the partnership's lowest earnings multiple since the last financial crisis.
Enterprise's prospects, however, remain bright.
Recently, the Energy Information Administration raised its estimate for U.S. crude oil production. The agency now estimates that the industry output will top 13.3 million barrels a day in 2020 and 13.7 million barrels a day in 2021. (Source: "EIA raises 2020 oil price forecasts, sees U.S. crude output records this year and next," MarketWatch, January 14, 2020.)
Enterprise Products' pipeline network, which connects a number of fast-growing shale fields to refineries and terminals on the coast, is positioned to capture a large chunk of this growth.
And management plans to pad its bottom line further through the construction of new lines, processing plants, and export terminals.
Overall, analysts project the company's cash flows to grow at a high single-digit clip over the next five years.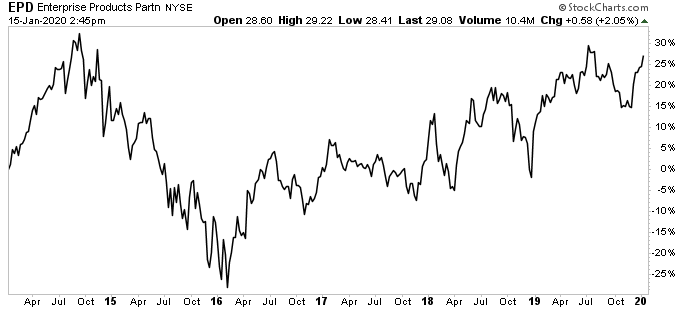 Chart courtesy of StockCharts.com
EPD unitholders will get well paid while they wait for this growth story to play out.
Earlier in January, Enterprise Products executives raised the quarterly distribution one percent to $0.45 apiece. That increases the forward yield on units to over six percent—a respectable payout in a world of zero-percent interest rates.
Of course, there's no sure thing in investing. Because pipeline stocks compete directly with bonds for capital, a spike in interest rates could clip Enterprise Products' unit price. Furthermore, a prolonged slump in the oil patch could dial back the partnership's growth prospects.
That said, management has backed up the truck and started buying EPD units hand over fist. That's almost like management yelling into a megaphone and telling Wall Street, "Our stock is too cheap!"
Dividend investors might be wise to look closely at this stock.