Enterprise Products Partners L.P.: Billionaire Quietly Buying This 7% Dividend Stock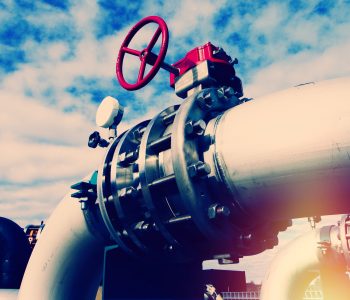 iStock.com/Nostal6ie
Smart Money Buying This Stock
Today I want to check in on the trading activity of one of my favorite investors… billionaire T. Boone Pickens.
Pickens got his start in the oil patch as a wildcatter during the 1960s. He pyramided his wealth over the following decades, both as a corporate raider and as an energy speculator.
For this reason, I always watch to see where Pickens puts his cash to work. And in recent months, he has made a large bet on pipelines. His hedge fund, BP Capital, has quietly bought up stakes in a number of names, including Williams Partners LP (NYSE:WPZ), Phillips 66 Partners LP (NYSE:PSXP), and Energy Transfer Partners LP (NYSE:ETP).
He has also made moves in another company. According to the fund's most recent Securities and Exchange Commission (SEC) filings, Pickens boosted his stake in Enterprise Products Partners L.P. (NYSE:EPD) by 34%. His fund now owns more than 537,000 units, representing the largest position in BP Capital's portfolio. (Source: "Hedge Fund – BP Capital," Insider Monkey, last accessed April 25, 2018.)
As regular readers know, we're big fans of the pipeline business.
Enterprise's assets serve as the "toll roads" of the energy industry, moving commodities like oil, natural gas, and other refined products across the country. In exchange for these services, the partnership collects a fee on every barrel that moves through its network.
Most of this income gets passed onto investors. Enterprise pays out a quarterly distribution of $0.43 per unit, which comes out to an annual yield of nearly 6.4 percent. A payout, by the way, that has rolled in like clockwork for decades.
And now seems like an especially good time to scoop up shares.
Traders have soured on the oil patch, following the drop in energy prices. Even pipeline stocks, which have relatively little exposure to the swings in commodity markets, have come under pressure.
Washington hasn't helped matters, either. Regulators have threatened some of the tax benefits that favor the industry, which could make pipeline stocks potentially less attractive to own. As you can see in the chart below, the uncertainty has triggered an unusual sell-off in Enterprise units.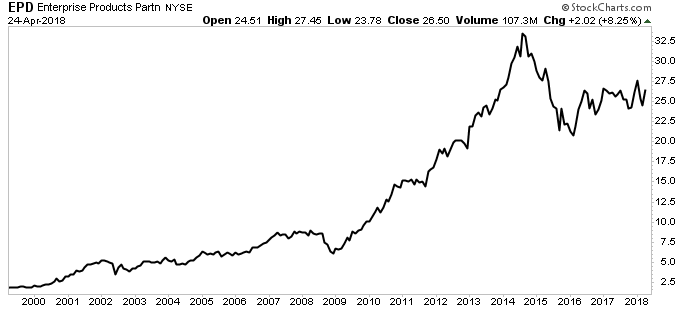 Chart courtesy of StockCharts.com
And Pickens isn't the only one excited about Enterprise.
Company insiders have backed up the truck. In the past few weeks, a number of executives and directors have purchased large blocks of units in the open market.
We've also seen an uptick in hedge fund activity. Over the past few quarters, hedge fund manager James Dondero has quietly built a position in the partnership. Other money mavens—including George Hall, Russell Lucas, and Israel Englander—initiated or increased the size of their stakes. (Source: "Enterprise Products Partners L P (EPD) – Hedge Fund Holdings," Insider Monkey, last accessed April 25, 2018.)
What could have these guys so excited? I'd say it means one thing: there's a lot of upside ahead.