Enterprise Products Partners: A Rock Solid 7% Yield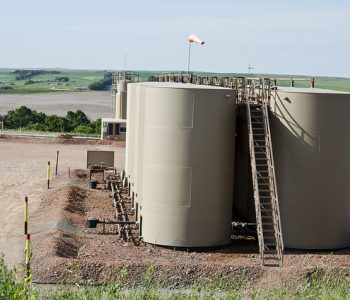 Tim Evanson/Flickr
The Safest 7% Yield Around
You should skip over most high-yield stocks. Most large payouts get slashed sooner or later. We all love extra big yields, but big yields tend to come with a extra degree of risk.
Today's stock, though, should inspire confidence: Enterprise Products Partners L.P. (NYSE:EPD). This master limited partnership (MLP) owns thousands of miles of pipelines across the country, in addition to several energy terminals and processing plants. These facilities ship, store, and process millions of barrels of crude each day.
The best part? Income. Dividend hunters have long prized pipelines for their reliable distributions. And with a yield approaching seven percent, a lot of investors have taken noticed.
But can you trust such a high payout? Usually, I would give you a flat "no." But in the case of Enterprise Products Partners, we have good reason to bank on this distribution. Let's take a quick look at the numbers.
To begin with, management has left themselves lots of breathing room. Last year, this business generated $4.5 billion in cash flow. Of this total, management paid out $3.6 billion in distributions. This comes out to a payout ratio of 80%. The lower this number, the more wiggle room management has to sustain the payout. So in the case of Enterprise, we have more than enough cash flow to cover the distribution here.
That cash flow should continue to grow as well. Pipeline volumes grow slowly but relentlessly over time, and each year, management raises the price of shipping products along its network.
Analysts project Enterprise Products Partners' cash flow to top $4.8 billion in 2018, up 7.1% from last year. This figure could be boosted by additional acquisitions, assuming Enterprise doesn't overpay. Regardless, a bigger stream of income will likely result in higher distributions.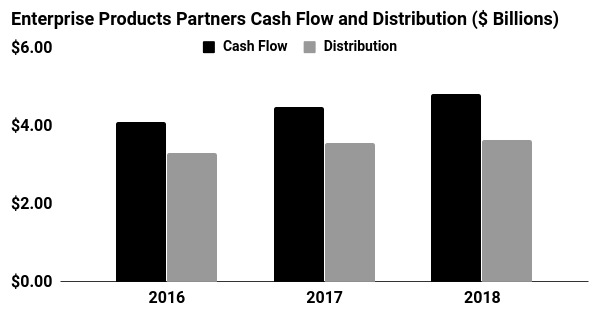 Source: "Investors," Enterprise Products Partners L.P., last accessed March 26, 2018.

The big question mark here? Debt. Enterprise has borrowed a lot of money to fund its business. You can't necessarily call that a bad idea, given the predictable income pipelines generate.
However, higher interest rates will eat into profits down the road. An increase in borrowing costs will also make new projects more difficult to fund, potentially reducing the pace of distribution hikes in the future. But for now, Enterprise Products Partners' solid financials and growing cash flows make this one of the safest seven percent yields around.