Ennis, Inc.: Ultra-High Yielder One of the Best-Kept Secrets on Wall Street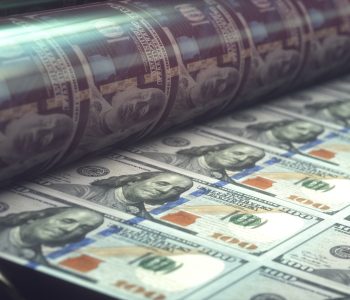 EBF Stock One of the Most Reliable Stocks for Dividend Hogs
The TV show The Office didn't have to go far to make office supplies seem boring. Having spent a long summer working in a small, family-run stationery store, I can attest to the reliability of this depiction. Lack of thrills aside, astute investors know that the business supplies industry can be exceptionally lucrative. In fact, Ennis, Inc. (NYSE:EBF) might be one of the best dividend stocks you've never heard of.
Founded in 1909 as a single print shop in Ennis, TX, the company has expanded to more than 55 locations across the U.S., making it one of the leading manufacturers and suppliers of print products. (Source: "About," Ennis, Inc., last accessed December 20, 2021.)
The company's offerings include snap sets, continuous forms, laser-cut sheets, tags, labels, envelopes, jumbo rolls, and pressure-sensitive products in short, medium, and long runs. Approximately 92% of the products the company manufactures are customized or semi-customized in terms of size, color, number of parts, and quantity.
With a market cap of $501.0 million, Ennis, Inc. is able to maintain a leading industry position through a series of strategic, accretive acquisitions. The company's 36 subsidiaries include Adams McClure, Computer Forms, Inc., Atlas Tag & Label, ColorWorx, and Wright Business Graphics.
In June, Ennis announced that it had acquired the assets and business from AmeriPrint Corporation in Harvard, IL. AmeriPrint is a trade printer that specializes in custom-printed documents, barcoding, integrated products, and business forms. (Source: "Ennis, Inc. to Acquire Assets of AmeriPrint Corporation," Ennis, Inc., June 2, 2021.)
That doesn't mean Ennis gets bigger just for the sake of it. The company has announced that it's in the process of consolidating some of its underperforming manufacturing facilities into existing locations that have excess capacity. That will reduce costs and improve operational efficiency.
Another Excellent Quarter
Despite COVID-19 shutting down many businesses, quarantined Americans working from home, inflation putting pressure on finances, and supply chain issues causing economic disruptions, Ennis has continued to report consistently solid financial results.
For the second quarter ended August 31, Ennis announced that its revenue increased by 16% year-over-year to $100.5 million. Its net income advanced 17% to $7.5 million, or $0.29 per share. Its gross profit margin for the second quarter was $28.9 million, or 28.8%. (Source: "Ennis, Inc. Reports Results for the Quarter Ended August 31, 2021 and Declares Quarterly Dividend," Ennis, Inc., September 21, 2021.)
The company's year-to-date revenue went up by 12.4% year-over-year to $197.4 million, while its year-to-date earnings were $0.57 per share, compared to $0.41 per share in the same period last year. Its year-to-date gross profit margin was $58.1 million, or 29.4%.
Ennis, Inc.'s management noted that the company has been adjusting its pricing to cover paper inflation during the year. They expect to make "additional pricing adjustments" to maintain the company's gross profit margins, which are currently at historic levels.
Keith Walters, chairman, CEO, and president, commented in September, "We believe we have one of the strongest balance sheets in the industry, with low debt and significant cash. We have not borrowed against our [long-term bank line of credit] for three consecutive years[,] which expires in November 2021." (Source: Ibid.)
"With our profitability and strong financial condition that has allowed us to fund acquisitions without incurring debt, we are considering the nonrenewal of the facility or renewing with a smaller line of credit limit."
Ennis Stock's Quarterly Dividend Hiked by 11%
In April, Ennis, Inc. announced that it had increased its quarterly dividend from $0.225 to $0.25 per share. In September, it again declared a quarterly dividend of $0.25 per share, for a yield of 5.2%. The current payout ratio is 84.9%, meaning EBF stock's payout is safe.
In addition to providing investors with stable, high-yield dividends, Ennis stock has rewarded buy-and-hold investors with share-price growth. EBF stock is up by 8.6% over the last three months and 14% year-over-year.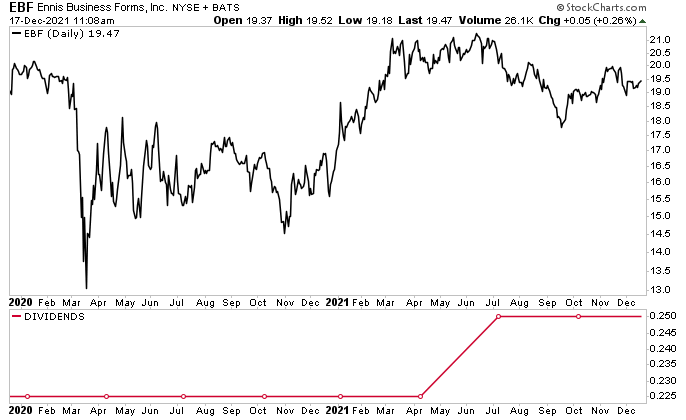 Chart courtesy of StockCharts.com
The Lowdown on Ennis, Inc.
Ennis, Inc. might operate in a boring industry, but Ennis stock's returns are anything but boring.
The company's solid financial position, huge industry footprint, anticipated cash flows, and focus on accretive acquisitions should continue to reward shareholders over the long run.