Ennis, Inc. Is a Solid Dividend Stock From an Unlikely Industry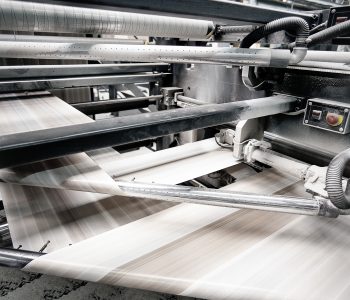 EBF Stock Pays Generous Distributions
With almost every piece of information being available in digital form, the printing business doesn't exactly look that attractive. Yet Ennis, Inc. (NYSE:EBF), a century-old company that engages in the production and sale of printed business products, has been delivering some very impressive returns to income investors.
Founded in 1909, Ennis started as a single printing shop in Ennis, Texas. Today, the company is one of the leading manufacturers and suppliers of printed products for the wholesale trade in the U.S., with 55 locations in 21 states. Its products include stock and custom business forms, checks, envelopes, plastic cards, and multimedia packaging. (Source: "Company Profile," Ennis, Inc., last accessed December 31, 2019.)
Ennis is also a dividend payer. Recently, the company's board of directors declared a quarterly cash dividend of $0.225 per share, which will be paid on February 7 to shareholders of record as of January 10. (Source: "Ennis, Inc. Reports Results for the Three and Nine Months Ended November 30, 2019 and Declares Quarterly Dividend," Business Wire, December 20, 2019.)
With Ennis stock trading around $21.70 per share, that quarterly rate translates to an annual dividend yield of 4.1%.
To put that in perspective, the average S&P 500 company pays just 1.8% at the moment. (Source: "S&P 500 Dividend Yield," Multpl.com, last accessed December 31, 2019.)
Furthermore, the company's dividend has been growing. Consider that, in 2014, Ennis was paying quarterly dividends of $0.175 per share. So, over the last five years, EBF's payout has increased by 28.6%. (Source: "Ennis, Inc. Common Stock (EBF) Dividend History," Nasdaq, last accessed December 31, 2019.)
Mind you, dividends aren't the only thing that EBF stock investors have earned over the years; the company has delivered some very impressive share-price performance. Over the past five years, Ennis stock has gone from $13.80 to its current price, marking a gain of nearly 60%.
The best part is, despite being around for over 100 years, the company's business is still increasing.
A Growing Century-Old Business
In the same press release that announced its latest dividend, Ennis reported the financial results for the third quarter of its fiscal-year 2020, which ended November 30, 2019. For the reporting quarter, the company generated $114.9 million of revenue, representing a 6.3% increase year-over-year. (Source: Business Wire, December 20, 2019, op. cit.)
The bottom line improved as well. In the third fiscal quarter, the company's net earnings came in at $10.6 million ($0.41 per diluted share), up from the $10.4 million ($0.40 per diluted share) in the year-ago period.
Another thing about EBF stock that's worth noting for income investors is that the company has been pursuing a share repurchase program. In its fiscal-year 2019, which ended February 28, 2019, the company repurchased 247,788 shares of its common stock, at an average price of $19.42 per share. (Source: "2019 Annual Report," Ennis, Inc., last accessed December 31, 2019.)
In its most recent fiscal quarter, Ennis repurchased another 42,279 shares. (Source: Business Wire, December 20, 2019, op. cit.)
Just like paying dividends, a stock buyback program is a way for companies to return cash to their investors. With buybacks, shareholders don't get a check in the mail like they do with dividends. But by repurchasing its own shares, Ennis reduces the number of shares outstanding and allows each remaining investor to own a slightly larger portion of the company.
Since the creation of its current stock repurchase program in October 2008, Ennis has bought back about 1.8 million shares of its own stock.
Bottom Line on Ennis, Inc.
As I always say here at Income Investors, boring businesses can sometimes deliver exciting returns. Ennis, Inc. serves as the latest example.
While I doubt that the Ennis stock price will keep shooting through the roof, the company should have no problem continuing to deliver oversized dividend checks to its investors.