EnLink Midstream LLC Stock Up 136% YTD & Provides Frothy 4.6% Dividend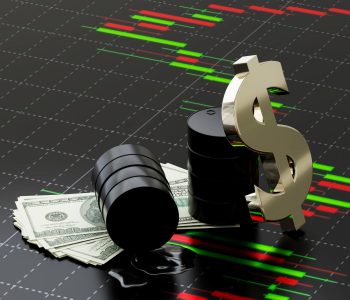 ENLC Stock Bullish on High Commodity Prices
Some investors are in it for the long haul and others like to play economic cycles. Either type should be loving what's been going on in the energy sector, especially the oil and gas industry.
Crude oil prices are up by 70% this year, trading above $82.00 per barrel. Many analysts predict that crude oil will top $100.00 per barrel over the coming months. The big moves have come on the heels of the global economic recovery, the supply/demand imbalance, and the refusal of the Organization of the Petroleum Exporting Countries Plus (OPEC+) to increase its output.
This perfect storm is helping send the share prices of oil and gas companies like EnLink Midstream LLC (NYSE:ENLC) significantly higher.
As of this writing, EnLink Midstream LLC stock is up by:
23% month-over-month
60% over the last three months
136% year-to-date
260% year-over-year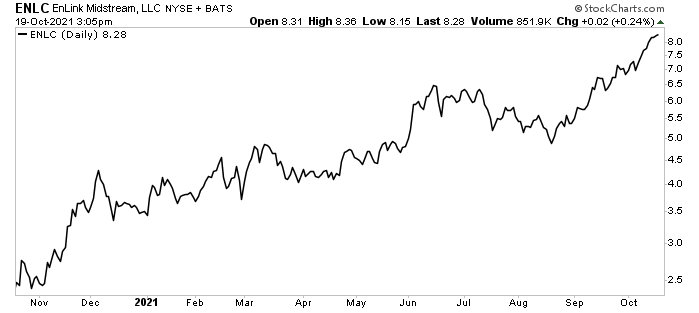 Chart courtesy of StockCharts.com
What's the big deal about EnLink Midstream LLC?
It's a leading midstream energy company with natural gas, natural gas liquid, crude oil, and oil condensate service assets strategically located in the core growth areas of the Permian Basin, Central Oklahoma, North Texas, and the Louisiana Gulf Coast. (Source: "Operations," EnLink Midstream LLC, last accessed October 20, 2021.)
The company operates:
A dense network of 12,000 miles of pipeline
21 processing facilities with 5.3 billion cubic feet per day of total processing capacity
Seven fractionators with 290,000 barrels per day of net fractionation capacity
Barge and rail terminals
Product storage facilities
Brine disposal wells
An extensive crude oil trucking fleet
It also has purchasing and marketing capabilities, as well as equity investments in joint ventures.
(Source: "Barclays CEO Energy-Power Conference," EnLink Midstream LLC, September 9, 2021.)
EnLink Midstream LLC Maintains Quarterly Dividend
Despite ENLC stock's massive share-price gains, EnLink Midstream LLC manages to pay out frothy dividends.
In July, the company announced a second-quarter distribution of $0.09375 per share, unchanged since the first quarter. This works out to an annual distribution of $0.38 per share and a yield of 4.6%. (Source: "EnLink Midstream Declares Quarterly Distribution and Schedules Call to Discuss Second Quarter 2021 Earnings," EnLink Midstream LLC, July 19, 2021.)
The yield would be much higher, but EnLink Midstream LLC stock's recent share-price gains have put a dent in that. The company's five-year average dividend yield is 12.8%.
Since a stock's yield is based on its share price, I can't imagine there are too many investors who would complain about ENLC stock's scorching share-price gains.
Strong Q2 Results & Increased Guidance
EnLink Midstream LLC's asset portfolio provides it with healthy and stable cash flow. For the second quarter ended June 30, the company reported net income of $9.4 million, net cash of $176.4 million, and adjusted earnings before interest, taxes, depreciation, and amortization (EBITDA) of $258.0 million. (Source: "EnLink Midstream Reports Second Quarter 2021, Expects 2021 Adjusted EBITDA in the Upper End of June Guidance," EnLink Midstream LLC, August 3, 2021.)
In addition to announcing increased second-quarter producer activity, the company continued to generate positive cash flow from all four of its business segments during the quarter, totaling $71.5 million of free cash flow after distributions (FCFAD). On a trailing 12-month basis, it generated $359.4 million in FCFAD.
During the second quarter, EnLink Midstream LLC paid down $100.0 million of a December 2021 term loan and repurchased 10 million of its own shares.
The company also announced that it had formed EnLink Carbon Solutions Group to develop carbon solutions services built on EnLink Midstream LLC's extensive business footprint and customer relationships in Louisiana. The company has the largest intrastate network in Louisiana, which connects it to industrial customers in one of the areas with the highest concentrations of CO2 emissions in the nation.
Thanks to the momentum in producer activity and high commodity prices, in June, EnLink Midstream LLC raised its full-year guidance:
Net income guidance increased by $60.0 to $135.0 million at the midpoint
Adjusted EBITDA guidance increased by seven percent from $970.0 million to $1.0 billion at the midpoint
FCFAD guidance was $350.0 million at the midpoint
(Source: "EnLink Midstream Increases 2021 Guidance, Forms Carbon Solutions Group, Announces Participation in June Conferences," EnLink Midstream LLC, June 3, 2021.)
The Lowdown on EnLink Midstream LLC
EnLink Midstream LLC is an excellent midstream oil and gas company with a huge, diverse footprint in one of the highest CO2-emitting regions in the country.
This helps the company generate a high free cash flow yield of 12%, which allows it to pay down debt, repurchase its own shares, fund high-returning projects, and provide EnLink Midstream LLC stockholders with reliable, high-yield dividends.