Energy Transfer LP: 8.5% Yield an Opportunity for Income Investors?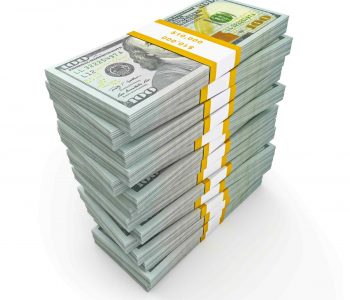 One High-Yield Stock to Think About
At first glance, Energy Transfer LP (NYSE:ET) looks like a typical beaten-down energy stock. Its unit price tumbled over the past year, and the partnership has cut back its cash distribution. However, at the moment, Energy Transfer could be one of the best high-yield opportunities on the market.
Allow me to explain.
Headquartered in Dallas, TX, Energy Transfer LP is a master limited partnership (MLP). It owns and operates one of the largest and most diverse portfolios of energy assets in the U.S.
To be specific, the partnership has more than 90,000 miles of gathering and transmission pipeline. Energy Transfer is responsible for transporting about 25% of the natural gas, more than 25% of the natural gas liquid (NGL), and more than 35% of the crude oil produced in the U.S. The assets are located across 38 states and cover all major producing basins in the country. (Source: "Investor Presentation: December 2020," Energy Transfer LP, last accessed January 14, 2020.)
Other than having unrivaled geographical diversity, Energy Transfer also stands out because of its diversified business model. The partnership operates through five core segments: Crude Oil; NGL & Refined Products; Interstate Transport & Storage; Midstream; and Intrastate Transport & Storage. No single segment accounts for more than 30% of the MLP's adjusted earnings before interest, taxes, depreciation, and amortization (EBTIDA).
It should be noted that, even though Energy Transfer stock is an energy stock, its business is predominantly supported by fee-based contracts. The partnership estimated that about 95% of its adjusted EBITDA in 2020 was generated from fee-based operations. This can limit its exposure to commodity price volatility. (Source: Ibid.)
Of course, as I mentioned earlier, Energy Transfer did reduce its payout. On October 26, 2020, the partnership declared a quarterly cash distribution of $0.1525 per unit, which represented a 50% cut from the prior quarterly cash distribution of $0.305 per unit. (Source: "Energy Transfer Announces Quarterly Cash Distribution And Earnings Release And Earnings Call Dates," Energy Transfer LP, October 26, 2020.)
However, because ET stock is trading at a fraction of where it was pre-pandemic, it remains a high-yield name—even after the distribution cut. Based on a price of $7.14 at the time of this writing, Energy Transfer stock offers investors an annual distribution yield of 8.5%.
Furthermore, because the payout level is lower than before, the distribution coverage is very strong, according to the company's latest earnings report.
In the third quarter of 2020, Energy Transfer generated $1.7 billion of distributable cash flow. Its cash distributions, on the other hand, totaled just $412.0 million for the period. That translated to a distribution coverage ratio of 4.1 times. (Source: "Energy Transfer Reports Solid Third Quarter 2020 Results," Energy Transfer LP, November 4, 2020.)
In other words, this beaten-down energy stock with a very high distribution yield covered its payout more than four times over in its most recent reporting period.
Moreover, a lower distribution rate for ET stock allows Energy Transfer to generate substantial excess cash flow, which the partnership intends to use to reduce its debt. Management is focused on achieving a leverage target of 4.0 to 4.5 times.
In Energy Transfer's latest earnings conference call, the company's chief financial officer, Tom Long, said the following:
We expect that the distribution reduction will result in approximately $1.7 billion of additional cash flow on an annualized basis that will be directly used to pay down debt balances and maturities. This is a significant step in Energy Transfer's plan to create more financial flexibility and lessen our cap – cost of capital. Once we reach our leverage target, we are looking at returning additional capital to unitholders. This will come through unit buybacks and or distribution increases with the mix being dependent upon our analysis of market conditions at the time.
(Source: "Energy Transfer LP (ET) CEO Kelcy Warren on Q3 2020 Results – Earnings Call Transcript," Seeking Alpha, November 4, 2020.)
Bottom Line on Energy Transfer LP
In recent trading sessions, Energy Transfer stock started climbing back up. But, of course, it's hard to say when an out-of-favor energy stock will make a full recovery.
Still, if Energy Transfer LP can maintain its current payout—which is extremely well covered—it will offer a passive income stream that's very hard for yield-seeking investors to ignore.