Enbridge Stock: Undervalued 7.6%-Yielding Midstream Energy Stock Has 25%+ Upside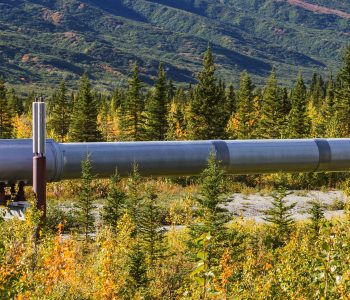 ENB Stock Is Worth Considering: Here's Why
Crude oil prices fluctuate based on supply and demand: if we're in a recession or pandemic, the demand for oil shrinks, as does its price (if the supply hasn't shrunk significantly).
That's not the case right now. Worldwide oil demand hit a record high in June, and the demand in August may have hit another peak. Moreover, analysts believe that oil could hit $100.00 per barrel in the fourth quarter. That's great news for companies like Enbridge Inc (NYSE:ENB), a midstream oil and natural gas infrastructure company,
Rising and falling oil prices don't initially help juice Enbridge's bottom line. That's because upstream companies sign fee-based take-or-pay contracts to use Enbridge's infrastructure. That said, sustained higher energy prices can lead midstream companies like Enbridge to increase their fees. Moreover, investor optimism is always good for a company's share price.
Right now, everything is looking positive for Enbridge Inc.
First, global oil demand hit a record 103 million barrels per day (mb/d) in June. The International Energy Agency forecasts that worldwide oil demand for the full year could rise by 2.2 mb/d to 102.2 mb/d, its highest annual level ever recorded. In 2024, oil demand is expected to remain near record levels, rising by 1 mb/d. (Source: "Oil Market Report – August 2023," International Energy Agency, August 8, 2023.)
Although oil demand is at record-high levels, the global oil supply fell by 910,000 barrels per day in July, totaling 100.9 mb/d.
Second, most U.S. investors probably haven't heard of Enbridge Inc, even though it has a market cap of $70.0 billion and pipelines across North America. That's mainly because the company is located in Alberta, Canada.
What many U.S. investors may not know is that Canada is home to the world's third-largest oil reserves, behind Saudi Arabia and Venezuela. Canada has 168 billion barrels of proven oil reserves, of which 164 billion barrels are in the form of oil sands. (Source: "Crude Oil Industry Overview," Government of Canada, last accessed August 28, 2023.)
For context, the U.S. has 44.4 billion barrels of proven reserves. (Source: "U.S. Proved Reserves of Crude Oil Increased Significantly in 2021," International Energy Agency, February 1, 2023.)
When it comes to Enbridge Inc, it's a good idea to understand what's happening in Canada's oil industry. And right now, it's booming.
Canada's oil industry is set to increase its total production by nearly eight percent over the next two years, buoyed by new oil sands projects. In 2023, Canada's oil production is set to surpass 5 mb/d for the first time ever. This is due in part to an estimated 175,000 barrel-per-day (b/d) year-over-year production increase in 2023, followed by an expected increase of 200,000 b/d in 2024. (Source: "Canada Steps Up Pace of Oil Production Growth, Seen Rising 8% in Two Years," Reuters, August 23, 2023.)
All that oil and gas needs to be shipped through pipelines, and that's where Enbridge Inc comes in.
About Enbridge Inc
Enbridge, together with its subsidiaries, operates through four segments: Liquids Pipelines; Natural Gas Pipelines; Gas Utilities and Storage; and Renewable Energy. (Source: "About Us," Enbridge Inc, last accessed August 28, 2023.)
The company operates the world's longest and most complex crude oil and liquids transportation system, with approximately 17,809 miles of active pipelines across North America—including 9,299 miles of active pipelines in the U.S.
The company transports about 30% of the crude oil produced in North America, including about 65% of U.S.-bound Canadian crude oil exports. In 2022, Enbridge delivered a record 4.3 billion barrels of oil, with a safe delivery record of 99.99996%.
In the second quarter, Enbridge extended and upsized the Flanagan South Pipeline binding open season for US Gulf Coast crude oil delivery service. The Flanagan South Pipeline, which provides service from the Enbridge Mainline pipeline originating at Enbridge's Flanagan Terminal in Illinois, delivers oil near Houston, Texas via the Seaway Pipeline.
Enbridge also accounts for 40% of total U.S. crude oil imports. According to the company, "On any single day, Enbridge is the largest single conduit of oil into the U.S." It moves about 85 separate commodities, including more than 10 types of refined products.
Enbridge's natural gas transportation network moves about 20% of all gas consumed in the U.S.
Enbridge Inc's natural gas pipelines connect North America's "most prolific" natural gas supply basins to the continent's destinations with the highest demand: New York City, Chicago, Boston, Toronto, and Seattle. Its gas pipelines also connect to liquefied natural gas (LNG) markets and Mexico export markets. The company is the largest natural gas supplier to New England, the Southeast, and virtually all of Florida.
Its gas transmission and midstream pipelines cover about 73,796 miles in 30 U.S. states, five Canadian provinces, and offshore territory in the Gulf of Mexico.
Enbridge Inc's natural gas transmission and midstream operations transport about 7 billion cubic feet per day (Bcf/d ) of natural gas and 8 Bcf of networking storage.
After obtaining the necessary regulatory approvals, Enbridge is planning to construct the first phase of the Rio Bravo Pipeline, which will transport 2.6 bcf/d of natural gas feedstock to the Port of Brownsville in Texas. The company expects this pipeline's commercial operations to begin in 2026.
Management Reports Strong Q2 Results & Reaffirms Guidance
On August 4, Enbridge announced its financial results for the second quarter ended June 30. Note that, as of this writing, CA$1.00 = US$0.75. (Source: "Enbridge Reports Strong Second Quarter 2023 Financial Results and Reaffirms Financial Guidance and Outlook," Enbridge Inc, August 4, 2023.)
The company's second-quarter net income jumped by 260% year-over-year to CA$1.8 billion, or CA$0.91 per share. Its adjusted earnings were mostly flat at CA$1.4 billion, or CA$0.68 per share, compared to CA$1.4 billion, or CA$0.67 per share, in the same period of last year.
Enbridge's second-quarter cash provided by operating activities grew by 36% year-over-year from CA$2.5 to CA$3.4 billion. Its distributable cash flow inched up by one percent year-over-year from CA$2.7 to CA$2.8 billion.
Commenting on the second-quarter results, Gregory Ebel, Enbridge Inc's CEO, said, "Continuing our strong start to the year, Enbridge's four businesses delivered another solid quarter of financial performance. We continue to execute on our strategic priorities and are on track to achieve our full-year [earnings before interest, taxes, depreciation and amortization (EBITDA)] and [distributable cash flow] per share guidance." (Source: Ibid.)
He added, "Looking forward, financial discipline, execution of our secured capital program, and deployment of our discretionary investment capacity gives us confidence that we'll generate 4-6% EBITDA growth per year through 2025 and approximately 5% thereafter."
Dividend Has 28-Year Compound Annual Growth Rate of 10%
Enbridge Inc is known throughout the energy industry for its reliable, growing, high-yield dividends. Enbridge stock has paid dividends for more than 68 years. Over the past 28 years, its dividend has expanded at a compound annual growth rate (CAGR) of 10%.
In November 2022, the company announced a 3.2% increase to ENB stock's dividend, increasing the quarterly payout to CA$0.8875. It has maintained that payout since then.
Since Enbridge Inc's dividend is paid in Canadian dollars, its quarterly payout to U.S. investors fluctuates based on the U.S./Canada exchange rate. In U.S. dollars, the company's quarterly dividend is currently about $0.66 per share, for a yield of 7.6%.
The following chart, which shows Enbridge stock's performance in U.S. dollars, makes it look like its dividend has fluctuated over the past few years (see the red line). That ebb and flow, however, is a result of the exchange rate. As noted above, the company has raised its dividend annually for 28 years.
Chart courtesy of StockCharts.com
On the below chart, which shows ENB stock's performance in Canadian dollars, it looks like its dividend has had more consistent growth. As noted above, the company has raised its dividend each year for 28 years.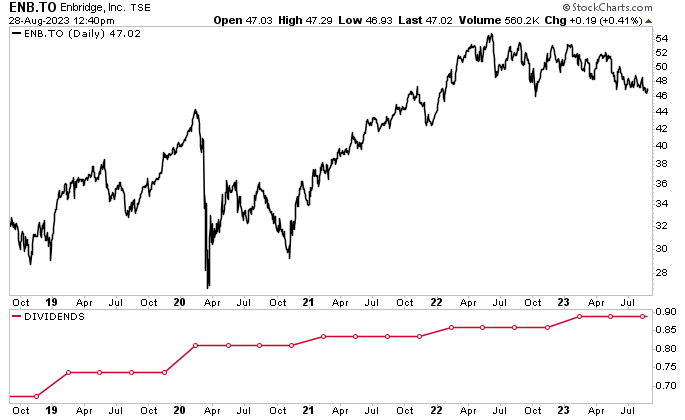 Chart courtesy of StockCharts.com
It's important to investors that Enbridge Inc has the ability to continue paying high-yield dividends. Thanks to the company's financial strength, its payout ratio is expected to remain within its target range of 60% to 70% of its distributable cash flow. This allows Enbridge to return income to shareholders and retain capital for new growth opportunities.
Undervalued Enbridge Stock Has 25%+ Upside
Although Enbridge Inc's dividend has grown at a reliable clip, its share price has taken a breather since rising significantly in 2021 and the opening months of 2022.
As of this writing, ENB stock is trading near its 52-week low, down by 6.4% year-to-date and 11.5% year-over-year.
Despite Enbridge stock being in the red this year, Wall Street analysts see better days ahead. For the next 12 months, conservative analysts have provided a median share-price estimate of US$41.06 and a high estimate of US$44.09. This points to potential gains in the range of 18% to 27%.
The Lowdown on Enbridge Inc
Enbridge is one of the biggest midstream energy companies, moving almost a third of the crude oil produced in North America, transporting about a fifth of the natural gas consumed in the U.S., and operating North America's third-largest natural gas utility by consumer count.
Some parts of the world are trending toward renewable energy, but oil and natural gas will remain critical components of the energy supply mix during the energy transition.
Enbridge Inc's asset network is large, diverse, and unmatched—providing conventional energy infrastructure and lower-carbon opportunities. This supports ENB stock's dividend growth and long-term shareholder returns.