Is Enbridge Inc's 7.4% Yield Safe?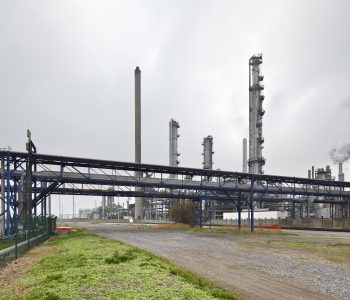 Can You Really Trust This High-Dividend Stock? Maybe.
Most high-dividend stocks don't come with safe payouts.
In fact, with most of the high-dividend stocks that cross my desk, I toss them in the proverbial wastebasket. Nowadays, it's rare to find a big distribution yield and a high degree of safety. But today's company could be an exception.
Income investors have long admired Enbridge Inc (NYSE:ENB). The Canadian energy giant owns thousands of miles of pipelines, in addition to utilities, storage tanks, and processing plants. This collection of different businesses has funded ongoing dividend payments that have rolled in like clockwork for decades.
But could that tradition come to an end? The COVID-19 pandemic has hammered energy stocks, and today Enbridge stock sports a distribution yield of 7.4%.
Let's dive into the numbers.
Admittedly, the energy business is in a bit of a funk. Low oil prices, thanks to a COVID-19-induced recession, have forced producers to dial back their drilling plans. And with fewer barrels coming out of the ground, pipeline owners have seen their fee income dry up.
You can see the impact of this downturn in Enbridge's first-quarter results. For the three months ended March 31, distributable cash flow, a common measure of performance in the pipeline business, came in at $2.7 billion. That represents a two percent drop from what the business generated during the same period in 2019. (Source: "Enbridge Reports Strong First Quarter 2020 Results; Re-affirms Outlook," Enbridge Inc, May 7, 2020.)
That said, Enbridge has held up better than most.
The company does most of its business on what's called in industry lingo a "take-or-pay" basis. This means customers have to pay Enbridge regardless of whether they use the pipeline. As a result, we haven't seen the big plunge in cash flows that some analysts had originally feared.
Moreover, Enbridge's diversified business has really paid off. While lower oil production bit into pipeline profits, management reported a bump in income from energy storage. And of course, auxiliary divisions like power generation and electric transmission lines reported barely a blip in business activity.
Altogether, this means Enbridge Inc still pulls in enough cash to fund its distribution.
For full-year 2020, management expects the business to generate between $4.50 and $4.80 per share in distributable cash flow. Over the same period, analysts project that the business will pay out $2.35 per share in distributions.
Generally, I like to see companies pay out less than 90% of their cash flow as dividends. That leaves executives with some wiggle room in the event of a downturn, like the one we're in right now.
So Enbridge Inc's 50% payout ratio sits well within my comfort zone.