Enbridge Inc: This "Forever Asset" Yields 6.2%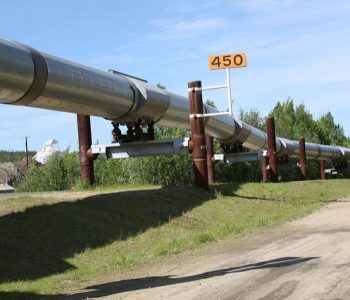 Edward Alexander/Flickr
1 "Forever Asset" for the Next 100 Years
Today's chart once again highlights some of my favorite dividend stocks around,  "forever assets."
I termed the phrase "forever assets" to describe a group of businesses that have paid out dividends for generations. And while they don't often make headlines, many of these firms have crushed the broader market's performance.
My approach? Buy them, stick the certificates in a drawer, and cash the dividend checks for decades. When you own stocks like these, you don't have to worry about inflation, interest rates, or stock market crashes. If history is any guide, these businesses will keep chugging along, paying out dividends and making their shareholders a fortune.
For instance, you almost never hear about Canada-based Enbridge Inc (NYSE:ENB) in the news, which is just the way loyal shareholders like it. And with a yield over six percent right now, this little-known business looks like a good place to put money to work.
Enbridge, which owns energy pipelines, isn't terribly exciting.
I'm don't think even the CEO gets all that hyped about energy distribution. But the company makes a ton of money–$2.1 billion in 2016–and has increased its dividend every year since 1953. (Source: "Enbridge Dividend History," Enbridge Inc, last accessed February 12, 2018.)
Think about that for a second. Though Vietnam, Watergate, the Cold War, the rise of Japan, the tech bubble, 9/11, and the housing bust, Enbridge went about its business, moving oil and gas across the country, and paying out more money to shareholders than it did the year before. The last time Enbridge did not pay a dividend, President Truman ran the White House, Walt Disney's "Peter Pan" debuted in theaters, and a gallon of gas cost only $0.22.
Enbridge's secret comes down to the nature of the pipeline business.
The industry enjoys significant barriers to entry, mainly due to regulatory restrictions and the high cost of new construction. Other forms of transportation, like trucks and rail, can't move a barrel of crude from Point A to Point B as cheaply.
As a result, Enbridge can earn double-digit returns on capital for decades. Some businesses can earn profits like these from time to time. I can only list a few off the top of my head that have sustained those returns over such a long period.
For shareholders, this has created a profitable formula.
Since 1976, Enbridge has increased its dividend at a seven-percent clip. If you had bought and held the stock over that time, the yield on your original investment would be 132% today.
Shares have grown in value more or less in line with the dividend. Over that same period, Enbridge has generated an eye-popping total return, including distributions, of 10,050%.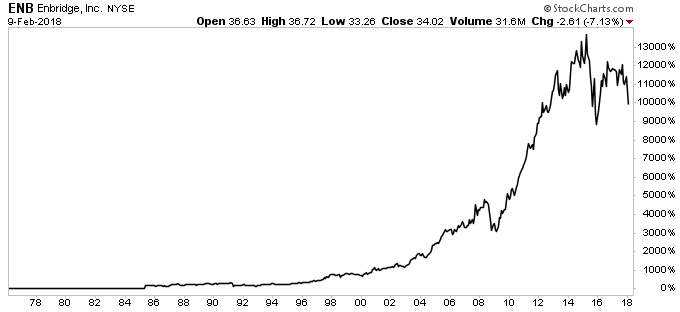 Source: StockCharts.com
Of course, you have no sure things when it comes to investing. No one can pick out the one quality that will guarantee a company's success. But by choosing dominant, shareholder-friendly companies, and holding on for the long haul, you'll probably do pretty well over time.