Enbridge Inc: Don't Ignore This Safe, Inflation-Busting 7.6% Dividend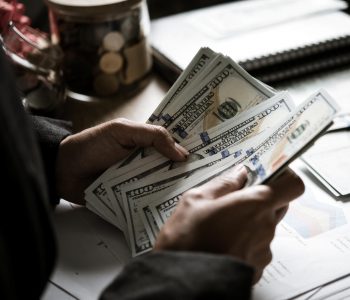 Enbridge Stock Gives Investors a Dividend Pay Raise
There's usually a trade-off when it comes to stocks that provide high dividends: the greater the yield, the greater the payout, the greater the risk. One high-yield stock that totally bucks that equation is energy juggernaut Enbridge Inc (NYSE:ENB).
With the global economy still grappling with COVID-19, most investors have ignored energy stocks—especially oil and gas infrastructure stocks. That could be a mistake when it comes to ENB stock.
Enbridge owns more than 17,000 miles of crude oil and liquids pipelines in North America. Every day, the company delivers more than 3 million barrels of crude oil and liquids. From 2010 through 2019, Enbridge transported 27.3 billion barrels of crude, with a safe delivery record of 99.99976%. (Source: "Crude Oil and Liquids Pipelines," Enbridge Inc, last accessed February 17, 2021.)
Enbridge also owns about 24,000 miles of natural gas pipelines. It uses that infrastructure to transport 16.2 billion cubic feet of natural gas per day. (Source: "Natural Gas Transmission and Midstream," Enbridge Inc, last accessed February 17, 2021.)
All told, Enbridge moves about 25% of the crude oil produced in North America and approximately 20% of the natural gas consumed in the U.S. The company was also an early investor in renewable energy, and it has a growing offshore wind power portfolio.
Thanks to the company's massive North American infrastructure, and the fact that most of its customers have to pay whether they use Enbridge's pipelines or not, the company has been able to weather economic storms much better than most.
Despite the fact that, in 2020, we faced the worst economic crisis since the Great Depression, Enbridge Inc reported strong financial results.
Full-year net income came in at CA$3.0 billion, or CA$1.47 per share
Adjusted earnings were CA$4.9 billion, or CA$2.42 per share
Adjusted earnings before interest, taxes, depreciation, and amortization (EBITDA) were CA$13.3 billion
Cash provided by operating activities was CA$9.8 billion, compared to CA$9.4 billion in 2019
Distributable cash flow (DCF) was CA$9.4 billion, compared to CA$9.2 billion in 2019
DCF per share was CA$4.67, which exceeded the midpoint of the full-year guidance of CA$4.50 to CA$4.80
Moreover, Enbridge's management
Reaffirmed the 2021 DCF-per-share guidance range of CA$4.70 to CA$5.00
Reaffirmed the 2021 EBITDA guidance range of CA$13.9 to CA$14.3 billion
Increased the 2021 quarterly dividend by three percent to CA$0.835 per share, representing the 26th consecutive annual increase
(Source: "Enbridge Reports Strong 2020 Financial Results," Enbridge Inc, February 12, 2021.)
Al Monaco, Enbridge's president and CEO, commented, "Operationally, we performed well in the fourth quarter, completing a strong 2020 in the face of a very challenging energy and economic backdrop. Our four rock-solid franchises once again delivered solid results and provided essential service and reliable energy supply that is absolutely critical to the everyday lives of North Americans and the global economy." (Source: Ibid.)
In spite of the economic uncertainty, Enbridge stock has continued to trend steadily higher since it fell off a cliff back in March 2020. Since then, ENB stock has rallied 55%, but it still needs to climb an additional 13% to reach its record pre-coronavirus levels.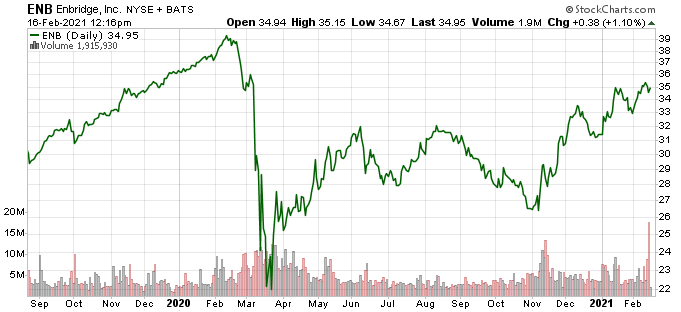 Chart courtesy of StockCharts.com
Since 1995, ENB Stock's Dividend has Grown at CAGR of 10%
Sure, Enbridge stock has fluctuated during the global recession; that's hardly a surprise. What hasn't fluctuated during the recession was the stock's dividend. That also shouldn't be a surprise.
Over the past 26 years, ENB stock's dividend has grown at a compound annual growth rate (CAGR) of 10%. That means the company raised its dividend when times were good and when times were awful. (Source: "Dividends and Common Shares," Enbridge Inc, last accessed February 17, 2021.)
In fact, Enbridge has paid dividends for over 66 years. Last December, the company announced a three-percent increase to its dividend, which boosted it to CA$0.835. That translates to an annual dividend of CA$3.34 per share for 2021, and a yield of 7.6%.
What's even better is that the company's dividend growth has not come at the expense of its financial strength. Enbridge's goal is to keep its dividend payout ratio between 60% and 70% of DCF. In 2020, the company's DCF was CA$4.67 per share.
This strategy provides Enbridge Inc with a healthy balance sheet, allowing it to return income to shareholders and retain income for new growth opportunities.
Commenting on the company's dividend program, Monaco said, "Our dividend remains central to our value proposition and we expect to ratably grow it up to the level of average annual DCF per share growth, while maintaining a payout of 60-70% of DCF. In 2021, we're very pleased to have increased the dividend again for our shareholders, for the 26th consecutive year."
Because of its history of strong operational and financial performance, investors can expect Enbridge to continue to provide a frothy, inflation-trouncing dividend and to continue raising it over the coming years.
The Lowdown on Enbridge Inc
While there have been positive economic indicators in early 2021, the pace of the economic recovery is still unknown. That's because COVID-19 cases remain high in different parts of the world, and the number of variants of the virus continues to grow.
As a result, the economic recovery is expected to be gradual. But thanks to a recovery in energy prices, North American energy-industry fundamentals have been steadily improving. That, of course, bodes well for Enbridge Inc and its ability to continue to deliver stellar returns to Enbridge stockholders through capital appreciation and dividends.