Enbridge Inc Delivers Pay Raise to Shareholders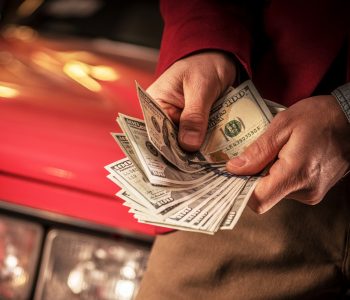 Enbridge Inc Dividend Hike Bodes Well for Shareholders
The energy patch has struggled under the weight of higher costs, low oil prices, and an investor exodus. But Enbridge Inc (NYSE:ENB), it seems, didn't get the memo.
In February, the Canadian pipeline company bumped its quarterly dividend by almost 10% to $0.81 per share. Traders interpreted the announcement as a big vote of confidence in the business and bid ENB shares to fresh all-time highs.
And investors have good reason to expect the gains to continue.
Admittedly, pipeline companies like Enbridge have struggled in recent years. Environmentalists have teamed up with landowners and indigenous groups to block the construction of new infrastructure. In Canada, where Enbridge is headquartered, left-wing politicians have brought industry expansion to a halt. But Enbridge CEO Al Monaco has found some clever ways to work around the blockades.
Rather than building new pipelines from scratch, Enbridge Inc has focused on expanding and optimizing existing routes.
For instance, the company plans to double the diameter of its pipe network that connects natural gas wells in Pennsylvania to customers on the east coast. Further north, Enbridge plans to spend $1.3 billion supersizing Canadian southward lines, boosting capacity on those routes by 800,000 barrels per day. (Source: "Pipeline Builders Try New Growth Strategy: Bigger Pipes," The Wall Street Journal, January 17, 2018.)
These efforts have allowed Enbridge to boost its shipping capacity while facing less in the way of political backlash.
The United States also provides an avenue for expansion. In 2016, Enbridge bought Spectra Energy Corp in an all-stock deal valued at about $28.0 billion. That has provided the company a toehold in several fast-growing shale fields like the Eagle Ford (Texas) and the Permian Basin (Texas and New Mexico), where pro-business governments welcome new development. (Source: "Enbridge Buying Spectra in $28 Billion Deal," Reuters, September 6, 2020.)
But electricity could provide the biggest opportunity. Historically, Enbridge Inc has focused mostly on shipping oil and gas products, with little in the way of power generation. But Monaco wants to expand the company's utility business by investing in everything from solar panels and wind farms to transmission lines and natural gas plants.
These deals, while costly up front, could pay off for ENB shareholders. Much like the company's core pipeline operations, utilities throw off steady, recession-proof cash flows. And because these projects face less political resistance, they present easier places to put investment dollar to work.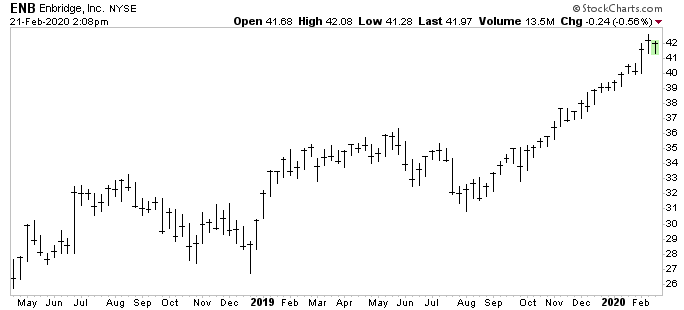 Chart courtesy of StockCharts.com
All of which should translate into more dividend hikes down the road.
Over the next five years, Enbridge management sees the company's distribution cash flow growing between four and seven percent per year. Given the company's conservative payout ratio, executives should have no problem boosting the distribution in line with profits. (Source: "Annual Investor Day December 2019," Enbridge Inc, last accessed February 26, 2020.)
So don't be surprised to see Enbridge stock reaching more all-time highs in the months to come.