Easterly Government Properties Inc: This 4.3% Yield Is Backed by Uncle Sam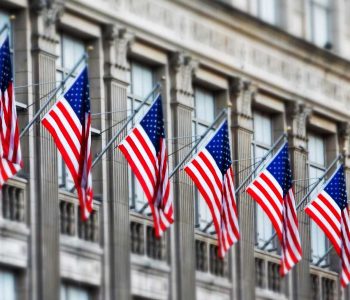 A Top Dividend Stock You Likely Haven't Considered
For the most part, real estate investment trusts (REITs) have served income investors quite well. These companies are basically landlords that collect rent from their tenants and then pass much of that rent to shareholders through regular dividend payments.
In fact, REITs have to be shareholder-friendly. If a company wants to maintain its REIT status, it must distribute at least 90% of its taxable income to shareholders in the form of dividends. The benefit of having REIT status is that the company pays little to no income tax at the corporate level.
The pass-through nature of REITs is why they often offer higher yields than other companies trading in the stock market.
And because REITs are massive landlords, they allow retail investors to earn rental income from properties that they would not be able to own by themselves. For instance, most people can't come up with the funds to buy a large shopping center. But by owning shares of a shopping center REIT, an investor can be a part-owner of multiple such properties.
Of course, this all worked well until the COVID-19 pandemic hit the economy.
As businesses closed their doors and millions of workers got laid off, landlords had a much harder time collecting rent. Over the last several months, we've seen a slew of dividend cuts from the real estate sector. And it wasn't just mall REITs that got impacted. There were also dividend cuts from hotel REITs, office REITs, apartment REITs, and even healthcare REITs.
Basically, if a large enough portion of a REIT's tenants can't pay their rent on time, the REIT won't have the money to maintain its previous dividend policy.
In other words, having high-quality tenants is extremely important in this extraordinary time.
And that, my dear reader, is why Easterly Government Properties Inc (NYSE:DEA) stock stands out.
Easterly Government Properties Inc Provides Reliable Dividends
You see, Easterly is not the biggest or the most well-known name in the REIT industry. However, it deserves special attention at the moment because it focuses on the acquisition, development, and management of Class A commercial properties that are leased to the U.S. government.
I know that some government offices were also temporarily closed during the lockdown. But at the end of the day, Uncle Sam is not going anywhere, and having it as a tenant is a great way to generate reliable rental income. According to Easterly's June investor presentation, more than 98% of the company's lease income is "backed by full faith and credit of the U.S. Government." (Source: "Investor Presentation June 2020," Easterly Government Properties Inc, last accessed August 19, 2020.)
By leasing its properties to Uncle Sam, Easterly can pay a reliable dividend. On July 30, the company's board of directors declared a quarterly cash dividend of $0.26 per share, which was the same amount it was paying before. The dividend will be paid on September 11 to shareholders of record as of August 13.
Looking back, you'll see that the REIT has paid steady or increasing dividends since its initial public offering in 2015. (Source: "Dividends," Easterly Government Properties Inc, last accessed August 6, 2020.)
The best part is that, even in this challenging environment, Easterly Government Properties Inc has no problem covering its payout.
In the second quarter of 2020, the company generated funds from operations of $0.32 per share, which actually represented a 6.7% increase year-over-year. Considering that the REIT paid a quarterly cash dividend of $0.26 per share during the quarter, it has left a sizable margin of safety. (Source: "Easterly Government Properties Reports Second Quarter 2020 Results," Easterly Government Properties Inc, August 4, 2020.)
In the first half of this year, Easterly Government Properties earned $0.62 per share in funds from operations while paying $0.52 per share in total dividends. So again, the company covered its payout with ease.
The company's portfolio looks solid, too. At the end of June, the REIT owned 74 properties totaling about 6.9 million square feet. They were 100% leased with a weighted average remaining lease term of 7.7 years. Note that 72 of those properties were leased primarily to U.S. Government tenant agencies and only two operating properties were leased wholly to private-sector tenants. When it comes to having a high-quality tenant base, things don't get much better than this.
Because the pandemic is yet to end, there are uncertainties going forward, and a lot of companies—including blue-chip ones from recession-proof industries—have withdrawn their guidance. And yet, Easterly Government Properties Inc decided to raise its outlook.
For full-year 2020, management now expects the REIT to generate funds from operations between $1.23 and $1.25 per share. Since the company is on track to pay four quarterly dividends totaling $1.04 per share for the year, meeting the guidance range means the dividend should be safe.
Easterly Government Properties Inc (NYSE:DEA) Stock Chart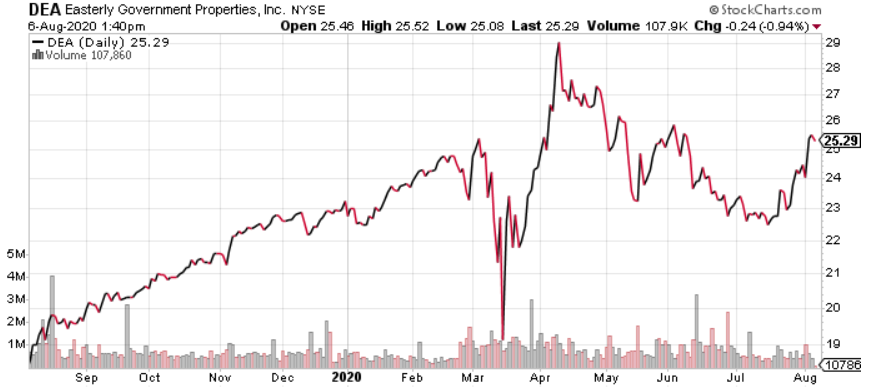 Chart courtesy of StockCharts.com
Bottom Line on Easterly Government Properties Stock
Due to Easterly Government Properties Inc's solid portfolio and strong financials, its shares have been highly sought after. Over the past 12 months, DEA stock is up more than 30%.
The popularity of Easterly Government Properties stock means it is not exactly the highest yielder. At the time of this writing, the company offers an annual dividend yield of 4.3%. While you can find real estate stocks with bigger payouts, the durable nature of Easterly's business makes it one of the best names to consider in the sector.