Earn Up to a 5% Yield with These Top Dividend Stocks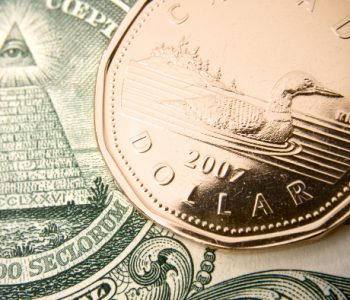 The Top Dividend Stocks for 2017…and Beyond
I doubt you pay much attention to Canadian banks, but these firms cap my list of top dividend stocks.
These quiet lenders sailed through the financial crisis. While U.S. banks dropped like flies, these guys kept paying out dividends to shareholders.
In fact, these "Forever Assets" have paid out dividends for over a century. The oldest one on this list hasn't skipped a dividend since 1829. You could own these companies today and hold them for the rest of your life.
5 Dividend Stocks to Retire On
I hate banks as a customer, but I love their business as an investor.
Take the Toronto-Dominion Bank (NYSE:TD), for example. You may have noticed its branches cropping up along the eastern seaboard. I'm always getting dinged by one fee or another. Each year, they raise the account minimums and introduce some new service charge.
The rest of them aren't much better. But while customers get gouged, bank coffers burst at the seams. Canada's "Big Five" collectively earned more than $10.0 billion last quarter, with several passing on big dividend hikes for shareholders.
Longtime investors have made a fortune. These wonderful, entrenched businesses crank out oversized profits year after year and many of them have paid out distributions for decades. They top my list of the ultimate Forever Assets for a handful of reasons.
The Big Five Canadian Banks
| | | |
| --- | --- | --- |
| Company | Yield | Paid Dividend Since |
| Bank of Montreal (NYSE:BMO) | 3.5% | 1829 |
| Bank of Nova Scotia (NYSE:BNS) | 3.9% | 1832 |
| Toronto-Dominion Bank (NYSE:TD) | 3.5% | 1857 |
| Canadian Imperial Bank of Commerce (NYSE:CM) | 4.5% | 1868 |
| Royal Bank of Canada (NYSE:RY) | 3.6% | 1870 |
Source: Various Corporate Filings
First, the Big Five might be some of the safest banks on Earth.
Since 1790, we have had dozens of financial panics in the United States. North of the border, though, they have had exactly zero.
Why? Analysts have a couple of theories. Strict regulations keep a tight lid on reckless lending. A lot of the subprime practices hot in the U.S. never took off in Canada. They also have a more stable base of depository funding, leaving them less exposed to a global credit crisis.
Canadian banks also have a more conservative lending culture. I know because I used to work on one of the country's largest energy trading desks. Their risk managers would kick up a fuss at the first sign of trouble. Common practices stateside would never fly there.
But while you can debate the reasons for the industry's strength, you can't argue about the results. Canadian banks routinely top the list of safest financial institutions in the world. In a recent report, Global Finance ranked the country's Big Five banks in their top 30 safest worldwide; only one U.S. bank cracked the top 40. (Source: "World's Safest Banks 2014," Global Finance, November 13, 2014.)
Such a foundation has allowed Canadian banks to pay out dividends for over 150 years. Think about everything that happened over that time: wars, depressions, stock market crashes. Yet through it all, these lenders kept mailing out payments to shareholders.
They gush cash, too.
Moving branches can be a hassle; no one switches to a bank across town just to save a few bucks. This allows management to raise fees and service charges with little squawking from customers.
They benefit from scale and the network effect as well. The Big Five can spread regulatory costs across their massive operations, undercutting smaller rivals that might encroach on their turf. New upstarts can't match their vast network of ATMs and bank branches. Prime locations have long been bought up and it would cost billions to replicate their business today.
As a result, the Big Five can crank out oversized profits year after year. For every dollar of equity invested in retail operations, Canadian banks earn $0.16 in returns. By comparison, the biggest U.S. banks earn returns around $0.08. European banks barely squeeze out a profit, and they take a lot more risk. (Source: "Canada's big banks are still sitting pretty," The Globe & Mail, June 27, 2016.)
All of this has been a lucrative for owners.
Let's go back in time 20 years. Say you had invested $10,000, divided up equally among the Big Five. Today, including reinvested dividends, your stake would be worth $85,200.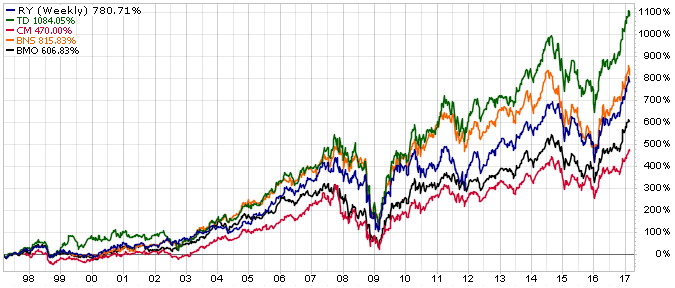 Chart courtesy of StockCharts.com
Longtime shareholders have done even better.
The Globe & Mail recently featured a man who purchased several hundred shares of TD stock in the mid-1970s. If you'd bought 500 shares of TD 45 years ago, you would have 24,000 shares today thanks to stock splits. What's more, you would be collecting $57,600 in annual income. (Source: "I've lost my trading records for a stock. Now what?," The Globe & Mail, March 3, 2017.)
That kind of dividend income, you could literally retire on it. I cherry-picked TD, of course, but over the same period, all of the Canadian banks have raised their payouts at a mid-teen clip. Investors who bought and held during that time would be earning a double-digit yield on cost today.
Of course, they're unlikely to repeat that feat over the next 20 years. The marketplace has matured. Tighter regulations could cap growth. But when you're earning dividend yields of nearly five percent, I suspect most investors will crush the market as the years tick by.
The Bottom Line on These Forever Assets
Do I hate the banks because they gouge their customers with fees? Meh. As a longtime owner, I've taken more out of banks than banks have taken out of me.
If you can't beat 'em, join 'em. These top dividend stocks have rewarded shareholders for decades. If the violent record of financial markets are any indication, these Forever Assets have gotten through it before, will get through today, and will get through it again.