Earn Rental Income as Amazon.com, Inc.'s Landlord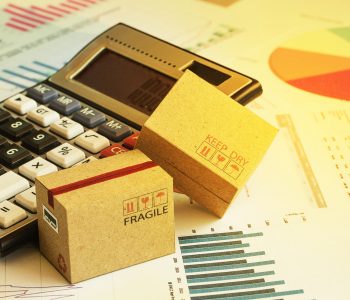 iStock.com/small smiles
This Real Estate Sector Is Booming
This month, I want to check in on a big winner in the real estate business: warehouses.
Regular readers have heard our bullish thesis on this industry before. As consumers do more of their shopping online, we've seen a scramble for industrial real estate near urban centers.
This has turned these once-unglamorous properties into cash machines. Over the past few years, industrial landlords have enjoyed higher rents, lower vacancies, and soaring property values.
For proof, you only need to look at the share prices for companies like Duke Realty Corp (NYSE:DRE), EastGroup Properties Inc (NYSE:EGP), and DCT Industrial Trust Inc (NYSE:DCT).
Case in point, Automated Income recommendation Prologis Inc (NYSE:PLD). This real estate investment trust (REIT) represents the biggest warehouse landlord in the United States. The partnership is selling water at a hot pepper eating contest; in other words, it has what everyone wants and can raise prices accordingly.
You can see how well the business has done in the partnership's latest financial results.
Prologis passed on near-double-digit rent hikes to tenants in 2017, in addition to demanding more stringent lease agreements. Core funds from operations (FFO) ended 2017 at $2.81 per share, which beat even my rosy estimates.  (Source: "Prologis Reports Fourth Quarter and Full Year 2017 Earnings Results," Prologis Inc, January 23, 2018.)
Management also raised their 2018 FFO guidance, which is a good sign for the rest of the year.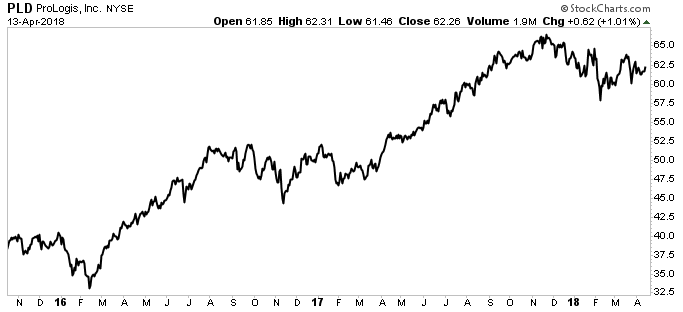 Chart courtesy of StockCharts.com
And this could be just the beginning.
A recent report by investment banking firm Jefferies Group LLC (NYSE:JEF) predicted that demand for warehouse space will surge over the next decade. (Source: "JEFFERIES: Amazon is adding 1 million square feet of warehouse space a week — and not slowing down anytime soon (AMZN)," Markets Insider, October 17, 2017.)
Amazon.com, Inc. (NASDAQ:AMZN) alone has been adding one million square feet of warehouse space per week. Over the next 18 months, the total footprint of Amazon's fulfillment facilities industry-wide in the U.S. will grow by 36% and internationally by 23%.
Good news for investors.
Since the beginning of 2016, Prologis Inc stock has nearly doubled in value. Over the past five years, management has boosted the distribution by 71%. And unless brick-and-mortar retail makes an unexpected comeback, those gains will likely continue for the foreseeable future.