Earn Monthly Dividends with a 9.6% Yield from the Healthcare Sector?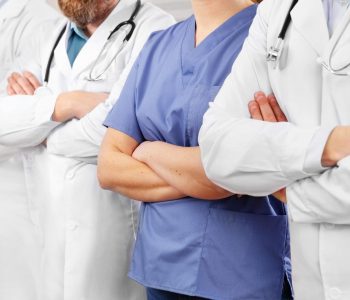 A High-Yield Investment Vehicle to Think About
It's no secret that the healthcare sector is one of the best places to earn passive income. The demand for healthcare stays relatively inelastic to how the overall economy is doing, and as a result, many companies in the sector are known for paying recession-proof dividends.
Furthermore, we live in a country with an aging population. It has been estimated that around 10,000 baby boomers turn 65 every day. (Source: "Social Security Feels Pinch As Baby Boomers Clock Out For Good," Forbes, June 21, 2018.)
When people get older, their demand for healthcare services and products tends to increase. Therefore, as more and more Americans enter their golden years, the healthcare industry could get a solid boost.
However, because of the popularity of healthcare stocks, their share prices have already been bid up. And due to the inverse relationship between dividend yield and share price, the most well-known healthcare stocks in today's market aren't really offering much in terms of dividend yield. According to CSIMarket, the healthcare sector has an average dividend yield of just two percent. (Source: "Dividend Yield Screening," CSIMarket, last accessed March 17, 2020.)
And that's why Tekla Healthcare Opportunities Fund (NYSE:THQ) might be worth a look.
Tekla is not exactly a healthcare company. Instead, it is a closed-end fund that invests primarily in the healthcare industry. And because the fund trades on the New York Stock Exchange, investors can buy and sell it just as they would with a regular stock.
According to the fund's description, its objective is "to seek current income and long-term capital appreciation through investing in companies engaged in the healthcare industry, including equity securities, debt securities and pooled investment vehicles." (Source: "Tekla Healthcare Opportunities Fund (THQ)," Tekla Capital Management LLC, last accessed March 17, 2020.)
Due to the recent market sell-off, THQ stock may not seem that special in terms of share price performance; the fund is trading at roughly the same level as it did a year ago. What makes THQ stand out, however, is the income stream it offers.
On March 9, Tekla declared a monthly cash distribution of $0.1125 per share. The distribution will be paid on March 31 to shareholders of record as of March 20. (Source: "Tekla Healthcare Opportunities Fund Declares Monthly Cash Distribution," Tekla Capital Management LLC, March 9, 2020.)
With THQ stock trading at $14.12 apiece, its monthly distribution rate comes out to an annual yield of about 9.5%.
In other words, for income investors who want to earn dividends from the healthcare sector, this fund offers one of the highest payouts in the market.
Now, you may be wondering how a healthcare fund can afford such big payouts. Well, one of the reasons is that Tekla uses leverage. At the end of 2019, the fund had a total leverage ratio—calculated by dividing its total leverage by its managed assets—of 20.6%. (Source: "Tekla Healthcare Opportunities Fund," Tekla Capital Management LLC, last accessed March 17, 2020.)
Also, instead of investing just in common stocks of healthcare companies, Tekla invests across the capital structure. At the end of 2019, the fund owned common stocks and warrants; convertible and non-convertible notes; and convertible preferreds and warrants, among other types of assets.
And even though the fund focuses on healthcare, it does diversify across different subsectors. As of December 31, 2019, Tekla Healthcare Opportunities Fund's top three subsector exposures were "Pharmaceuticals" (29.9%), "Health Care Providers & Services" (19.2%), and "Biotechnology" (15.9%). Its top three holdings were Johnson & Johnson (NYSE:JNJ) (7.7%), Merck & Co., Inc. (NYSE:MRK) (6.7%), and Pfizer Inc. (NYSE:PFE) (5.4%).
Of course, like most investment vehicles, Tekla charges a fee. Combining a 1.5% baseline expense and a 0.9% interest expense, the fund has a total expense ratio of 2.4%. Compared to index funds, THQ's expense ratio seems quite high. However, keep in mind that rather than passively tracking an index, this fund is actively managed.
Bottom Line on Tekla Healthcare Opportunities Fund
At the end of the day, THQ stock is not the only closed-end fund that invests in the healthcare sector. There are also closed-end funds that give investors exposure to sectors other than healthcare.
These funds tend to be actively managed and employ leverage, and they can provide higher yields than individual companies within their sectors of focus.