How to Earn Dividend Checks 12 Months a Year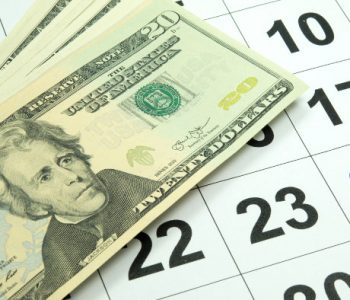 iStock.com/Stadtratte
Start Earning Monthly Dividends
I love dividend stocks, but they have one big drawback: infrequent payments.
Blue-chip businesses make for great income streams. But with their quarterly payout schedules, shareholders can have a long wait between payments.
Not a big deal for most investors. For those of us that count on our dividend income to pay the bills, however, it can be tough.
Retirees need to secure their cash flow and monthly expenses. Doable? Yeah, sure, but not really convenient.
Thankfully, there's an answer.
By pouring over dividend payment schedules, you can find groups of stocks that pay dividends in different months. That way, you can scatter your distributions throughout the year.
Of course, no one should buy a stock just for the payment date. But by going through this exercise, you can create a more consistent stream of portfolio income.
For example, say you have a $100,000 portfolio with a five-percent yield. If your dividends roll in quarterly, you'll get $1,250 every three months. A monthly income stream, in contrast, would pay you about $416.00 every 30 days.
And if given enough time, that income trickle can become quite the raging river of cash flow. Say in our example that the companies raise their dividends by eight percent a year. Your $416.00 monthly income will rise to $900.00 in 10 years.
Let me show you a real-world example. Below, I've highlighted several stocks that will collectively pay you a dividend 12 months a year.
January, April, July, and October
For these months, I want a stock with a long track record of paying, and raising, its dividend: Clorox Co (NYSE:CLX). Over the years, this company has built an empire of leading product brands, including "Kingsford" coal, "Pine-Sol" cleaner, and "Glad" trash bags. In total, these businesses gross over $6.0 billion in sales each year.
This portfolio of staple products has allowed Clorox to pay out generous dividends to shareholders. Since going public in 1978, management has raised the payout every single year. The company now pays out a quarterly dividend of $0.96 per share, which comes out to an annual yield of 3.3%.
February, May, August, and November
This might not be a name you'd expect to see in a list of dividend stocks: Starbucks Corporation (NASDAQ:SBUX). During the 1990s, the coffee giant earned itself a reputation as a go-go growth stock. But now that you can find a Starbucks on every corner, the company's expansion opportunities have started to narrow. So rather than plow profits back into the business, management has started paying them out to shareholders.
Just like people, every business has a life cycle. So what should people do when they hit late adulthood? Do you start exercising, eating oatmeal, and proudly showing off your salt-and-pepper hair? Or do you party every night and start listening to the same music as the high school kids? Clearly, the former is a better way to approach things. Starbucks has chosen to become a mature company with a mature dividend policy.
March, June, September, December
New technologies have unlocked vast supplies of oil and natural gas. This will require a vast build-out of energy infrastructure, from pipelines and terminals to processing plants and storage facilities. It will also create a number of exciting opportunities for income investors.
TransCanada Corporation (NYSE:TRP) has found itself right smack in the middle of this boom. The company owns a vast network of energy pipelines across the continent, in addition to a number of other steady utility businesses. And with more barrels flowing through its network, management will likely pass on most of their extra profits to shareholders.
I want to make this point again: no one should buy a stock based only on its dividend payment schedule. That said, the three stocks here pay out yields far higher than the broader stock market—and way higher than what you'd get on a bank certificate of deposit or savings account. Clorox, Starbucks, and TransCanada all represent large, stable businesses that pay out reliable income.
The best part, though? All three of these names have long track records of raising their dividends year after year. And over time, those small distribution hikes can really add up.
So if you want to earn monthly dividend income from your portfolio, it's entirely possible to receive a check each month of the year.