Earn a 7.8% Yield From This Marijuana Landlord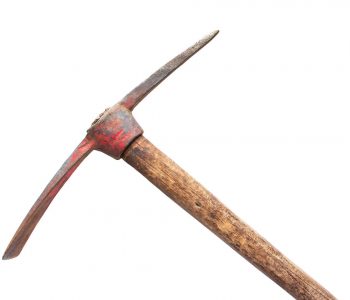 iStock.com/phanasitti
Collect 7.8% in Marijuana "Rent Checks"
Today's chart looks at a big "pick and shovel" winner of the marijuana boom.
Regular readers have heard the idea of investing in pick and shovel stocks before. Rather than betting the farm on a single project, these firms sell goods and services to an entire industry. For investors, it's the safer (and more profitable) way to bet on a boom.
Innovative Industrial Properties Inc (NYSE: IIPR) represents a textbook example. This partnership owns and operates a number of warehouses across the country. These properties get leased out to cannabis growers in exchange for ongoing rent checks.
It's a safer way to invest in pot, for starters. Marijuana has created a profit bonanza. Some analysts have compared it to the end of alcohol prohibition, which created a wave of millionaires.
The trouble is that navigating a boom comes with potential pitfalls. Thousands of brewers popped up following the end of prohibition, but only a handful survived.
The same situation will likely play out in cannabis–a small group making boatloads of money. The media will play up their stories. The rest will go broke.
It's far safer, therefore, to bet on suppliers like IIPR. These businesses make a healthy profits, regardless of which specific growers strike it rich. And as we've seen in previous booms, the people selling tools and services often end up making the most money.
IIPR has a tidy niche, too. Tenants often sign long-term leases; annual rent hikes come baked into the contract. Moreover, growers have to cover maintenance, insurance, and property taxes.
As a result, most of IIPR's rental income flows straight to the bottom line. The partnership paid a distribution of $0.25 per unit last quarter, which comes out to an annual yield of 3.6%. And as you can see in the chart below, traders have finally caught onto this story.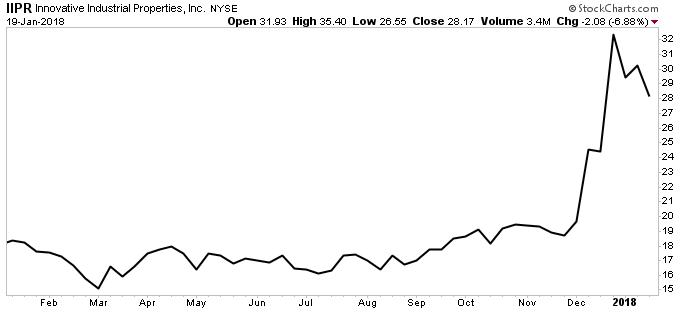 Source: StockCharts.com
Innovative Industrial Properties, Inc. Series A Preferreds (NYSE: IIPR-A) provides an even safer opportunity. This issue comes with a fixed quarterly payout of $0.54 per unit. On an annual basis, that puts our yield at 7.8%.
Moreover, preferred owners receive their distributions before common shareholders see one red cent. And in the event of a bankruptcy, they stand near the front of the line to get paid. For those willing to sacrifice growth, this issue looks interesting.
Of course, you have to do your homework. Marijuana suppliers (even names like IIPR) have more risk than your typical blue-chip stock. Preferreds, moreover, come with their own set of pitfalls.
That said, booms provide new opportunities. Pick and shovel plays like IIPR serve as the "sleep at night" bet. Readers should give this property owner a second look.