Earn a 6.73% Yield from Chatham Lodging Trusts' Monthly Dividend Stock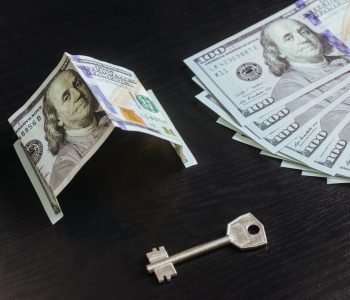 This Monthly Dividend Stock Raised Its Payout 89% Since the IPO
In today's stock market, a lot of things come at a premium. You want a dividend stock with solid growth potential? Prepare to pay a premium, because other investors want the same. You want a stock that pays monthly dividends? Prepare to pay a premium for that, too. The "supply and demand" mechanism means opportunities can be hard to find for income investors. However, that doesn't mean you have to settle for a low-yield portfolio. In fact, the monthly dividend stock I'm looking at now pays a solid 6.3% yield and has decent growth potential.
The company in question is Chatham Lodging Trust (NYSE:CLDT), a real estate investment trust (REIT) headquartered in West Palm Beach, Florida. The REIT invests primarily in upscale, extended-stay hotels and premium-branded, select service hotels. It currently owns interests in 133 hotels, totaling 18,219 rooms.
The No. 1 reason to consider Chatham Lodging Trust is its dividends. The company pays monthly dividends of $0.11 per share. At today's price, that translates to a handsome annual dividend yield of 6.73%.
Of course, a company's dividend yield shouldn't be the only focus for dividend investors. There are plenty of stocks with ultra-high yields, but there is no guarantee that they will be able to keep paying those dividends going forward. Therefore, before making any investment decision, it's important to check whether a company's business is solid enough to support its dividend payments.
Chatham Lodging Trust focuses on investing in hotel properties at prices that provide strong returns on invested capital. In its upscale extended-stay segment, the company's portfolio includes brands such as "Homewood Suites by Hilton," "Residence Inn by Mariott," and "Hyatt House." In the premium-branded select-service hotels, Chatham has invested in "Courtyard by Mariott," "Hampton Inn," and "Hampton Inn and Suites," among others.
Furthermore, the company's investments concentrate in high-quality markets. By the end of 2016, the REIT had 50% of its portfolio located on the West Coast and 24% in the Northeast. Among all lodging REITs in the country, Chatham has the second-highest exposure to the West Coast markets.
High-Quality Hotels in High-Quality Markets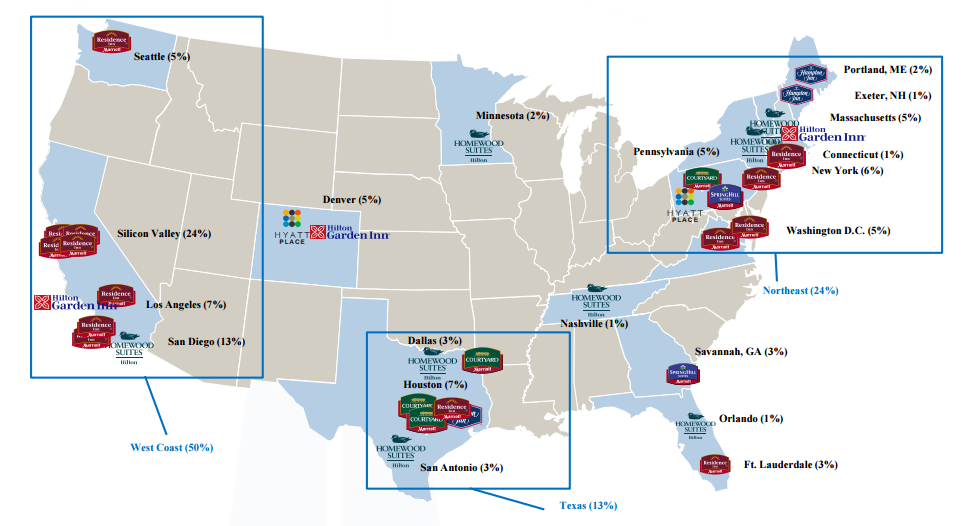 Source: "Company Presentation – March 2017," Chatham Lodging Trust, March 2, 2017.

Having a high-quality portfolio is a good start. But for the portfolio to translate to revenue and profits, the company needs efficient operations. And on that front, there has been good news.
In 2016, Chatham achieved a hotel earnings before interest, taxes, depreciation, and amortization (EBIDTA) margin of 41.2%, leading both full-service lodging REITs and select-service lodging REITs. The company's impressive operating profitability was driven by growth in revenue per available room (RevPAR), as well as a reduction in operating costs.
Hotel EBITDA Margin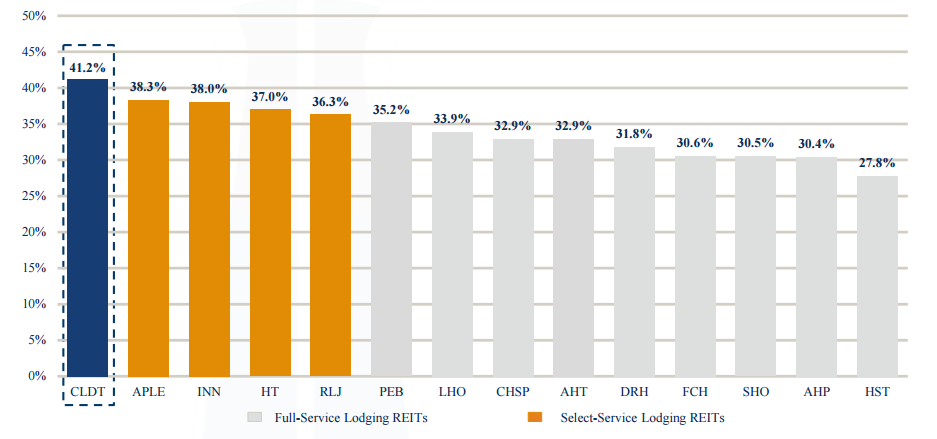 Source: "Company Presentation – March 2017," Chatham Lodging Trust, March 2, 2017.
A solid business allowed Chatham Lodging Trust to increase its dividend, as well as its payment frequency. When the company first went public in 2010, it paid quarterly distributions of $0.175 per share. Today, Chatham Lodging Trust is a monthly dividend stock with a monthly dividend rate of $0.11 per share. In other words, the company has increased its annual payout by 88.6% since its initial public offering (IPO). (Source: "Dividend History," Chatham Lodging Trust, last accessed May 3, 2017.)
Despite sizable dividend increases, this monthly dividend stock has no problem covering its distributions. In 2016, Chatham Lodging Trust was paying out just 62% of its adjusted funds from operations (AFFO). This leaves a sizable margin of safety.
Also Read:
Top 9 Stocks That Earn Monthly Dividends
10 Dividend Stocks for Retirement
Going forward, the company's recent acquisitions could start producing returns. Over the last two-and-a-half years, Chatham has completed $845.0 million of hotel investments located in its target high-growth markets such as Silicon Valley and Silicon Beach, both located in California, and Bellevue, Washington. In the real estate business, few things are more important than location. Investments in fast-growing regions could fuel future growth for this lodging REIT.
With a high-quality portfolio, efficient operations, and generous dividends, Chatham Lodging is a top monthly dividend stock for yield-seeking income investors.