Southern Co (NYSE:SO): A Forever Asset with 5% Dividend Yield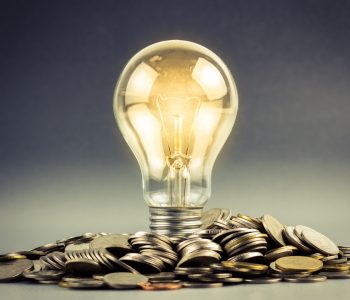 Retirees Earning 5% Dividend Yields from Forever Assets
Today's chart highlights our favorite place for dividend yield: "forever assets."
You can literally own these stocks for the next 100 years. Their established market position has allowed them to crank out profits for decades. Some of these elite stocks have paid out dividends to shareholders for over a century.
Take, for instance, Southern Co (NYSE:SO). The electric utility owns power generation, transmission, and distribution facilities across the Southeast United States. And while the stock gets little coverage on CNBC, the company has quietly made shareholders a fortune for a couple of reasons.
First, it's recession proof. Owning a utility is a bit like running a paid toilet stand at a Mexican chili-eating contest; you're almost guaranteed to make money. No matter what the economy does–depression, inflation, boom times–we all need power.
Southern Co does most of its business through long-term contracts. Many of these agreements lock in rates for years. This ensures a predictable stream of income that can last for decades.
Better still, it's a monopoly. Power plants take years to build, cost billions of dollars, and always face local opposition–enough to keep any would-be rival out of the business. What's more, you can't exactly have two sets of power lines running into your home.
For this reason, it only makes sense to have one company serving a local market. This allows Southern Co to earn outsized profits year after year, without rivals eating into margins. For shareholders, this results in dependable income.
Since 1949, Southern Co. hasn't skipped a single dividend payment. Today, the company pays a monthly distribution of $0.56 per share, which comes out to an annual yield of nearly five percent.
Such success proves forever assets make lucrative investments. Check out the long-term uptrend in the chart below. Shareholders who patiently reinvested their dividends crushed the market as the years passed by.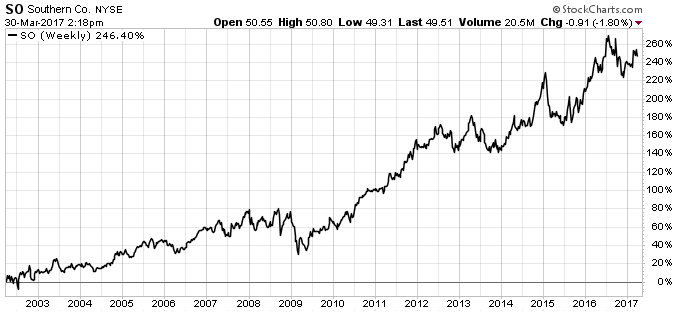 Source: StockCharts.com
The next 15 years will likely play out like the last. Southern Co will raise power bills, customers will squawk, and shareholders will get their dividend payments. Which side of this deal would you rather be on?
Bottom line: forever assets make incredible investments. Shareholders have gotten rich just by buying up shares, stashing away the certificates, and collecting the dividend checks for decades. If you're looking for a dividend yield, take a second look at a wonderful business like Southern Co.
Also Read:
The 7 Best Utility Stocks for Retirement Income
Best Utilities Stocks with High Dividends for 2017