Earn a 5.5% Yield From STAG Stock, a Monthly Dividend Stock With a Rising Payout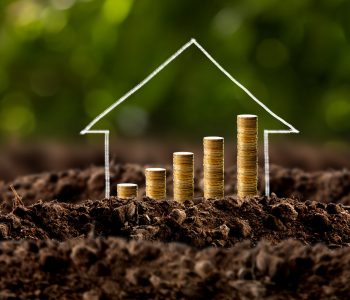 Boost Your Portfolio Return With This Monthly Dividend Stock
Monthly dividend stocks are one of the greatest creations for income investors. Because credit card bills, utilities, and rent/mortgage need to be paid every month, monthly dividends come in extremely handy for income investors. In this article, we are going to take a look at a monthly dividend stock with a growing payout.
The most common place to find monthly dividend stocks is the real estate sector. Because tenants usually pay rent on a monthly basis, quite a few real estate investment trusts (REITs) have decided to offer investors monthly dividends. STAG Industrial Inc (NYSE:STAG) is a REIT that pays monthly dividends with an annual yield of 5.51%.
A company's dividend yield is an important factor in dividend investing. It tells an investor how much cash return they can expect to receive for each dollar invested in the company at the current price. However, while dividends are usually considered sticky, there is no guarantee that a company's payout can continue forever. There have been plenty of instances where a once-solid dividend-paying company decided to slash its payout. Therefore, before taking out your wallet, it's critical to check a company's dividend durability.
In the real estate business, dividends come from the cash a company generates. In order to see whether STAG Industrial has the ability to generate enough cash to keep paying monthly dividends, let's take a closer look at its business.
Headquartered in Boston, Massachusetts, STAG Industrial is a REIT that focuses on single-tent industrial properties. The company's investment strategy comes from the pricing inefficiencies from the binary risk nature of single-tenant industrial properties. By acquiring mispriced industrial real estate assets, STAG Industrial can earn attractive returns on its investments. For instance, the 11 buildings it acquired in the first quarter of 2017 have a weighted average capitalization rate of 8.2%. (Source: "STAG Industrial Announces First Quarter 2017 Results," STAG Industrial, Inc., May 2, 2017.)
To mitigate the binary risk associated with single-tenant properties, STAG Industrial diversifies its portfolio by tenant, industry, lease term, and geography. By the end of the first quarter, the company owned 324 properties across 37 states totaling 63.2-million square feet.
Also Read:
Top 7 Stocks to Earn Monthly Dividends in 2017
Top 9 Stocks That Earn Monthly Dividends
Another attractive feature of industrial properties is the large yet extremely fragmented marketplace. The industrial real estate market in the U.S. is estimated to be over $1.0 trillion in total size. However, the largest owner of such properties controls less than three percent of the market. The properties in STAG Industrial's target asset class are generally owned by regional non-institutional investors.
According to the company, the market containing properties that meet its investment criteria is estimated to be at least $250.0 billion. Right now, STAG Industrial has less than one percent share of its target market. In a market where no one company has the power to influence the industry, there should be plenty of opportunities for STAG Industrial to grow its presence.
Large-Scale Opportunity

(Source: "Investor Presentation – Winter/Spring 2017," STAG Industrial, Inc., last accessed May 9, 2017.)
As a matter of fact, the company is already growing quite rapidly. Since STAG Industrial's initial public offering (IPO) in April of 2011, it has acquired over $2.0 billion worth of target properties. The newly acquired properties added approximately 56 million square feet to its industrial real estate portfolio, representing asset growth of 386%.
Investors have noticed the growth at this real estate company and are willing to reward it with higher valuations. Since STAG Industrial's IPO, its share price has more than doubled.
Of course, for investors that don't plan to sell their stake in the company anytime soon, collecting monthly dividends is the focus. And on that front, STAG Industrial looks pretty solid.
The company did not start out as a monthly dividend stock. Up until October 2013, STAG Industrial was paying quarterly dividends. But no matter what the payment frequency was, STAG Industrial has always been raising its annualized payout. Since its IPO, the company's dividend has increased at a compound annual growth rate (CAGR) of five percent.
A Monthly Dividend Stock with a Growing Payout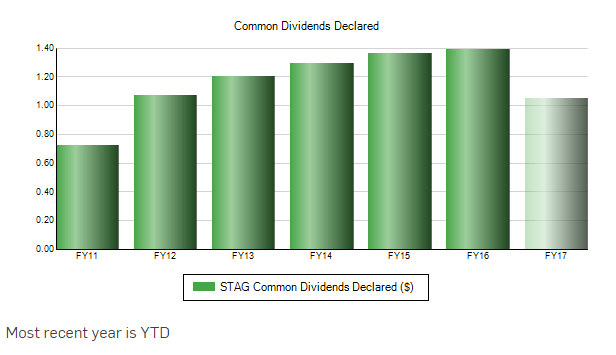 (Source: "Dividends," STAG Industrial, Inc., last accessed May 9, 2017.)
Paying $0.1175 per share on a monthly basis, STAG Industrial is currently yielding a solid 5.51%.
Going back to cash generation, STAG Industrial reported core funds from operations (Core FFO) of $0.41 per share in the first quarter of 2017. That represented a 5.1% increase from the company's Core FFO in the year-ago period. The ability to generate more cash from operations is critical if a company wants to keep raising its monthly dividends.
The Bottom Line on This Monthly Dividend Stock
Industrial REITs don't get much attention these days. Even with its appealing monthly dividends, you rarely see STAG Industrial in financial media. However, with the potential of more manufacturing activity coming back to the U.S. and the booming e-commerce industry (which would boost the demand for warehouses rather than retail stores), industrial REITs do have a few things going for them.
I'm not saying that industrial REITs are the best real estate stocks on the market. But with a unique strategy, a growing portfolio, and increasing payout, STAG Industrial is a monthly dividend stock worth considering by income investors.