Earn a 7% Yield…From Ford Motor Company?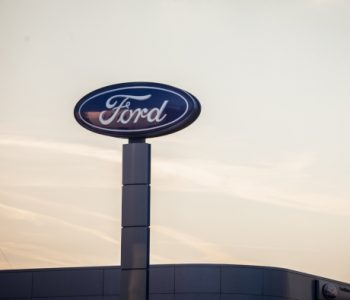 iStock.com/BalkansCat
Should Income Investors Consider Ford Stock?
It's no secret that down-and-out stocks can provide some of the biggest dividend yields. Still, you probably didn't expect one of Detroit's "Big Three" to offer a payout as high as seven percent.
I'm talking about Ford Motor Company (NYSE:F), whose share price performance has been lackluster, to say the least. Ford stock started the year trading at $12.66 apiece. Now it's at around $8.54, marking a year-to-date drop of roughly 32.5%. Ouch!
Now, keep in mind that Ford has maintained its regular dividend rate at $0.15 per share.
At a given dividend rate, a company's dividend yield moves inversely to its share price. Therefore, due to its tumbling stock price, Ford has become a true high-yield name in today's market.
To put this in perspective, the average dividend yield of all S&P 500 companies stands at 1.96% at the moment. In other words, the beaten-down Ford stock is offering a yield more than three times the benchmark's average. (Source: "S&P 500 Dividend Yield," Multpl.com, last accessed December 12, 2018.)
If you've been following the markets, you'd know that U.S. automakers are not exactly the hottest commodities right now. The other two of Detroit's Big Three—General Motors Company (NYSE:GM) and Fiat Chrysler Automobiles NV (NYSE:FCAU)—are both trading quite a bit lower than where they started the year at.
Still, despite being in the red year-to-date, GM and FCAU can't really compete with Ford stock when it comes to dividends. As I mentioned, Ford has an annual yield of seven percent. General Motors currently pays 4.4%, while Fiat Chrysler doesn't have a regular dividend policy.
Of course, being the highest yielder is not always a good sign. So, before you load up on Ford stock, let's take a look at the financials and see if the company can actually afford the payout.
Can Ford Motor Company Afford Its Dividend?
If you go over Ford's earnings reports year-to-date, you'd see that the answer is yes.
In the first nine months of 2018, the company generated adjusted earnings of $1.00 per share. While the number was down year-over-year, it easily covered Ford's three quarterly dividend payments totaling $0.45 per share declared during this period. (Source: "Ford Delivers Third Quarter $1.0B Net Income; $1.7B Adj. EBIT; On Track to Achieve Full-Year Adjusted EPS Guidance in the Range of $1.30 to $1.50," Ford Motor Company, October 24, 2018.)
Some say that earnings are not the best metric to use when determining dividend safety, and that cash flow is more important. The good news is, on the cash flow front, Ford's payout looks pretty solid as well.
In the first three quarters of this year, Ford generated approximately $13.7 billion in operating cash flow. Its cash dividends, on the other hand, totaled $2.3 billion for the period. Therefore, the cash generated from the company's operating activities was a lot more than what was needed to meet its dividend obligations.
Besides, the company had more than $23.0 billion in cash at the end of September. Therefore, even if business slows down considerably, Ford could use that some of that cash to continue paying its dividend.
Furthermore, the company is determined to keep its dividend alive. According to the third-quarter investor presentation, Ford is "committed to maintaining an investment grade credit rating, a strong balance sheet and the regular dividend throughout the cycle." (Source: "3Q Earnings Review," Ford Motor Company, October 24, 2018.)
During the earnings conference call, when asked about Ford's plan for dividends, the company's President and Chief Executive Officer James P. Hackett said, "We want to emphasize that we don't know how we've lost control of the way that's been projected, but we've been consistent saying that we plan to pay the regular dividend in this five-year plan." (Source: "Q3 2018 Earnings Call," Ford Motor Company, October 24, 2018.)
In other words, Ford's dividend policy looks pretty solid—for now.
Nevertheless, I wouldn't call Ford stock a slam dunk. This is because the company has to deal with quite a bit of uncertainty.
Uncertainties Ahead
You see, the auto industry is cyclical. That is, when the economy is booming, auto sales are strong and automakers like Ford rake in huge profits. However, when things start to go south, companies in the auto industry usually see their financials deteriorate.
We are not in a recession at the moment, but overall, sales of passenger cars in the U.S. so far this year haven't been as strong as last year. (Source: "USA – Flash report, Sales volume, 2018," MarkLines.com, last accessed December 12, 2018.)
Looking at Ford, the company sold 196,303 vehicles in the U.S. in November 2018. While the figure was down 6.9% year-over-year, it was better than the 9.3% decline forecast by Edmunds.com, Inc. (Source: "Ford F-Series Pickups Produce a Record Nine Straight Months Topping 70,000 Trucks Sold; Ford Expedition Sales Up 7.9 Percent, While Lincoln Navigator Gains 27.3 Percent," Ford Motor Company, December 3, 2018.)
Most stock market participants are forward-looking. While we recognize the cyclical nature of the auto industry, declining sales is not something investors want to see.
And then there's the trade tensions between the U.S. and China. After meeting at the G20 summit in Buenos Aires, U.S. President Donald Trump and Chinese President Xi Jinping agreed to a 90-day truce with respect to the two countries' trade conflict. It remains to be seen what the trade environment will look like after that 90-day period, and how that will affect U.S. automakers like Ford.
Bottom Line on Ford Stock
There you have it. With a seven-percent yield, Ford is one of the most generous dividend payers in today's stock market. And the dividend remains safe based on its latest financial results.
While this should put Ford stock on an income investor's watchlist, it should be noted that the company still faces uncertainty.