Earn a 7% Yield From "Digital Real Estate"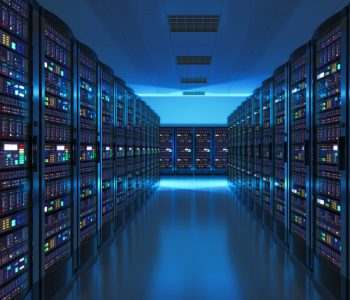 iStock.com/scanrail
Earn Rent Checks as a Virtual Landlord
Over the past few years, a handful of tech companies have quietly bought large tracts of land near San Francisco. Now the land rush has spread to Dallas, Chicago, and New York. Some of the world's smartest investors now want to stake a claim.
And their bet has paid off. Many of the industry's biggest landowners just reported blowout earnings. Some investors can collect upfront yields ranging anywhere from five percent to even seven percent. And it's only the beginning.
As longtime Income Investors readers know, we love real estate. Each month, you collect a rent check. Each year, your property values go up a little. No wonder many people retire on the income earned from their rental properties.
But one little-known part of the business has outpaced all others: data centers. We told you about the huge potential of this industry a few months ago. Internet companies need huge server networks to run their operations, which need to be housed somewhere.
Think of it as a digital land rush. The total amount of data out there doubles every two years, according to analysts at International Data Corporation (aka IDC). From 2013 to 2020, storage demand will grow from 4.4 trillion gigabytes to 44 trillion. (Source: "The Digital Universe of Opportunities: Rich Data and the Increasing Value of the Internet of Things," IDC, last accessed October 19, 2017.)
Companies need to keep this information somewhere. Online businesses now spend billions of dollars on specialized data storage facilities, which rent for as much as $200.00 per square foot each month. And, with demand far outpacing available space, landlords can raise their prices.
Over the past few years, property owners like Digital Realty Trust, Inc. (NYSE:DLR), CoreSite Realty Corp (NYSE:COR), and QTS Realty Trust Inc (NYSE:QTS) have been buying up acreage for new data centers like crazy. And this move is paying off. Digital Realty owns over 200 data centers around the world. During the partnership's most recent quarter, rental income surged 10% versus a year ago. Over the past two years, net income has grown by more than 88%. (Source: "Digital Realty Reports Second Quarter 2017 Results," Digital Realty Trust, Inc., July 27, 2017.)
In a conference call, management revealed plans to spend another $1.0 billion on new data centers. Digital Realty specifically wants to expand their international business, where rents and income have grown even faster.
CoreSite has experienced a similar boom. Total rental income topped $117.9 million last quarter, up 22.7% year-over-year. Management raised rents by 6.5% on existing leases, thanks in large part to an industry-wide shortage of storage space. That's big. (Source: "CoreSite Reports Second-Quarter 2017 Financial Results Reflecting Revenue Growth of 23% Year over Year," Yahoo! Finance, July 27, 2017.)
Last year, CoreSite spent $300.0 million building out its operations. This includes a 8,276-square-foot data center outside of Denver. Years ahead of completion, tech companies have pre-leased almost all of the site's capacity.
QTS ranks is one of the smaller players in this niche. It's a $2.0-billion landlord with 24 properties across the United States. Since going public in 2013, management has increased the distribution by 64%. In fact, the stock jumped 152% over the past four years after reporting strong rental income for data centers.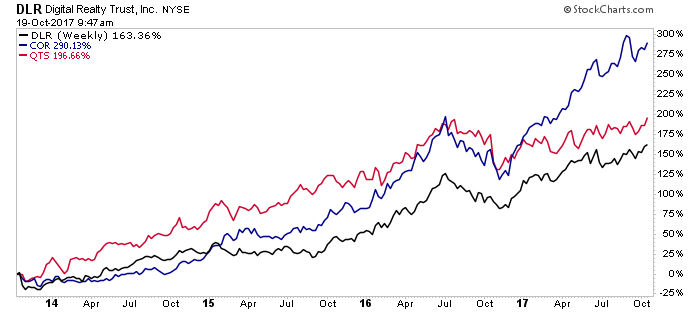 Chart courtesy of StockCharts.com
Almost every virtual landlord has reported blowout numbers. And the three companies I mentioned above have gone "all in," spending billions of dollars to expand operations.
Much of this rental income will get passed on to owners. For investors that need cash flow today, all of these trusts offered preferred shares with fixed yields of up to seven percent. More patient shareholders can choose the common units, which sport lower upfront payouts but offer more growth.
I suggest doing more research on at least one of these names today.