Earn a 7% Yield From Main Street Capitals' Monthly Dividend Stock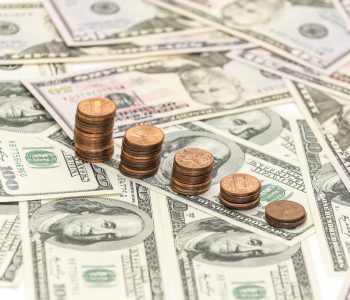 Monthly Dividend Stock Yields 7%
Today's chart highlights one company in a group of monthly dividend stocks operating in the "sweet spot" of the U.S. economy known as business development corporations (BDCs).
You don't need an MBA to understand BDCs. They lend cash to mid-sized businesses and earn regular interest payments. And, because they have to pay out most of their profits, some of these names pay yields of seven percent to upwards of nine percent.
Which company sets the tone in this industry? Main Street Capital Corporation (NYSE:MAIN). Few can match this firm's track record. And, while many people have never heard of it, there are plenty of reasons why this name tops my list of monthly dividend stocks.
First, Main Street works in the aforementioned "sweet spot" of the U.S. economy. Executives lend money to mid-sized firms with annual revenues between $10.0 million and $50.0 million. You're talking about real companies with ample profits, not some speculative startups.
Big banks generally won't lend to these businesses. And, due to growing regulations, they've pulled out of the market. You have too much red tape to justify making these small loans.
Main Street, however, has filled that gap. The lack of competition means they can earn higher interest rates than on other types of lending. And, because they're dealing with established companies, you see far lower default rates compared to small business loans.
Furthermore, you have a rock-solid portfolio. Main Street typically has senior status on all of these loans. That means they're first in line to get paid if anything goes wrong.
To cut risk further, BDCs often operate like a venture capital fund. They work closely with clients, providing business advice, financial services, and other support. This close relationship translates into better performance and lower default rates.
For stock owners, that has resulted in a dependable dividend. Since going public in 2007, Main Street has never cut its payout. Better still, this distribution has grown meaningfully over the past decade.
Today, this stock pays a monthly dividend of $0.19 per share. In addition, management juices this return through semi-annual distributions. Altogether, this comes out to a full-year yield of seven percent.
Here's a chart of Main Street's trailing twelve months (TTM) dividends per share.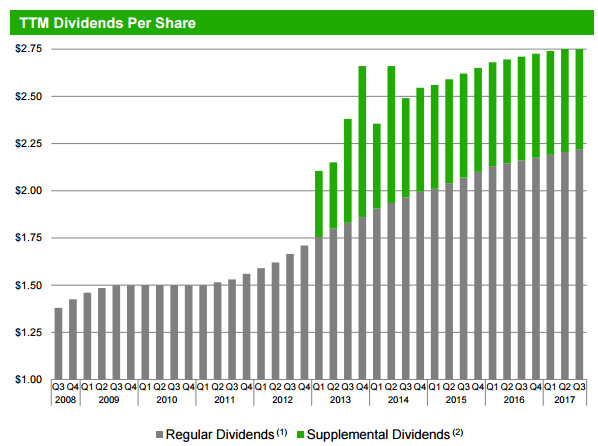 (Source: "Investor Presentation: First Quarter – 2017," Main Street Capital Corporation, last accessed May 8, 2017.)

That payout could soar over the next few years. Most of Main Street's loans have a floating payment schedule. If interest rates rise, the company's income (and likely its dividend) could surge in lockstep.
Bottom line: mid-sized businesses represent the true sweet spot of the U.S. economy. For us income investors, this creates an opportunity. And, with a yield topping seven percent, Main Street Capital is my favorite way to profit.