Earn a 7.3% Yield (Paid Monthly) From the Healthcare Sector?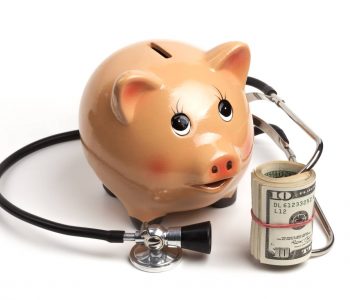 This High-Yield Stock Could Be Special
With the COVID-19 pandemic sending shock waves across the economy and the financial markets, healthcare stocks are getting a lot of attention. Not only is the sector known for being more recession-proof than most others, but the race to develop a coronavirus vaccine has led to increased investor enthusiasm toward biotech companies.
For income investors, there are plenty of healthcare stocks with regular dividend policies. However, most of them don't pay quite as generously—or as frequently—as this one: Tekla Healthcare Opportunities Fund (NYSE:THQ).
Technically speaking, even though investors can find this fund under a ticker on the New York Stock Exchange, it is not just one healthcare company. Instead, THQ is a closed-end fund that invests primarily in the healthcare industry.
According to its own description, the objective of the fund is to "seek current income and long-term capital appreciation through investing in companies engaged in the healthcare industry, including equity securities, debt securities and pooled investment vehicles."  (Source: "Tekla Healthcare Opportunities Fund (THQ)," Tekla Capital Management LLC, last accessed July 29, 2020.)
Tekla Capital Management LLC serves as the fund's investment advisor.
As I said, this healthcare stock stands out due to the size and frequency of its dividend payments. In early July, the fund declared a monthly cash distribution of $0.1125 per share. With a share price of $18.50, the latest distribution translates to an annual yield of 7.3%. (Source: "Tekla Healthcare Opportunities Fund Declares Monthly Cash Distribution," Tekla Healthcare Opportunities Fund, July 9, 2020.)
That is, we are looking at a high-yield, monthly dividend stock that comes from healthcare.
Now, you are probably wondering how THQ stock manages to do this. Well, let's take a look at the fund's portfolio.
As of March 31, most of the fund's assets were invested in either equity (75.5%) or convertible and non-convertible notes (16.6%). (Source: "Portfolio," Tekla Healthcare Opportunities Fund, last accessed July 23, 2020.)
Notes are debt securities, so the fund can earn a predictable stream of payments from those. Equity investments in the healthcare sector, though, don't usually pay much in terms of dividends.
THQ's top five holdings at the end of March were Johnson & Johnson (NYSE:JNJ), Merck & Co., Inc. (NYSE:MRK), United Health Group Inc (NYSE:UNH), Pfizer Inc. (NYSE:PFE), and Bristol-Myers Squibb Co (NYSE:BMY). These companies represented 7.2%, 6.1%, 4.8%, 4.7%, and 4.3% of the fund's portfolio, respectively. The highest-yielding stock among the top five holdings is Pfizer, which has an annual dividend yield of 3.9% at the time of this writing.
The neat thing is that, while Tekla Healthcare Opportunities Fund does not own a whole lot of ultra-high-yielding stocks, it often sells covered calls to produce current income.
You see, a call option gives an investor the right, but not the obligation, to buy a stock at a specified price within a specific time period. The covered call strategy that THQ uses involves selling out of the money call options against shares of healthcare stocks that the fund already owns. In exchange for selling the call options, the fund collects an option premium.
Other than using covered calls, Tekla Healthcare Opportunities Fund can also use leverage to enhance its yield. At the end of March, the fund had a total leverage ratio (leverage as a percentage of managed assets) of 23.7%. (Source: "Semiannual Report," Tekla Healthcare Opportunities Fund, last accessed July 23, 2020.)
Of course, investing in an actively managed fund like THQ will typically involve paying a higher management fee than investing in, say, an index fund that passively tracks an index. In the six months ended March 31, the fund had an expense ratio (expenses to average net assets) of 2.22%.
Bottom Line on Tekla Healthcare Opportunities Fund
At the end of the day, keep in mind that investors can also buy shares of individual companies in the healthcare sector directly, and some companies do offer solid dividend policies.
But for those who want to earn a higher yield from the sector and have dividend checks arriving in the mail every month, Tekla Healthcare Opportunities Fund is worth a look.