Eagle Bulk Shipping Stock: Undervalued 20.4%-Yielder Hikes Quarterly Dividend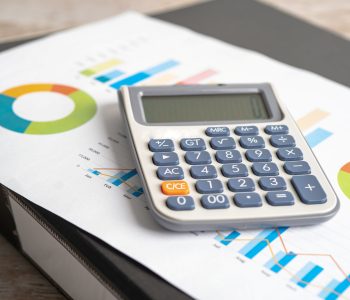 EGLE Stock Could More Than Double
Stocks have been cratering recently—even below their June lows, a level that Jim Cramer said would hold. And with the Federal Reserve determined to use additional interest rate hikes to get inflation under control, it appears that investors can expect stocks to fall further.
An interesting thing about share prices tumbling is that dividend yields rise at the same time. Right now, it's pretty easy to find high-yield and ultra-high-yield dividend stocks. This should make income hogs a little nervous.
There's a good way to determine whether a dividend stock's payout is safe and not relying on a falling share price to boost its yield. It's if the stock's payout and price are both rising. That's what you get with Eagle Bulk Shipping Inc. (NASDAQ:EGLE). The company recently raised its quarterly payout. Businesses don't want to announce dividend hikes and then have to cut their dividends. They typically raise their dividends because they believe they can afford to do so.
Not only has Eagle Bulk Shipping Inc.'s board been hiking the company's ultra-high-yield dividend, but Eagle Bulk Shipping stock's price has been remarkably resilient. EGLE stock hasn't been destroying the broader market (up by only two percent in 2022), but it has been outperforming the S&P 500, which is in bear-market territory (down by 23% in 2022), and the Dow Jones Industrial Average, which is flirting with a bear market (down by 19.3% in 2022).
The outlook for Eagle Bulk Shipping is robust, with the most bullish analysts expecting its share price to more than double over the next 12 months to $85.00.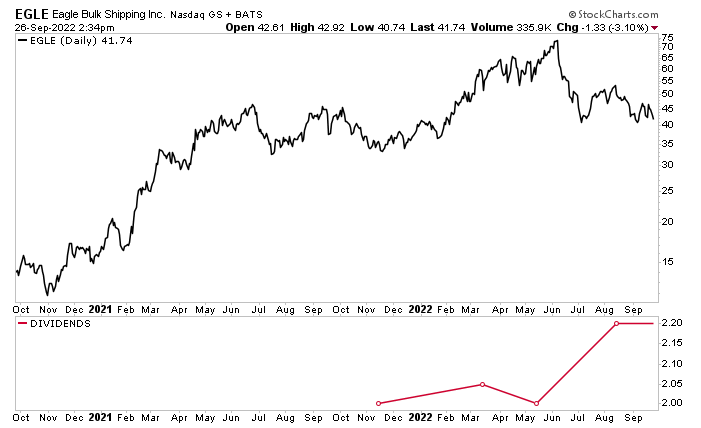 Chart courtesy of StockCharts.com
About Eagle Bulk Shipping Inc.
Eagle Bulk Shipping is a marine shipping company that transports dry bulk commodities around the world. The company focuses exclusively on the midsize dry bulk vessel segment. It owns one of the largest fleets of Supramax/Ultramax ships in the world: 53 vessels, with an average age of 9.5 years. On September 13, the company announced it had purchased a 2015-built modern Ultramax bulk carrier for $27.5 million. (Source: "Investor Presentation: September 2022," Eagle Bulk Shipping Inc., last accessed October 4, 2022.)
Eagle Bulk Shipping has a diverse customer base, including various types of producers, traders, and end users. The company's typical cargoes include major bulk (e.g., coal, grain, and iron ore) and minor bulk (e.g., fertilizer, steel products, petcoke, cement, and forest products). About 60% of the company's dry bulk cargoes are major bulk commodities.
Eagle Bulk Shipping Inc. has transformed its operations over the last few years. Since 2016, the company has:
Acquired 30 modern vessels, increasing its cargo capacity and reducing its emissions
Divested 21 of its oldest, least efficient ships
Achieved consistent market outperformance, leading to significant incremental earnings before interest, taxes, depreciation, and amortization (EBITDA)
Strengthened its balance sheet
Increased its total liquidity to about $242.0 million
Record Quarterly Profits
For the three months ended June 30, Eagle Bulk announced that its revenues jumped by 23% year-over-year to $198.7 million. The company's time charter equivalent (voyage revenues minus expenses, divided by duration) in the quarter went up by 48% to $138.2 million, or $30,207 per day. (Source: "Eagle Bulk Shipping Inc. Reports Record Net Income for the Second Quarter of 2022," Eagle Bulk Shipping Inc., August 4, 2022.)
The company reported record net income of $94.5 million, or $7.27 per share, for the second quarter of 2022, compared to $9.2 million, or $0.76 per share, in the same prior-year period. Its second-quarter 2022 adjusted net income was $81.6 million, or $6.28 per share, up from $40.3 million, or $3.31 per share, in the second quarter of 2021.
.
Eagle Bulk Shipping Inc.'s outlook for the third quarter is excellent. In early August, the company had booked 72% of its available days, with an average time charter equivalent of $29,024.
Eagle Bulk Shipping Stock's Quarterly Dividend Hiked 10%
In October 2021, Eagle Bulk Shipping Inc. instituted a dividend program, targeting a minimum payout equal to 30% of its net income but no less than $0.10 per share. Since then, EGLE stock has paid total dividends of about $107.0 million, or $8.25 per share.
Thanks to the company's high cash generation, solid balance sheet, and constructive outlook, its board recently declared a quarterly dividend of $2.20 per share (up from $2.00), for a yield of 20.4%.
| | | | |
| --- | --- | --- | --- |
| Fiscal Year | Fiscal Quarter | Dividend Per Share | Percentage of Basic Earnings Per Share |
| 2022 | 2 | $2.20 | 30% |
| 2022 | 1 | $2.00 | 49% |
| 2021 | 4 | $2.05 | 30% |
| 2021 | 3 | $2.00 | 33% |
(Source: "Dividends," Eagle Bulk Shipping Inc., last accessed October 4, 2022.)
Eagle Bulk Shipping stock's payout ratio is a measly 31.5%, giving the company more than enough financial wiggle room to increase its payout over the coming quarters.
Of course, EGLE stock's price fluctuates depending on where we are in the economic cycle. But, as management has noted, given the company's strong cash generation and positive market trends, it appears that Eagle Bulk Shipping stock is in a sweet spot for ultra-high payouts.
The Lowdown on Eagle Bulk Shipping Inc.
Everything is going right for Eagle Bulk Shipping Inc. It has been expanding its modern fleet of vessels, it recently reported record quarterly net income, it recently hiked its ultra-high-yield dividend, and it has provided strong guidance for the third quarter.
All this bodes well for the likelihood of EGLE stock's dividend rising again over the coming quarters.