Dynex Capital Stock: Reliable 9.6%-Yielder Can Help Fight Inflation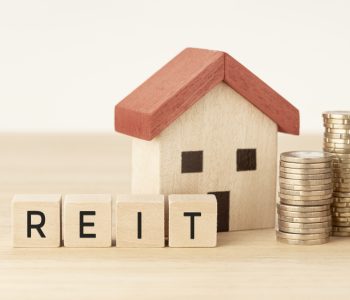 DX Stock Great for Income & Growth
Rising interest rates have been putting a dent in many income stocks, but it's not bad news for all of them. One dividend stock with inflation-trumping, monthly, high-yield payouts—that also has high near- and long-term growth potential—is Dynex Capital Inc (NYSE:DX).
Dynex Capital is an internally managed mortgage real estate investment trust (mREIT) that primarily invests in residential mortgage-backed securities (RMBSs), commercial mortgage-backed securities (CMBSs), and CMBS interest-only securities. (Source: "First Quarter 2022 Earnings Presentation," Dynex Capital Inc, April 27, 2022.)
Dynex Capital also has investments in securitized single-family residential and commercial mortgage loans originated by the company from 1992 to 1998.
Unlike the vast majority of dividend stocks, Dynex Capital stock distributes payouts monthly. Most recently, on July 12, Dynex declared a monthly cash dividend of $0.13 per share. With a current share price of $16.55, this works out to a yield of 9.6%. That dividend yield is slightly higher than the inflation rate, which is at a fresh 40-year high of 9.1%.
With most stocks tanking, it's easy for many companies to tout their high-yield dividends. That's not the case with Dynex Capital Inc, though. DX stock's price hasn't exactly been on fire lately, but it has certainly been outpacing the broader market, trading up by:
Five percent over the last month
Five percent over the last three months
Four percent year-to-date
Zero percent year-over-year
And the outlook for Dynex Capital stock is solid, with analysts providing a 12-month target of $18.42 to $19.00 per share. This points to potential gains in the range of 11% to 15%.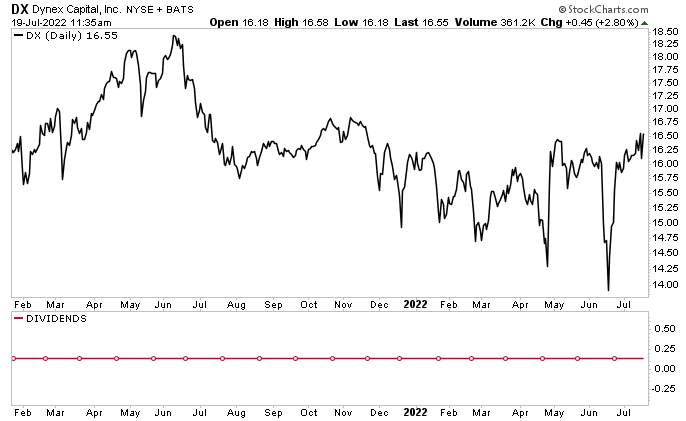 Chart courtesy of StockCharts.com
DX stock has a strong track record of industry-leading three-year and five-year total returns. It also has a long history of high-yield dividends, with a five-year average yield of 11.4%. So, its current high yield isn't a fluke.
And that payout is safe. In the first quarter of 2022, Dynex Capital had earnings available for distribution of $0.44 per share. During the quarter, it declared three monthly dividends totaling $0.39 per share. (Source: "Dynex Capital, Inc. Announces First Quarter 2022 Results," Dynex Capital Inc, April 27, 2022.)
That doesn't mean Dynex Capital stock is the perfect stock for income hogs. The company has cut its payout. The last time was at the beginning of 2020, around the start of the COVID-19 pandemic. At the time, DX stock paid out a monthly dividend of $0.15 per share. (Source: "Dividends," Dynex Capital Inc, last accessed July 19, 2022.)
The company has been taking actions to make its business more stable, which should result in more dividend hikes. It's been moving away from CMBCs toward RMBSs.
At the end of 2019, Dynex Capital Inc had 51% of its portfolio invested in agency RMBSs, 39% invested in agency CMBSs, and 10% in other investments. By the end of March 2022, the share of agency RMBSs in its portfolio had increased to 90.9%. When you consider how badly commercial real estate was hit during the pandemic, transitioning toward residential mortgages seems like a prudent move.
The Lowdown on Dynex Capital Inc
Dynex Capital stock could be a great option for dividend hogs who want to combat inflation and accelerate their income.
Dynex Capital Inc's resilient, flexible, and liquid balance sheet is designed to weather economic volatility. This helps explain why the company has a long track record of industry outperformance. Recently, it significantly outperformed the fixed income sector in fiscal 2021 and the first quarter of 2022.