Dynagas LNG Partners LP: Can You Count on This 12.1% Yield?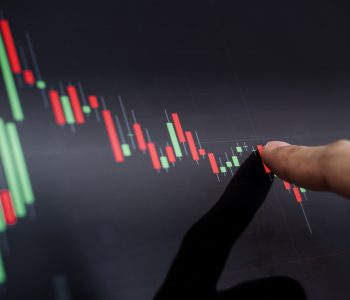 iStock.com/SasinParaksa
This Stock Now Pays 12.1%
Readers sometimes ask why I recommend stocks that recently cut their dividends.
It's a reasonable concern. Strong companies, by and large, boost their payouts, so slashing the distribution probably signals that something is wrong.
Dividend cutters, however, often represent remarkable bargains. After companies slash their payouts, investors all tend to dump their shares at the same time. During these occasions, you can sometimes pick up good, albeit slightly damaged, assets for pennies on the dollar.
Case in point: Dynagas LNG Partners LP (NYSE:DLNG). This limited partnership owns dozens of ocean vessels that ship liquefied natural gas around the world. And while the company's dividend history has a few blemishes, units could represent a real bargain for income investors.
In April, Dynagas cuts its distribution by 41%. Simply put, management fell into the trap many businesses fall into: they committed to a large payout supported by unsustainably high profits during the "good times." (Source: "Dynagas LNG Partners LP Announces Reduction in Quarterly Distribution to $0.25 Per Common Unit," Dynagas LNG Partners LP, April 18, 2018.)
That backfired when profits started to decline. Last year, the company's cash flows dropped as old contracts rolled over. Due to a slowdown in the energy market, Dynagas had to sign new charter agreements at lower prices.
Toss in some unexpected maintenance and you have a recipe for a real problem. As a consequence, the business no longer generated enough profits to fund the payout. Following the distribution cut announcement, units plunged as much as 30% in value.
No doubt investors have every right to be disappointed. But at today's unit price, traders have valued Dynagas LNG Partners LP at only the scrap value for its ships. In other words, "Mr. Market" has placed no premium for any possible sentiment shifts, improving market conditions, or forward growth potential.
The thing is, analysts do see market conditions improving in the near future. Thanks to America's shale revolution, the number of liquefied natural gas shipments has surged worldwide. This has put a firm bid underneath charter rates for transport vessels.
Dynagas LNG Partners LP finds itself right in the middle of this boom. To expand the business, management will likely drop down several more assets from their parent company. Additional ships in the fleet will provide a big boost to cash flows looking out past 2019, putting the partnership in the position to resume distribution hikes.
In the meantime, investors get to lock in a 12.1% yield. After Dynagas cut its payout, the distribution now stands on a much more solid foundation. The business generates ample cash flow to cover future payouts, reducing the risk of future cuts.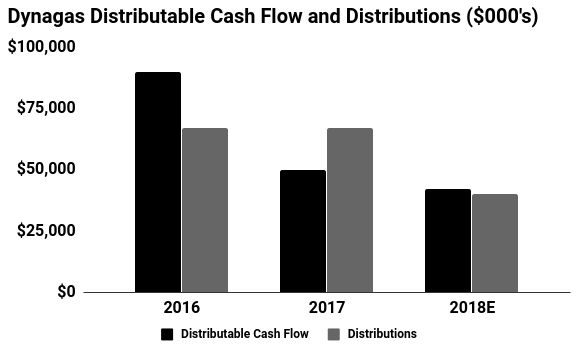 Source: "Distributions," Dynagas LNG Partners LP, last accessed August 2, 2018.

To be clear, Dynagas doesn't represent the safest dividend around. Any time you see a yield approaching 12%, you know the distribution comes with some risk. Given the partnership's shaky payout history and recent dividend cut, further reductions present a real possibility.
That said, investors have priced in the worst case scenario. And if units rebound, new shareholders can lock in a pretty tidy yield. I'm willing to take a flyer on Dynagas LNG Partners LP.