Dorchester Minerals LP: Massive Growth & Reliable 7.1% Yield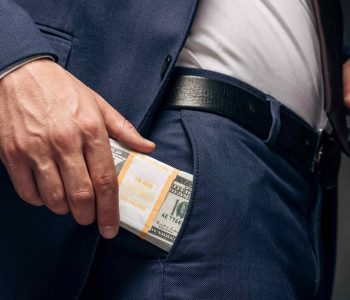 Here's Why Dorchester Minerals Stock Is Worth Watching
By its own admission, Dorchester Minerals LP (NASDAQ:DMLP) is a "small, quiet and boring outfit." But don't let the subtle art of self-deprecation scare you away. This understated energy company offers safe and reliable high-yield dividends. Moreover, DMLP stock has been one of the best-performing energy stocks of 2021.
Dorchester Minerals is engaged in the acquisition, ownership, and administration of producing and non-producing mineral, royalty, net profit, and leasehold interests. The company refers to these interests as "royalty properties." It owns royalty properties in approximately 581 counties and 26 states. (Source: "Annual Meeting," Dorchester Minerals LP, May 19, 2021.)
The partnership isn't interested in growth for growth's sake. Instead, its actively managed portfolio of properties gives it exposure to nearly every domestic mineral-producing basin, which allows it to take advantage of multiple commodity prices and development cycles.
Dorchester Minerals LP's high-impact areas include:
Bakken/Three Forks (North Dakota)
10,000 net mineral acres (NMA)
Core area with development potential
Significant unleased mineral position
Largest contributor to mineral net profit interest revenue
Permian (Texas & New Mexico)
84,000 NMA
Midland Basin: Large acreage with mix of high-net interests, blocks of contiguous acreage, and unleased net profit interest wells
Delaware Basin: Ongoing development of prolific units and large net acreage position in highly prospective areas
Legacy Permian: Exposure to long-lived, low-decline enhanced oil recovery and conventional central basin platform units
Dorchester Minerals LP also has a huge position in unleased and undeveloped acreages:
Non-Bakken Rockies: 167,000 NMA
Non-Permian Texas: 77,000 NMA
Southeast: 45,000 NMA
Mid-Continent: 38,000 NMA
Appalachia: 25,000 NMA
Other: 7,000 NMA
The partnership's geographically diverse portfolio of royalty properties is always growing.
In April, Dorchester Minerals entered an agreement to acquire an overriding interest in the Bakken Trend, totaling 6,400 net royalty acres under 63,000 gross acres in Dunn, McKenzie, McLean, and Mountrail Counties in North Dakota. Dorchester Minerals acquired interests in these properties in exchange for 725,000 common units of Dorchester Minerals stock.
Thanks to excellent financial results, as well as booming natural gas and oil prices, DMLP stock's price has been ripping considerably higher. As of this writing, the price of Dorchester Minerals stock is at a record level, up by:
15% in September
45% over the last six months
85% year-to-date
102% year-over-year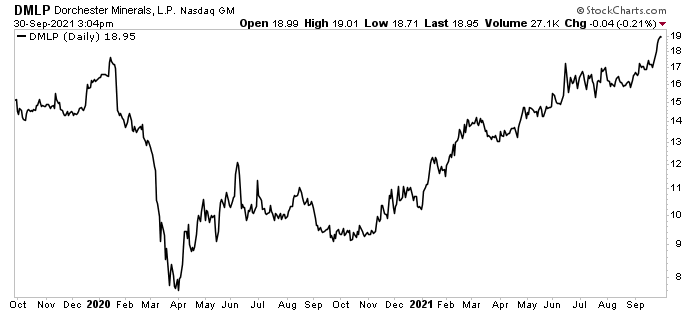 Chart courtesy of StockCharts.com
Strong Q2 Financial Results
For the second quarter ended June 30, Dorchester Minerals announced that its operating revenue jumped by 214% year-over-year to $21.4 million. (Source: "Dorchester Minerals, L.P. Announces Second Quarter Results," Dorchester Minerals LP, August 5, 2021.)
The company's net income soared to $16.5 million, or $0.46 per share, from $1.2 million, or $0.03 per share, in the same prior-year period.
Dorchester Minerals' year-to-date results are also impressive, with its revenue up by 75% to $39.2 million and its earnings up by 185% to $28.3 million, or $0.79 per share.
Dorchester Minerals LP Distributes $1.0 Billion to Its Partners
In July, the partnership declared its second-quarter distribution in the amount of $0.480528 per common unit ($1.35 on an annual basis), for a distribution yield of 7.1%. (Source: "Dorchester Minerals, L.P. Announces its Second Quarter Distribution," Dorchester Minerals LP, July 23, 2021.)
As of the August 12 distribution date, Dorchester Minerals will have paid out more than $1.0 billion to its partners. Best of all, the company achieved this milestone with no debt, no dilutive equity compensation, and no unrelated business taxable income.
Dorchester Minerals LP has a history of providing high-yield dividends; it's what limited partnerships do. Its trailing annual dividend yield is 7.1% and its five-year average yield is 9.5%.
That doesn't mean the company's distribution always goes up; it fluctuates with energy supply and demand, as the below chart shows. Right now, natural gas prices are through the roof, up by more than 180% over the last 12 months to $5.90 per million British thermal units (BTU).
Natural gas hasn't been this expensive since February 2014. This also happens to be the same year that DMLP stock hit its previous record price. Meanwhile, crude oil prices are at their highest levels in nearly three years on surging demand and short supply.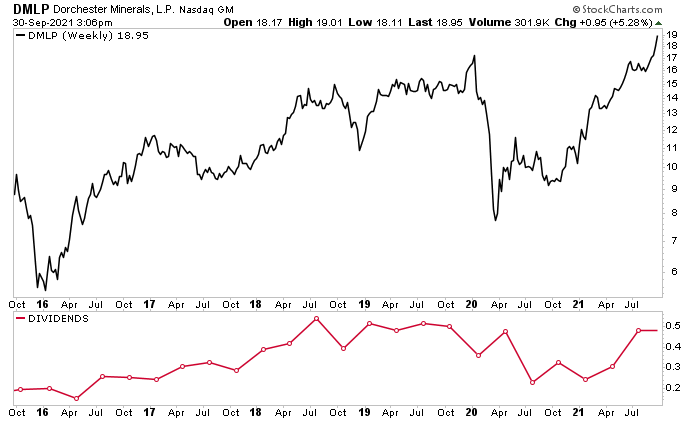 Chart courtesy of StockCharts.com
Right now, Dorchester Minerals stock investors are in a sweet spot, with the company's quarterly dividend payout on the rise. It went from $0.242 in January to $0.3034 in April to $0.480 in July. (Source: "Dividend History," Dorchester Minerals LP, last accessed October 1, 2021.)
The company's second-quarter payout of $0.480 was based on oil sales (82%) from March through May 2021 (when the West Texas Intermediate oil average price was $63.00) and on natural gas sales (18%) from February through April 2021. (Source: Dorchester Minerals LP, July 23, 2021, op. cit.)
| | |
| --- | --- |
| Year | Total Dividends Paid |
| 2021 | $1.02 (3 quarters paid so far) |
| 2020 | $1.39 |
| 2019 | $2.01 |
| 2018 | $1.73 |
| 2017 | $1.55 |
| 2016 | $0.85 |
| 2015 | $1.15 |
| 2014 | $1.90 |
| 2013 | $1.73 |
(Source: Ibid.)
The Lowdown on Dorchester Minerals LP
Dorchester Minerals LP might describe itself as being small, quiet, and boring, but that's fine for investors who seek long-term growth and reliable high-yield dividends.
Investors won't have to wait long to see what DMLP stock's next distribution will be. Dorchester Minerals LP typically declares its third-quarter dividend in late October. A payout of about $0.60 per unit for the October period and coming quarters isn't out of the question.
Dorchester Minerals' third-quarter distribution will mostly be based on oil sales from June through August 2021 and natural gas sales from May through July 2021. That also means its January 2022 distribution will be based on today's current high oil prices, and its April 2022 distribution will be based on today's frothy natural gas prices.