Dollar General Ups Share Buyback By $1 Billion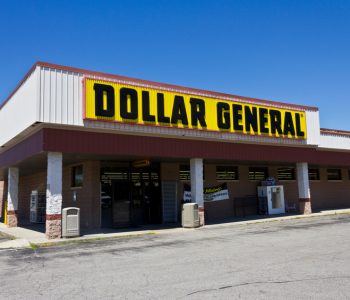 Shares Plunge After Discount Retailer Misses Forecast
Dollar General Corporation (NYSE:DG), a Goodlettsville, Tennessee-based discount retailer, has announced that the company's board of directors has approved an additional $1.0 billion being used for the company's share repurchase plan in 2016 as cash flows from operations surged 36%.
Since the inception of the share repurchase program in December 2011 through the end of the 2016 second quarter, the company has repurchased 67.3 million shares, totaling $4.0 billion, at an average price of $59.93 per share. (Source: "Dollar General Reports Second Quarter 2016 Financial Results," Dollar General Corporation, August 25, 2016.)
Dollar General increased its share buyback plan as it posted second-quarter earnings $1.08 per diluted share, compared to $0.95 a share in the year earlier period. After today's increase in the share buyback plan, the total authorization for future repurchases will come to $1.4 billion. The board also declared its regular quarterly cash dividend of $0.25 per share.
Second-quarter sales rose by 5.8% to $5.39 billion from $5.1 billion in the same period last year. Sales were also below analysts' forecast of $5.5 billion.
For the future guidance, the company reiterated its earlier forecast for earnings per share (EPS) in fiscal 2016 to fall within the 10% to 15% range.
Shares of Dollar General plunged 12% after the earning announcement missed both profit and sales forecasts. Shares were trading at $79.51 on Wall Street.
Reuters reported that lower food prices, growing competition and the impact on their low-income customer base from a reduction of food stamp coverage by several U.S. states are hurting discount retailers' margins.  (Source: "Food stamp cuts, lower food prices weigh on dollar stores," CNBC, August 25, 2016.)
The biggest retailer, Dollar Tree Inc. (NASDAQ:DLTR), also cut its sales forecast today to between $20.69 billion and $20.87 billion, compared to the company's previously expected range of $20.79 billion to $21.08 billion.
"For the second half of the year, we have action plans across both merchandising and store operations intended to drive same-store sales while maintaining strict expense control discipline," said Todd Vasos, Dollar General's chief executive officer, in a statement. "Looking ahead, we remain focused on our long-term strategy to invest for growth while also returning cash to shareholders through consistent share repurchases and anticipated quarterly dividends."
The company said it now expects capital spending for the year to be in the range of $580 million to $630 million to reflect the purchase of 42 Walmart Express stores, compared to its previous forecast of $550 million to $600 million in expenditures.
Same-store sales increased 0.7%, driven by positive results in the consumables category and the opening of the new stores.