DMC Global Inc: Little-Known Company Just Grew Its Dividend by 525%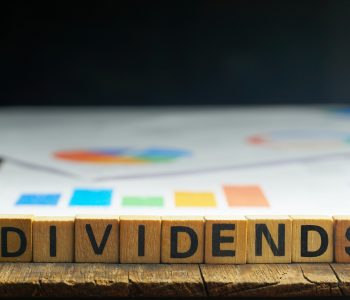 iStock.com/Athitat Shinagowin
A Dividend Stock to Think About
Here at Income Investors, we are constantly on the lookout for companies that are willing to return more cash to investors. Recently, I was surprised to see a massive increase in that willingness from a little-known company by the name of DMC Global Inc (NASDAQ:BOOM).
Headquartered in Boulder, Colorado, DMC Global is in the metalworking business. The company operates through two main segments: NobelClad and DynaEnergetics.
Its NobelClad segment is the largest manufacturer of explosion-welded clad metal plates in the world. Its DynaEnergetics segment, on the other hand, develops, manufactures, and markets advanced explosives components and systems used to perforate oil and gas wells.
Through these two core segments, DMC Global Inc serves an international network of customers in the energy, infrastructure, and industrial markets.
With a market capitalization of around $650.0 million, DMC Global is not really big enough to make headlines often in the financial media. But recently, BOOM stock investors received some seriously good news.
On September 4, DMC Global's board of directors declared a quarterly cash dividend of $0.125 per share. The amount is a whopping 525% increase from the company's previous quarterly payment of $0.02 per share. The newly increased dividend will be paid on October 15 to shareholders of record as of September 30. (Source: "DMC Global Increases Cash Dividend," GlobeNewswire, September 4, 2019.)
"Our dividend increase is made possible by strong financial performance, a solid balance sheet, and confidence in the long-term strength of our markets and growth opportunities," said DMC Global's President and Chief Executive Officer Kevin Longe.
"DMC's purpose is to create superior value for its customers, employees, and shareholders. We believe our shareholders benefit most when we pursue growth objectives and share price appreciation while maintaining a conservative capital structure and the discipline of returning capital through dividends," he continued.
Recovering From the Downturn
Note that this announcement is also significant for BOOM stock from a historical perspective.
You see, due to the company's close ties to the energy industry, its business slowed down when oil prices crashed in the summer of 2014. And in December 2015, DMC Global cut its quarterly dividend rate in half from $0.04 per share to $0.02 per share. (Source: "Dynamic Materials Announces Amendments to Credit Agreement; Implements Temporary Reduction in Quarterly Dividend to Preserve Capital During Industry Downturn," iR Direct, December 18, 2015.)
Now, with the latest dividend hike, the company has more than restored its quarterly dividend rate. As a matter of fact, BOOM stock's new quarterly payout of $0.125 per share is actually 212.5% higher than what it was paying in 2014 before the downturn in the oil and gas industry.
Running a Growing Business
The best part is, DMC Global Inc has a growing business to back its rising shareholder payout.
According to the company's latest earnings report, DMC Global generated consolidated sales of $111.0 million in the second quarter of 2019. The amount not only represented a 37% increase year-over-year but also marked a new record for the company. (Source: "DMC Global Reports Second Quarter Financial Results," DMC Global Inc, July 25, 2019.)
In the reporting quarter, DMC Global also achieved a gross margin of 38%, compared with its gross margin of 36% in the first quarter of 2019 and 33% in the year-ago period.
The bottom line turned out to be even more impressive, as the company earned an adjusted net income of $1.17 per share in the second quarter, up a staggering 172% from the $0.43 per share earned a year earlier.
DMC Global Inc (NASDAQ:BOOM) Stock Chart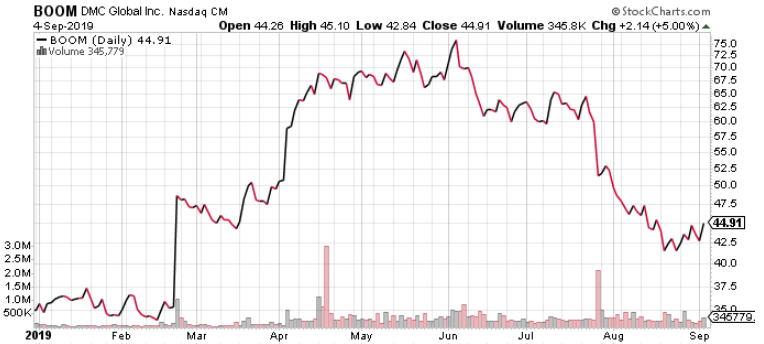 Chart courtesy of Stockcharts.com
Bottom Line on DMC Global Stock
Looking around, not many companies are willing to raise their dividend payout by 525%. And that's one of the reasons why, on the day of its latest dividend increase announcement, DMC Global stock surged five percent.
Going back further, you'll see that, year-to-date, BOOM stock has climbed more than 25%.
Trading at $44.00 per share, the company's new dividend rate translates to an annual yield of 0.18%.
Sure, you can find plenty of stocks with higher yields. But with a growing business and a massive dividend hike, DMC Global Inc now deserves the attention of income investors.