DLR Stock: Combining Technology and Real Estate to Produce 12% Dividend Growth Every Year?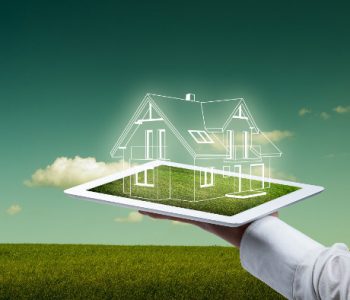 iStock.com/rzoze19
This Company is Well-Positioned for Another Dividend Increase
The technology sector has produced some of the fastest-growing companies in today's stock market. The real estate sector, on the other hand, is known for its ability to generate a steady stream of rental income. So what would happen if a company manages to combine technology with real estate?
Well, you get an income stock with huge dividend growth potential: Digital Realty Trust Inc (NYSE:DLR).
Digital Realty Trust is a real estate investment trust (REIT) headquartered in San Francisco, California. Unlike most REITs, the company doesn't own apartment buildings, industrial warehouses, or shopping malls. Instead, it specializes in a very unique type of real estate asset: data centers.
Right now, Digital Realty Trust owns more than 180 data center properties in 11 countries on four different continents. It offers a wide range of data center services, such as colocation, wholesale deployments, interconnection, and cloud services.
Also Read:
DLR Stock: Earn a 7% Yield from The "Data Gold Rush"
Due to the nature of the company's properties, you might think that it only serves cloud and information technology companies. But that's not really the case. Today, Digital Realty Trust has more than 2,300 customers across industries such as financial services, manufacturing, energy, gaming, and consumer products. (Source: "Extending the Global Platform," Digital Realty Trust, last accessed January 5, 2018.)
As an owner of data centers, Digital Realty Trust may not look like your traditional landlord, but the business is actually huge and lucrative. In fact, with an enterprise value of $35.0 billion, Digital Realty Trust is the sixth-largest publicly traded REIT in the U.S.
And despite having a sizable exposure to the volatile tech sector, the company pays rock-solid dividends. With a quarterly dividend rate of $0.93 per share, DLR stock offers an annual yield 3.3%.
When it comes to ensuring dividend stability, Digital Realty Trust has two things going for it: high-quality tenants and long-term lease agreements. Right now, its top tenants by annualized base rent include well-known names such as Facebook, Inc. (NASDAQ:FB), Verizon Communications Inc. (NYSE:VZ), JPMorgan Chase & Co. (NYSE:JPM), and Morgan Stanley (NYSE:MS). The company's portfolio of properties has an average remaining lease term of 5.2 years.
Of course, even in the tech sector, you can find stocks with higher yields than DLR. What makes this REIT truly stand out is the ability to consistently raise its payout.
Consider this: Digital Realty went public in the fourth quarter of 2004, and in 2005, it paid total dividends of $1.00 per share. Since then, the company has raised its payout every single year. With annual dividends totaling $3.72 per share in 2017, DLR stock's payout has been increasing at a compound annual growth rate of 12%.
DLR Stock Dividend History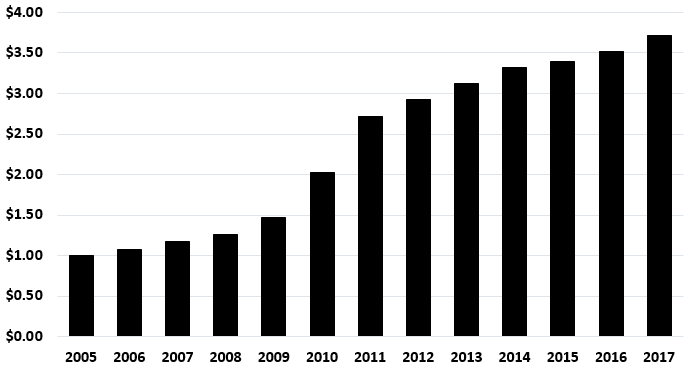 Source: "Dividend History," Digital Realty Trust, last accessed January 5, 2018.
Here's the best part: despite being one of the most established players in the industry, Digital Realty Trust is still growing its business. In the third quarter of 2017, the company generated $610.0 million in revenue, up 12% year-over-year. Core funds from operations (FFO) came in at $1.51 per share, representing a five-percent increase from the year-ago period. (Source: "Digital Realty Reports Third Quarter 2017 Results," Digital Realty Trust Inc, October 25, 2017.)
And since Digital Realty declared and paid total dividends of $0.93 per share during the quarter, it had a core FFO payout ratio of just 61.6%, leaving a wide margin of safety.
The company also raised its outlook. For full-year 2017, Digital Realty expects to earn total revenue between $2.4 billion and $2.5 billion, which, at the midpoint, would represent a 16.7% increase over the $2.1 billion earned in 2016. Core FFO is expected to be in the range of $6.00 to $6.10 per share, a substantial improvement from the $5.72 per share generated in the prior year.
Because of Digital Realty Trust's focus on data center properties, the company is in a good position to continue its growth momentum. Nowadays, more and more companies are moving their on-premise computing infrastructure to the cloud. And with the rise of mobile video, autonomous vehicles, and the "Internet of Things," the amount of data traffic could see a substantial increase in the future, further boosting the demand for data centers.
Digital Realty Trust usually reviews its dividend policy in the first quarter every year. Given the company's growing business and conservative payout ratio, I wouldn't be surprised if it announces another sizable dividend increase in the next month or two.