Dividends From Oil Giants Under Pressure as Debt Mounts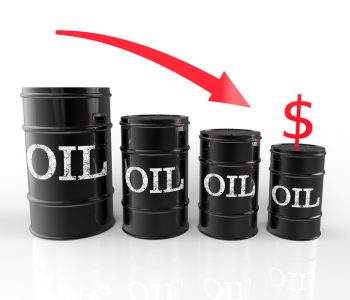 Weak Oil Outlook May Hurt Dividends
With soaring debt levels at some of the world's largest oil companies, it will be prudent for investors to think about the sustainability of their dividend payouts when oil prices continue to remain depressed.
The combined debt accumulation at some of the biggest energy producers—Exxon Mobil Corporation (NYSE:XOM), Royal Dutch Shell plc (NYSE:RDS.A), BP plc (NYSE:BP), and Chevron Corporation (NYSE:CVX)—is now more than double than what they had in 2014, when a plunge in oil prices started. (Source: "Largest Oil Companies' Debts Hit Record High," The Wall Street Journal, August 24, 2016.)
"Eventually something will give," said Michael Hulme, manager of the Carmignac Commodities Fund (a stakeholder in in Shell and Exxon). "These companies won't be able to maintain the current dividends at $50.00 to $60.00 oil—it's unsustainable." (Source: Ibid.)
Shrinking profit margins and weak energy prices are also hurting these companies' means of sparing cash for future growth and finding new discoveries.
Though there has been no indication from these oil producers on cutting dividend payments, maintaining these dividends will be an uphill battle for them, given there is little indication that oil prices are on a sustainable path to recovery.
In the company's second quarter earnings statement, BP Chief Financial Officer Brian Gilvary highlighted this vulnerability by saying that the $50.00 to $55.00 oil price range will be sufficient to sustain the company's dividend.
"We continue to reset our capital and cost base and are moving steadily towards our aim of rebalancing organic sources and uses of cash by 2017 in a $50-55 per barrel oil price range," he said. "This underpins our confidence in sustaining our dividend going forward." (Source: "BP second quarter 2016 results," BP, July 26, 2016.)
BP's second-quarter profit fell 60% to $720.0 million from $1.3 billion a year ago.
Royal Dutch Shell last month said it's maintaining its dividend at $0.47 per share despite earnings per share fell by a whopping 94% to $0.03 from $0.53. (Source: "Royal Dutch Shell plc second quarter 2016 results announcement," Press Release, Royal Dutch Shell, July 28, 2016).
Oil prices are finding it hard to cross the $50.00 hurdle in an environment where supply remains strong and oil producers are unable to resolve their differences over cutting supplies to improve the prices.
Brent crude was down 2.4% at $48.75 a barrel today after a report from the U.S. showed oil inventories rose. Brent crude prices briefly rose above $50.00 this week after reports that Iran may support joint oil cartel action to boost oil prices.