Dividend Suspension Announcement Sends Frontier Communications Corp Shares Plunging 19%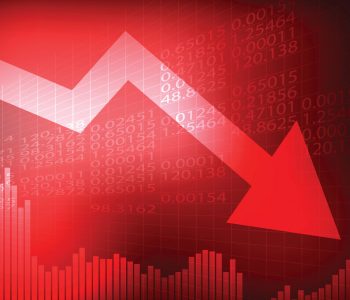 iStock.com/Anueing
Frontier Communications Corp Reports Earnings and Suspends Dividends
Here at Income Investors, we don't just cover high yield opportunities. We also warn readers about potential dividend cuts.
Earlier last year, my colleague Robert Baillieul warned investors about Frontier Communications Corp (NASDAQ:FTR), which offered an astonishing yield of 21% at the time. In that article, he wrote, "I expect Frontier will slash the dividend soon."
In December 2017, when FTR stock's yield reached a jaw-dropping 28%, Robert warned investors again, explaining that "even if management can thread the needle between subscriber losses and interest payments, it's difficult to see how there can be enough cash left over for dividends."
And boy, was he right on that call. On Tuesday, February 27, 2018, after the closing bell, Frontier Communications Corp announced that its Board of Directors had suspended the quarterly cash dividend on its common stock. (Source: "Frontier Communications Reports Fourth Quarter and Full Year 2017 Results," Frontier Communications Corp, February 27, 2018.)
The stock market didn't take the news very well. Following the announcement, shares of Frontier Communications Corp tumbled over 19% in after-hours trading.
Just think about that for a second. Before the announcement, FTR stock was paying quarterly cash dividends of $0.60 per share, translating to an annual yield of 26%. Now, not only is that yield gone, but Frontier Communications' shareholders also have to face a 19% drop in the value of their investment.
FTR stock's news on Tuesday is the latest example of how risky these ultra-high yielders can be. Dividends come from profits. A company may borrow money to fund its dividend payments in the short term. But in order to pay sustainable dividends in the long run, the company needs to generate a recurring stream of revenues and profits.
And the blunt reality is, Frontier Communications hasn't been able to turn a profit for quite some time. The company also reported earnings on Tuesday. In the fourth quarter of 2017, Frontier Communications had a net loss of $1.03 billion, or a loss of $13.91 per diluted share. In full-year 2017, its diluted net loss totaled $25.99 per share. (Source: Ibid.)
The company also carries a sizable amount of debt. And without a profitable business, Frontier Communications could have a hard time finding lenders to refinance its debt going forward.
Indeed, one of the main reasons behind the decision to halt the company's dividend payments is to reduce debt. According to Frontier Communications Corp President and Chief Executive Officer Dan McCarthy, the dividend suspension would give the company an additional $250.0 million a year to help with debt reduction.
Lowering the company's debt was certainly a good decision. But it came at the cost of its shareholders' dividend stream.
FTR Stock Chart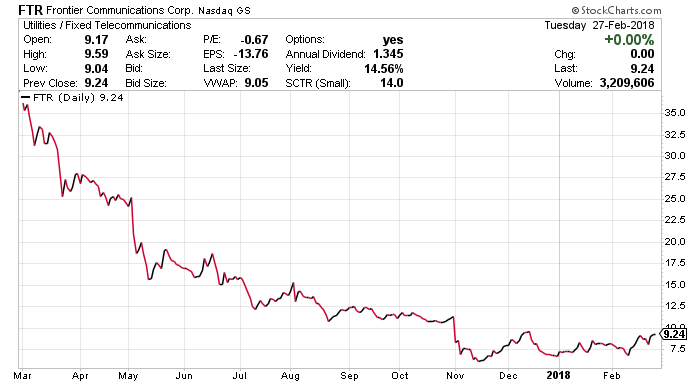 Chart courtesy of StockCharts.com
At the end of the day, remember this: markets are often efficient. The main reason why Frontier Communications could offer such a high yield in the first place was the downturn in its share price. And its share price tumbled because investors knew that the business wasn't profitable and that the dividend wouldn't last.
If something looks too good to be true, it probably is.