This Top Dividend Stock Has Soared 750%… With More Upside Ahead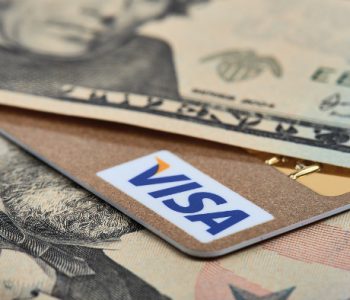 1 Top Dividend Stock for 2050 and Beyond
Today's chart highlights tech utilities, one of my top dividend stocks for the next few decades.
For more than 50 years, income investors have valued the utilities sector for their reliable dividends. The modern digital world, however, has given rise to a new kind of utility. These tech firms own lucrative monopolies, making them some of the best dividend stocks around.
One standout is Visa Inc (NYSE:V). As the world's leading payment network, this firm takes a tiny cut on each of the billions of credit card transactions each year. In many ways, this stock represents the 21st century power company for a couple of reasons.
Being a quasi-monopoly is one reason. Like your water utility, there isn't really a need for 50 different payment processors. This dominant position allows Visa to crank out oversized profits year after year.
Further, it would be tough to eat into the company's business. Visa's moat stems from its network of merchants and customers. Each new cardholder makes Visa more attractive to store owners, and each new store owner makes Visa more attractive to cardholders. This feedback loop ensures a place in our wallets for decades to come.
Better still, it cranks out dividends. Since 2008, Visa's payout has grown sixfold. The current quarterly dividend tops $0.17 per share, which comes out to an annual yield of 0.7%.
That yield, though, doesn't give you the full picture. Last year, the company spent $7.1 billion buying back its own stock. On a total shareholder yield basis, that bumps up the payout on Visa to a tidy five percent.
For this reason, financial insiders have backed up the truck. Investing legend Warren Buffett has quietly accumulated 10.6 million shares. As of December 2016, his total position size topped $824.0 million. (Source: "Visa Inc. (V) – Hedge Fund Holdings," Insider Monkey, last accessed April 17, 2017.)
More recently, billionaire Jim Simons has increased his stake in the company to five times as much. Other money mavens, including Steve Cohen, Ken Griffin, and Jean-Marie Eveillard, have accumulated shares behind the scenes.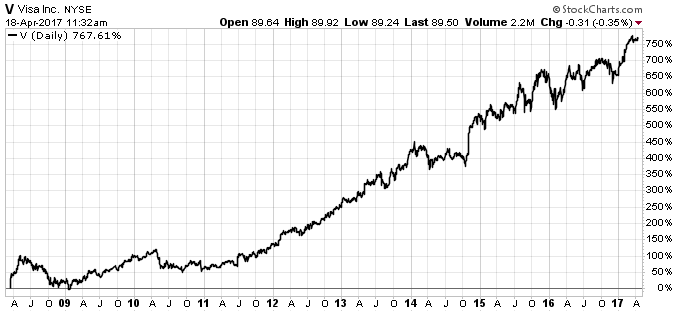 Chart courtesy of StockCharts.com
Looking forward, Visa still has a long growth runway. A recent McKinsey & Company, Inc. study found that less than 10% of transactions worldwide get done by card. As the world moves to a cashless society, payment networks like Visa could make a fortune. (Source: "McKinsey on Payments Volume 8, Number 22," McKinsey & Company, Inc., March 1, 2013.)
Bottom line: tech utilities present a lucrative twist on a classic income idea. They represent one of my favorite themes right now. I expect that digital monopolies like Visa will make some of the best dividend stocks for the next 50 years.