Dividend Stocks: Collect a 7.1% Yield From This Top REIT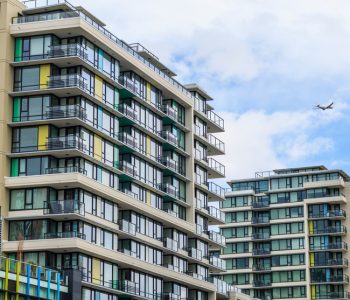 REIT Yields 3x More Than Dividend Stocks
Like dividend stocks, real estate can be a great source of income.
Each month, your tenants pay you rent and your property values go up. No wonder more money has been made in real estate than all other asset classes combined.
But rentals are also a hassle: mowing lawns, unclogging toilets, and fixing leaky faucets. Who wants to spend their "golden years" chasing down rent checks from deadbeat tenants?
While we could all use the extra dough, few of us are cut out to be landlords. But there's another way to invest in real estate without buying rentals. Simply put, I'm talking about becoming a "virtual landlord" through Senior Housing Properties Trust (NASDAQ:SNH).
Rental Income Without Tenants?
As regular readers know, real estate investment trusts (REITs) like SNH give you all the upside of being a landlord, minus the hassle.
REITs are a special way to structure real estate deals. SNH buys properties, collects rent from tenants, and passes on the income to investors. And thanks to a tax loophole, the REIT is completely exempted from corporate taxes.
But unlike most landlords, SNH doesn't own houses or apartment buildings. Instead, this firm buys nursing homes, medical offices, and retirement communities—a rock-solid area of the market that's usually off-limits to small investors.
For these reasons, it's not hard to understand why being a "virtual landlord" through SNH is a better way to own real estate.
First, you don't have to deal with tenants; a management team handles the day-to-day issues. All you have to do is sit back and wait for your rent checks.
Because SNH is publicly traded, you can trade your units just like any dividend stock. Selling real estate is a long process for property owners, but with a REIT, you can cash in your investment with the click of a mouse.
Second, most of the trust's properties are triple net leased. This means that in addition to rent, tenants pay all of the property taxes, insurance, operating costs, and maintenance expenses. As a result, most of the trust's revenues flow straight to investors.
Even in a downturn, the cash keeps rolling in. SNH is well diversified, with 436 properties across 43 states. So even if one tenant misses rent, it's only a tiny fraction of profits. (Source: "Senior Housing Trust Investor Presentation — August 2016," Senior Housing Properties Trust, last accessed August 31, 2016.)
Compare that to buying rentals yourself. What if your only tenant loses his job and can't make rent? Now you're missing out on 100% of your income.
There's another reason, though, why investors do so well. To qualify for such favorable tax treatment, SNH is required by law to pass on most of its profits to partners. As a result, the trust currently yields over seven percent—more than three times the average dividend stock in the S&P 500.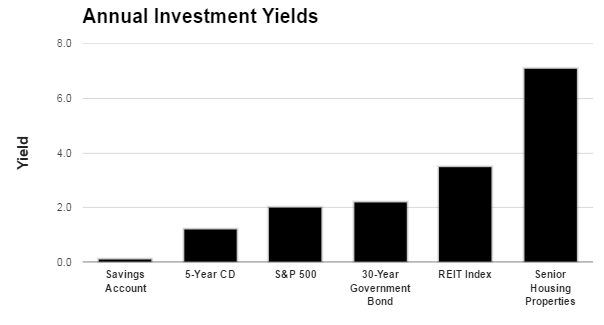 With such a payout, investors can start earning big rent checks right away. Say you were to invest in SNH rather than pouring $250,000 into a rental property. With a current yield of 7.1%, the trust would pay out $4,437 in quarterly income. And that's before you consider capital gains or future payout hikes.
Even investors without that kind of cash can still get in. Rentals require a big down payment, usually in the thousands of dollars. But you can buy your first unit of SNH for only $22.00 plus a brokerage commission.
Earn a 7.1% Yield From This Top REIT
Of course, like most dividend stocks, there are no sure things. Higher interest rates would cool demand for REITs, or a real estate slowdown could force the trust to slash payouts.
SNH's distribution, though, is likely to keep growing. Each day, 10,000 baby boomers turn 65. Demand for nursing homes, wellness centers, and retirement communities has already outstripped supply, all of which means bigger profits for Senior Housing Properties, regardless of what the economy is doing. (Source: Ibid.)
Forget dealing with tenants. Virtual landlording through REITs like SNH is far more lucrative.