Dividend Stocks Back in Vogue as Investors Flee to Safety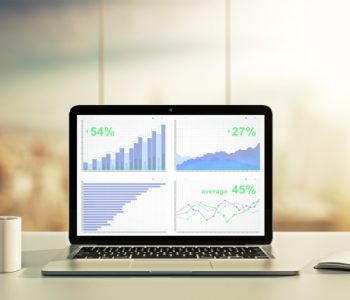 iStock.com/peshkov
Dividend Stocks Back in Fashion
Wall Street has long dismissed dividend stocks for their stodgy reputation, but that sentiment may have started to change.
Trade tensions sent the Dow Jones Industrial Average plunging in recent weeks, with the index off 1,600 points from its all-time highs in October. Rhetoric from President Donald Trump's adviser, Peter Navarro, last Friday halted the advance and triggered a sell-off in trade-sensitive stocks like Boeing Co (NYSE:BA) and Caterpillar Inc. (NYSE:CAT).
Investors have turned on technology stocks as well, including Netflix, Inc. (NASDAQ:NFLX), Apple Inc. (NASDAQ:AAPL), and Amazon.com, Inc. (NASDAQ:AMZN). Traders fears these companies could see slowing sales growth in the near future. That will make it difficult for them to match analysts' expectations and justify their premium valuations.
Dividend stocks, however, have sidestepped most of the carnage. Investors have shifted from seeking out exciting, fast-growing companies to those expected to generate more reliable cash flows and pay out steady distributions—exactly the type of businesses that hold up during a downturn.
Beneficiaries of this rotation into dividend stocks include McCormick & Company, Incorporated (NYSE:MKC). The Baltimore-based spice maker has seen its shares surge 24% over the past three months and over 45% year-to-date.
During the Dow's 600-point sell-off on Monday, shares of Hershey Co (NYSE:HSY), Clorox Co (NYSE:CLX), and Kimberly-Clark Corp (NYSE:KMB) all traded sharply higher. Shares of consumer products giant Procter & Gamble Co (NYSE:PG), which has impressed analysts with a rebound in sales, have surged 17% in value over the past 30 days.
The gains have come to the detriment of the once more popular growth stocks, which have seen their share prices plunge in recent weeks. The technology-heavy Nasdaq Composite Index, a good barometer of traders' appetite for riskier assets, has dropped 10.2% from its all-time highs.
Investors overall pulled $3.1 billion out of technology funds in October, after plowing more than $41.0 billion into the sector between January 2017 and September 2018, according to data compiled by Bank of America Merrill Lynch and EPFR Global. (Source: "Hedge Funds Turn Short on Nasdaq Futures While ETFs See Outflows," Bloomberg, November 12, 2018.)
Through the sell-off, investors have directed what few funds they have allocated to equities toward value-oriented strategies. These typically include other companies that got overlooked during the tech frenzy.
Traders have seen a marked uptick in fund flows toward sectors like utilities, healthcare, and consumer staples: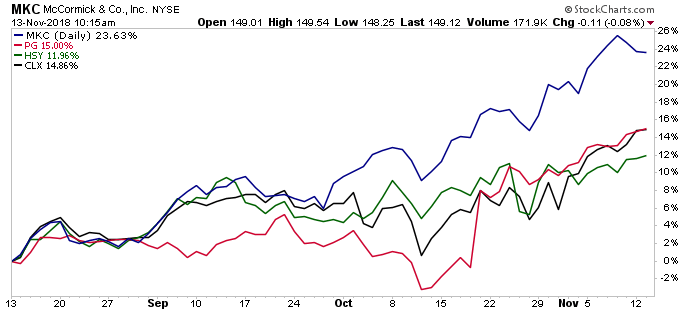 Chart courtesy of StockCharts.com
This rotation out of exciting technology names could continue. The gap in relative performance between growth and value stocks have hit levels not seen since the height of the 1990s tech bubble. The situation has left reliable, dividend-paying stocks looking quite cheap.
Investors have also become much more selective, seeking out entrenched businesses with margin resilience. During periods of economic turmoil, analysts put a premium on businesses that produce reliable earnings. That could put dividend stocks, once forgotten by the Wall Street community, back in vogue.