Dividend Stocks: A Top Dividend Stock for 2017 and Beyond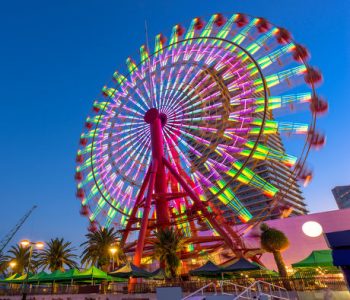 1 Top Dividend Stock to Own Forever?
It has not been easy to dig up a top dividend stock nowadays. Yields are at record low and investors have had to stomach a roller-coaster ride. Toss in uncertainty about the U.S. presidential election, a worn out bull market, the S&P 500 earnings recession, and global economic weakness, and the remainder of the year looks pretty uncertain. What the first half of 2017 will look like is anyone's guess.
For income-starved investors not sitting on the sidelines, the best things to have are top dividend stocks that have a long history of raising their annual dividend yields. This may not shelter the investors from the nausea on Wall Street, but it does provide them with a steady income stream.
Investors should also consider diversifying their retirement portfolio with stocks that provide a dividend reinvest plan and/or direct stock purchase plan. My top dividend stock pick for 2017? Cedar Fair, L.P. (NYSE:FUN).
My Favorite Dividend Stock
Cedar Fair, L.P. is home to some of the most popular amusement parks in the U.S. and Canada. And thanks to six consecutive years of record results, the company's share price has been on a tear. After reporting record results for the first half of 2016, Cedar Fair expects this momentum to continue.
It's not just a ticker symbol; it's a way of life. The firm owns and manages 11 amusement parks, three outdoor water parks, one indoor water park, and five hotels. Properties include "Knott's Berry Farm" in Buena Park, California (outside of Los Angeles); "Michigan's Adventure" near Muskegon, Michigan; "Cedar Point," located on Lake Erie in Sandusky, Ohio, and "Canada's Wonderland" in Vaughan, Ontario, Canada. The company also has a management contract to operate the "Gilroy Gardens Family Theme Park" in California. Knott's Berry Farm and "Castaway Bay Indoor Waterpark Resort" (also in Sandusky) operate year-round. Cedar Fair's flagship park, Cedar Point, has been named one of the 'Best Amusement Parks in the World' in a poll conducted by Amusement Today newspaper. (Source: "Overview," Cedar Fair, L.P., last accessed October 24, 2016.)
Cedar Fair, L.P. is structured as a master limited partnership, which means it's taxed differently and not subject to federal or state income tax. This allows Cedar Fair to pay out the majority of its earnings to its owners. While most limited partnerships are in the energy sector, a few, like Cedar Fair, operate in other sectors.
The company provides a frothy annual dividend of 5.65%, or $3.30 per unit, which it has increased for the last five consecutive years. In 2011, it paid out $1.00 per unit. As a result of the company's strong performance and expectations for future growth, it expects the increased annual payouts to continue. (Source: "Distribution Information," Cedar Fair, L.P., last accessed October 24, 2016.)
On August 3, Cedar Fair announced record results for the second quarter, ended June 26, 2016. Net second-quarter revenue increased three percent, or $11.0 million, to a record $388.0 million. The company reported net income of $57.9 million, or $1.03 per unit. In the second quarter of 2015, Cedar Fair reported net income of $57.2 million, or $1.02 per share. (Source: "Cedar Fair Reports Record Results For The First Half Of 2016," Cedar Fair, L.P., August 3, 2016.)
"Our record performance in the second quarter and through the first seven months of the year reinforces our confidence in our ability to deliver a seventh consecutive year of record results in 2016 and to continue this record-setting trend into future years," said Matt Ouimet, Cedar Fair's president and chief executive officer.
For the first six months of 2016, Cedar Fair reported record net revenue of $446.0 million, an increase of $22.0 million, or 11%, over the same prior-year period in 2015. The company reported net income for the period of $9.5 million, or $0.17 per unit. During the first two quarters of 2015, Cedar Fair reported a loss of $26.2 million, or $0.47 per unit.
"We remain on track to achieve our long-term Adjusted EBITDA goal of $500 million earlier than our original target of 2018.  Our top priorities continue to be distribution growth while investing in our business to create greater value," Ouimet said. "We are a total return investment with an extremely attractive tax advantaged 5.6% yield and valuation growth opportunities when compared with our closest peers."
Cedar Fair's share price has been bullish since reporting record results over the past six years. Since the beginning of 2010, Cedar Fair's share price has soared over 600%, with the company expecting that momentum to continue.
4 Best Long-Term Dividend Stocks to Watch in 2017
10 Best Blue-Chip High-Dividend Stocks for 2017
In 2015, a year in which the S&P 500 lost 0.7% of its value, Cedar Fair's share price advanced 25%. And in a tumultuous 2016, Cedar Fair's share price has, so far, advanced 8.6%. This definitely makes it a top dividend stock.
Cedar Fair has recorded record results for the last six years and is on track for a seventh consecutive year of record results in 2016.
Bottom Line on Cedar Fair
For income investors, the future also looks bright.
"A sustainable and growing distribution remains our highest priority." Ouimet concluded. "We are proud of our 30-year history of paying distributions to our unitholders, and we believe we are well-positioned with a solid balance sheet, appropriate liquidity reserve and a positive earnings outlook to continue growing the distribution well into the future. Our current distribution yield, which is north of 5.5%, and our continued investment in growth, should provide an attractive total return for our investors." (Source: Ibid.)
That's why this is a top dividend stock for 2017—and beyond.