Dividend Stocks: 3 Communications Infrastructure Stocks Yielding Up to 16.7%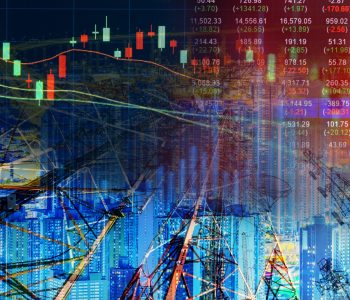 iStock.com/Kanoke_46
These Dividend Stocks Yield Up to 16.7%
If you are looking for reliable dividend stocks with oversized yields, then you need to check out one industry: communications infrastructure.
Today's wireless carriers make a lot of money. Just take a look at how much your cell phone bill has gone up in the last five years and you'll see what I mean.
The thing is, though, the infrastructure owned by wireless carriers no longer provides enough capacity to serve their growing customer base. And that's where communications infrastructure companies can come to help.
Instead of building new towers and installing new fiber-optic networks, telecom companies have been renting these assets from communications infrastructure companies. This allows communications infrastructure companies to generate stable cash flows and pay steady dividends.
Now, I know what you are thinking: "If this is such as lucrative business, why don't telecom giants just expand their own networks by building new infrastructure?"
Well, as it turns out, the business has extremely high barriers to entry. Cell phone towers are expensive to build, and even if you have the money, you still need to get the necessary regulatory approvals to build them. Most recently, proposals to build new wireless towers were often met with strong protests from nearby residents.
While these assets are not easy to build, the demand for them has been going strong. In particular, mobile Internet traffic is projected to increase at a compound annual growth rate of 40% from 2016 to 2020. As we enter the "Internet of Things" era, more data are being created than ever before.
So telecom companies are facing increasing demand, but cannot really meet that demand quickly enough by building their own wireless towers. Therefore, they have no choice but using existing towers from communications infrastructure companies.
Below are three dividend stocks from this booming industry. They yield up to 16.7%.
3 Dividend Stocks to Consider
| | | | |
| --- | --- | --- | --- |
| Company Name | Stock Exchange | Ticker Symbol | Dividend Yield |
| American Tower Corp | NYSE | AMT | 1.94% |
| Crown Castle International Corp | NYSE | CCI | 3.82% |
| Uniti Group Inc | NASDAQ | UNIT | 16.67% |
1. American Tower Corp
American Tower Corp (NYSE:AMT) is an independent communications infrastructure company. As the name suggests, the company specializes in wireless towers. Its portfolio consists of approximately 148,000 communications sites, including around 40,000 towers in the U.S. and more than 107,000 towers internationally.
American Tower currently pays quarterly distributions of $0.66 per share, giving AMT stock an annual yield of 1.94%. Since the company converted to a real estate investment trust (REIT) at the end of 2011, it has raised its dividends every single quarter with total payout growth of more than 200%. (Source: "American Tower Dividends Per Share," American Tower Corp, last accessed September 29, 2017.)
The company also has a growing business to back its rising payouts. In the most recent quarter, American Tower's total revenue grew 15.3% year-over-year to $1.66 billion. This was driven by a 14.9% increase in its property revenue to $1.64 billion. Note that the second quarter of 2017 marked the 17th consecutive quarter of double-digit growth in the company's property revenue. (Source: "American Tower Corporation Reports Second Quarter 2017 Financial Results," American Tower Corporation, July 27, 2017.)
The bottom line improved as well. For the quarter, American Tower's adjusted funds from operations, a critical measure of a REIT's performance, grew 22.5% year-over-year to $725.0 million.
Even though the stock has the lowest yield among the three, its mission-critical assets and strong growth momentum makes it worth considering for income investors.
2. Crown Castle International Corp
Commanding more than $40.0 billion in market cap, Crown Castle International Corp (NYSE:CCI) is another big player in the communications infrastructure business. Headquartered in Houston, Texas, the company owns and manages a portfolio of wireless towers, small cell solutions , and rooftop antennas.
Again, the key here is high barriers to entry. Crown Castle has approximately 40,000 cell towers, 71% of which are located in the top 100 markets in the U.S. With increasing demand for wireless connectivity, Crown Castle is one of the few companies with the scale to meet that demand. (Source: "The Foundation for a Wireless World," Crown Castle International Corp, last accessed September 29, 2017.)
Crown Castle is a relatively new name for dividend investors, as the company started paying a dividend in 2014. But its track record since then has been nothing short of impressive. In just over three years, CCI stock's quarterly dividend rate has grown from $0.35 per share to $0.95 per share for an increase of 171.4%. (Source: "Common Stock Dividend History," Crown Castle International Corp, last accessed September 29, 2017.)
At today's price, the company offers an annual dividend yield of 3.82%.
3. Uniti Group Inc
Compared to the above two companies, Uniti Group Inc (NASDAQ:UNIT) is much smaller, with just $2.5 billion in market cap. However, the company manages to pay much more substantial dividends.
Headquartered in Little Rock, Arkansas, Uniti Group is a REIT that acquires and builds mission-critical communications infrastructure. By the end of June 2017, the company's portfolio consisted of 4.8-million strand miles of fiber, 676 wireless towers, and more than 1,000 communications related properties located across the U.S. and Latin America. (Source: "Goldman Sachs 26th Annual Communacopia Conference," Uniti Grouop Inc, last accessed September 29, 2017.)
Uniti Group's infrastructure assets generate solid cash flows because they are leased to high quality tenants. All four major U.S. wireless carriers–AT&T Inc. (NYSE:T), Verizon Communications Inc. (NYSE:VZ), Sprint Corp (NYSE:S), and T-Mobile US Inc (NASDAQ:TMUS)–are currently using Uniti's infrastructure. Other than wireless carriers, the company also serves other high-profile telecommunications companies, including Comcast Corporation (NASDAQ:CMCSA) and Level 3 Communications, Inc. (NYSE:LVLT).
The number-one reason to consider Uniti Group right now is to collect its generous dividends. While most dividend stocks pay less than five percent at the moment, Uniti Group offers a yield of 16.67%.