NRG Stock: 1 Amazing 5.7% Yielder from Renewable Energy Industry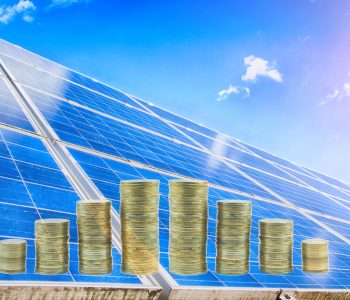 Collect 5.7% Yield from This Top Dividend Stock
When it comes to finding solid dividend stocks, several industries come to mind: consumer goods, utilities, and real estate, just to name a few. There is, however, one industry that's largely overlooked by income investors. In that industry, one dividend stock yielding 5.7% is currently flying under the radar.
I'm talking about the renewable energy industry. Whether it's in wind or solar, more and more clean energy companies are coming to the market. The thing is, though, income investors haven't really warmed up to them because many companies in this industry don't pay a dividend.
And this shouldn't really come as a surprise. Building the infrastructure needed to collect energy from renewable sources is extremely expensive. Moreover, it takes time for investments in these projects to produce returns. Therefore, even though there are plenty of clean energy companies with ambitious projects, most of them don't offer dividends substantial enough for income investors.
That's why NRG Yield, Inc. (NYSE:NYLD) is a special find in the renewable energy industry.
You see, NRG Yield is not really building solar farms or hydroelectric plants. Instead, it owns and operates renewable and conventional power generation assets. It was created by NRG Energy Inc (NYSE:NRG) in December 2012.
In other words, NRG Yield is a "yieldco." It focuses on the less risky part of the renewable energy business: operating power generating assets. Because the company doesn't have to worry about the cost of building the next power plant, it can pass some of the cash it generates to investors in the form of dividends.
The company currently pays $0.26 per share on a quarterly basis. Its current share price of $18.00, which translates to an annual dividend yield of 5.7%. That makes NRG Yield one of the high-dividend stocks in today's market.
While a lot of high-dividend stocks ended up where they are due to poor stock price performance, that's not really the case for NRG Yield. Sure, NYLD shares haven't always been a market favorite, but over the past 12 months, they still climbed 15.8%.
And with what the company is doing right now, investors of NRG Yield could be further rewarded.
This Dividend Stock is Backed By a Rock-Solid Business
NRG Yield current owns 60 power generating assets located in 10 states. The portfolio is diversified with assets in solar, gas, wind, thermal, and fuel cells. These assets are built by the leading companies in the business, such as General Electric Company (NYSE:GE), Siemens AG, Vestas Wind Systems, and First Solar Inc (NASDAQ:FSLR). In total, NRG Yield's portfolio has a capacity of approximately six gigawatts.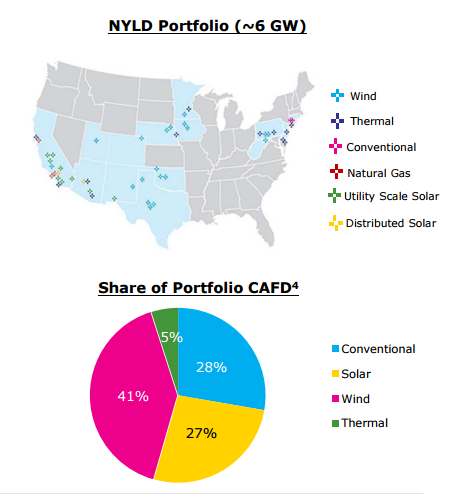 Source: "Investor Presentation," NRG Yield Inc, May 2017.
Here's the best part: NRG Yield's business is backed by long-term contracts called power purchasing agreements (PPAs). By the end of March, the average remaining contract life of the company's conventional and utility scale renewable generation assets is 16 years. For a yieldco, having long term PPAs adds stability to its future cash flow and boosts its ability to pay sustainable dividends.
Moreover, because of the relationship with NRG Energy, the yieldco can have some serious growth potential from future drop down acquisitions. NRG Energy currently has one of the largest generation portfolios with approximately 49 gigawatts of total generation capacity at nearly 140 facilities spanning 21 states. It is one of the largest utility-scale solar operators and the fifth-largest wind operator in the country. If NRG Yield gets more high-quality assets from NRG Energy, its business could be further improved.
Rising Dividends
In a capital-intensive industry, paying a dividend is a luxury. NRG Yield not only offers that luxury, but has also been growing its payout. Since the company went public in 2013, it has raised its payout every single quarter. In less than four years, NRG Yield's quarterly dividend rate has more than doubled. (Source: "Dividends & Splits," NRG Yield Inc, last accessed May 24, 2017.)
The company expects dividend growth to continue. Based on its current platform, NRG Yield is targeting a 15% compound annual growth rate in its dividend per share through 2018. If the company achieves this target, investors purchasing NYLD shares today would be collecting an implied yield of around 7.7%.
The Bottom Line On This High-Dividend Stock
With state-level renewable mandates and corporate sustainability targets, the renewable energy industry offers a great investment proposition. Being able to collect dividends from it makes the deal even sweeter. While not all high-paying dividend stocks have good prospects, for NRG Yield, the best could be yet to come.
Also Read:
3 Clean Energy Stocks Yielding Up to 8.5%