This Dividend Stock Could Be the Next Berkshire Hathaway Inc.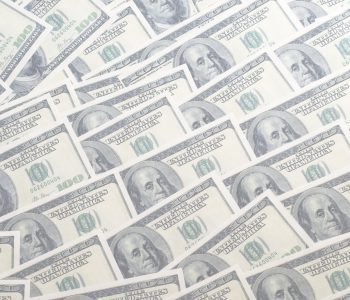 iStock.com/Besiki Kavtaradze
A Mini Berkshire Hathaway Inc.
Investors are a lot like fishermen. Each one has a story about the one that got away.
Take Berkshire Hathaway Inc. (NYSE:BRK.B), for instance. Over the past half century, investing legend Warren Buffett grew a small textile manufacturer into an insurance behemoth. If you had bought $10,000 of stock in the company back in 1964, your investment would be worth more than $170.0 million today.
Of course, new investors likely won't earn the same returns over the next 50 years. It's simply a case of the law of large numbers. If Berkshire Hathaway stock continued to generate such gains, the company would be more than three times the size of the global economy in two decades.
The physical limits of the universe mean you can't keep growing at 20% per year forever. But one company could provide the next opportunity: Greenwich-based insurer W. R. Berkley Corp (NYSE:WRB).
W. R. Berkley has set itself apart from competitors by focusing on niches in the industry. The company provides insurance to a hodgepodge of different customers, from tanning salons and NFL teams to dental labs and scuba diving operations. These businesses, which analysts call "specialty lines" in the industry lingo, face less competition than traditional markets like life and auto insurance.
How profitable is this business? Very. Over the past five years, W. R. Berkley earned $0.12 in profit on every dollar of equity invested into the business. In 2018, the company wrote $6.4 billion in insurance premiums. On every dollar of premium collected, W. R. Berkley Corp paid out only $6.1 billion in insurance claims.
That five-percent profit margin might not sound impressive, but most insurance companies actually lose money underwriting insurance instead making a profit on their investment portfolio. W. R. Berkley's financial results stand head and shoulders above the competition, allowing the company to pay out buckets of money to shareholders.
But it gets better. Insurance companies, as regular readers of this column know, receive premiums up front. They only pay claims at some point in the future. In some cases, W. R. Berkley doesn't make any payments to its customers for years (or even decades).
This leaves the company holding on to a large sum of money called the "float." And while management waits to pay out claims, they can invest these funds, padding their portfolio with dividends, interest income, and capital gains.
The quarterback of this portfolio? William Berkley. A maverick of the industry, Berkley has taken a similar operating approach to Buffett. He employs a common-sense, value investing style and he isn't afraid to go against the crowd.
That approach has resulted in extraordinary profits. Since 1985, shares have generated a total return, including dividends, of 17,000%. That beats the broader S&P 500's market index by nearly ninefold over the same period.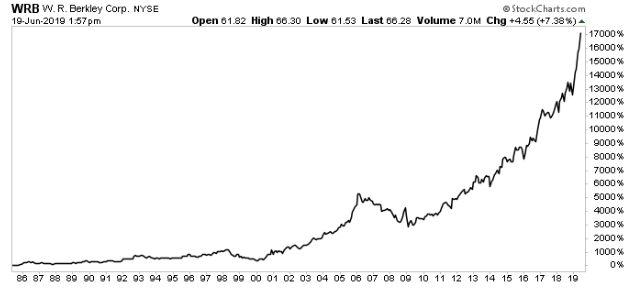 Chart courtesy of StockCharts.com
This is likely just the beginning.
With a market cap of only $12.3 billion, W. R. Berkley Corp is only a fraction the size of Berkshire Hathaway. The company can continue to grow at a rapid rate for years to come before running into the law of large numbers.
That's why I think WRB stock is a good catch for income investors.