Dividend Investors: Don't Bail on Walt Disney Co Just Yet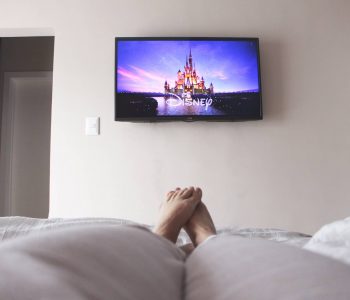 Is Disney Stock Worth Considering for Income Investors?
If you are an income investor who paid attention to the latest dividend announcement from Walt Disney Co (NYSE:DIS), you might feel a bit disappointed.
On December 4, 2019, Disney's board of directors declared a semi-annual cash dividend of $0.88 per share. That dividend will be paid on January 16 to those who were shareholders of record on or before December 16, 2019. (Source: "The Walt Disney Company Announces Semi-Annual Cash Dividend of $0.88 Per Share," Walt Disney Co, December 4, 2019.)
Why would someone not like this announcement?
Well, since Disney switched from paying annual dividends to semi-annual dividends in 2015, management had announced a payout increase every year—up until this point. (Source: "Walt Disney Company (The) Common Stock (DIS) Dividend History," Nasdaq, last accessed January 8, 2020.)
So, after announcing increases to its semi-annual dividend rate in 2015, 2016, 2017, and 2018, the company's payout-hike streak suddenly stopped.
Still, that doesn't mean income investors should just ditch DIS stock. Here's why.
Disney Has Found a New Market Opportunity
The first reason to like Disney stock today is the company's recently launched on-demand video streaming service "Disney+."
On-demand video streaming is one of the hottest industries right now. Just take a look at Netflix Inc (NASDAQ:NFLX) stock and you'll see how much investors love the business. In the past five years, Netflix shares have skyrocketed by over 580%.
Disney has also been in the streaming business with its "ESPN+" service and a stake in Hulu. Yet, for a very long time, the booming on-demand video streaming industry was considered a headwind for Disney stock because the company also had a major cable TV business.
Some investors were concerned that, as more people signed up for on-demand streaming, there wouldn't be much demand for Disney's cable networks.
But that headwind quickly turned into a tailwind after the company debuted Disney+. The service was officially launched in the U.S., Canada, and the Netherlands in November 2019. In the first 24 hours after the launch, 10 million customers signed up for the service. (Source: "Disney+ surpasses 10 million sign-ups since launch," CNBC, November 13, 2019.)
Disney stock rallied on the news, but to be honest, the success shouldn't really come as a surprise.
Disney+ costs $6.99 a month or $69.99 annually, which is quite a bit cheaper than Netflix. The service gives viewers instant on-demand access to Disney's vast library, including content from Pixar Animation Studios, Marvel Entertainment, LLC, Star Wars, and National Geographic, among others.
Over the decades, Disney's franchises have amassed huge followings across generations of viewers. And now, that fan base can watch their favorite show or movie on-demand by signing up for Disney+.
After a massive success on its first day, Disney's streaming service kept adding customers. According to data from research firm Apptopia, Inc., Disney+ was adding almost one million subscribers per day. (Source: "Disney+ is adding nearly a million new subscribers a day, according to research firm," MarketWatch, November 26, 2019.)
Disney stock has climbed about seven percent since the launch of its streaming service—not bad for a giant company that commands a market capitalization of more than $260.0 billion. If Disney+ keeps gaining subscribers, it could allow DIS stock to keep traveling on an upward path.
Walt Disney Co Is Still a Safe Dividend Stock
The second reason for income investors to keep liking DIS stock is that the company has no problem covering its current payout.
According to the company's latest earnings report, Disney generated adjusted earnings of $5.77 per share in its fiscal-year 2019, which ended September 28. (Source: "The Walt Disney Company Reports Fourth Quarter and Full Year Earnings for Fiscal 2019," Walt Disney Co, November 7, 2019.)
Also during the fiscal year, the company declared and paid two semi-annual dividends totaling $1.76 per share.
Simple math shows that Disney paid out a mere 30.5% of its profits in its fiscal-year 2019. Such a conservative payout ratio indicates that, even if business slows down, there's a good chance that the company can still cover the payout.
And business is not really slowing down. In Disney's fiscal-year 2019, its "Media Networks" segment brought in $24.8 billion of revenue, representing a 13% increase from its fiscal 2018. Revenue from "Parks, Experiences and Products" rose six percent year-over-year, while the company's "Studio Entertainment" segment achieved 11% revenue growth.
And it's not like the company is cutting its dividend. Disney's latest dividend announcement simply suggests that it will be maintaining its payout at the current level. The dividend rate is more than safe, and with a stock price of $145.40, it translates to an annual yield of 1.2%.
Ultimately, since there are plenty of stocks offering higher dividend yields, Disney stock probably doesn't look that attractive to income investors. But given its solid financials and the huge opportunity in the on-demand video streaming market, the company should churn out some very impressive growth rates in its business in the years ahead.
And before long, I suspect management will bring dividend growth back to Disney stock.