Disney Stock: This "Trophy Asset" Keeps Beating the Market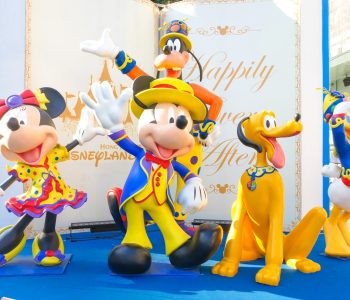 iStock.com/EnchantedFairy
Iconic "Trophy Assets" Keep Sending Disney Stock Higher
If you want to earn better returns in the stock market, then you want to own this kind of investment: "trophy assets."
Regular readers have heard me use this term before. These properties represent valuable, world-class assets that give their owners a leg up on the competition. And they are so desirable, their owners always have access to easy financing.
Examples of trophy assets include Madison Square Garden Co's (NYSE:MSG) namesake area, Freeport-McMoRan Inc's (NYSE:FCX) huge Grasberg copper mine, and Empire State Realty Trust Inc's (NYSE:ESRT) collection of iconic Manhattan office buildings. These properties earn outsized profit margins year after year, and over time, this has resulted in spectacular returns—and dividends—for shareholders.
Case in point: Walt Disney Co (NYSE:DIS). Over the past few decades, the company has accumulated some of the most valuable media assets in the world. In addition to characters like Mickey Mouse and its iconic princesses, Disney's valuable properties include Pixar, ESPN, ABC, and Lucasfilm Ltd. Earlier this year, the media giant closed its acquisition of 21st Century Fox. This padded the company's portfolio further with another collection of top brands such as "Avatar" and wayward Marvel properties such as the X-Men and Spider-Man.
You can see the benefits of owning these trophy assets in Disney's financial statements. Last year, the company's revenues jumped eight percent to $59.4 billion. Excluding extraordinary items, earnings per share last year grew 38%. Analysts expect that type of expansion for small tech startups, not the world's largest entertainment company. (Source: "The Walt Disney Company Reports Fourth Quarter and Full Year Earnings For Fiscal 2018," Walt Disney Co, November 8, 2019.)
This has created a lucrative income stream. In November, management boosted the semi-annual dividend five percent in November to $0.88 per share. The move represented the company's 51st consecutive year of distribution payments to shareholders.
Wall Street, it seems, has caught on. Over the past decade, Disney stock has delivered a total return, including distributions, of 551%. That performance has crushed the gain from the broader S&P 500 and ranks shares near the top of performers in the index.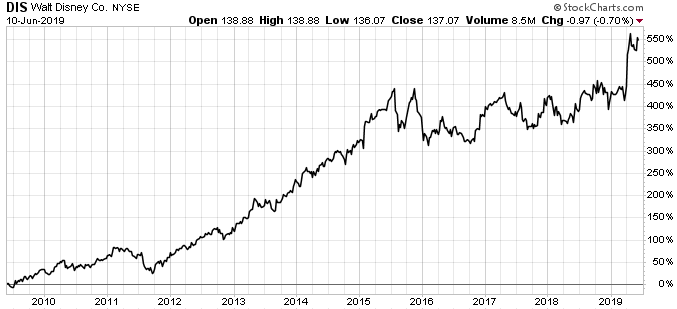 Chart courtesy of StockCharts.com
The Bottom Line on DIS Stock
Shareholders can expect those returns to continue. Walt Disney Co's real magic comes from squeezing as much value from its trophy assets as it can by folding these properties into its conglomeration of different businesses such as movies, theme parks, and consumer products.
Online video presents the biggest of such opportunities. Soon, you will only be able to stream Disney's movies and T.V. shows, including Marvel, Pixar, and Star Wars, on its exclusive service, "Disney+." The new division could add billions to the company's bottom line, providing funds for additional dividends and stock buybacks.
That's the benefit of investing in trophy assets.