Disney Stock: "One Top Dividend Stock For the Next 10 Years"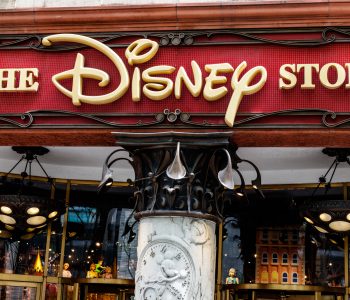 iStock.com/jetcityimage
This Strategy Sends Disney Stock to Record Highs
You can make a fortune in the stock market by following the rules. But sometimes, rules are meant to be broken.
Regular readers know I avoid companies that make flashy acquisitions. Executives, by and large, tend to overpay for target companies. And as a result, most purchases fail to generate sufficient returns for shareholders.
But you can find exceptions. Food distributor SYSCO Corporation (NYSE:SYY), for instance, has made a fortune for investors by buying up smaller rivals and squeezing inefficiencies out of their business. Search giant Alphabet Inc (NASDAQ:GOOG, NASDAQ:GOOGL) succeeded by acquiring tech startups and folding their technology into its ecosystem of services.
Case in point today: Walt Disney Co (NYSE:DIS). The corporate icon's films and franchises have entranced the public for nearly a century. But over the past decade, the company's acquisition strategy has taken this business to another level.
Under the direction of CEO Bob Iger, Disney has made major acquisitions like clockwork every few years: Pixar in 2006, then Marvel in 2009, Lucasfilm in 2012, and 21st Century Fox in 2019. Management then folds these valuable intellectual properties into its conglomeration of different businesses, unlocking value with its movies, consumer products, and theme park attractions.
No purchase better highlights the returns from this strategy than Marvel, which I sometimes describe as "the Louisiana Purchase" of movie deals. In 2019, Disney acquired the studio for $4.0 billion. Since then, Marvel's properties have generated $18.0 billion in box office sales. This figure doesn't even include income generated from home video, licensing deals, and theme parks. (Source: "Disney bought Marvel for $4 billion in 2009, a decade later it's made more than $18 billion at the global box office," CNBC, July 21, 2019.)
You can see the impact of these deals on Disney's financial statements. Since 2008, the company's revenues have grown by more than 60%. That's gargantuan growth for a company with this kind of size and scale. Over that period, earnings per share have increased at a 15.3% compounded annual clip.
That has resulted in great returns for Disney stockholders. Since 2014, the company has spent a combined $43.5 billion on dividends and stock buybacks—more than the annual economic output of the Congo. And over the past decade, DIS stock has delivered a total return of 450%.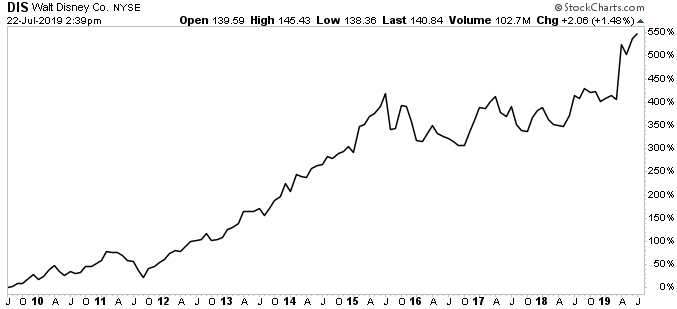 Chart courtesy of StockCharts.com
The Bottom Line on DIS Stock
And this could just be the beginning for Disney stock. The company acquired 21st Century Fox last year, giving Disney rights to dozens of top franchises like "Avatar" and those originally sold away by Marvel like "X-Men," "Deadpool," and "Fantastic Four." The acquisition could fuel dozens of more box office hits, not to mention potential profits through other income streams.
Streaming video also presents a big opportunity. Executives unveiled the "Disney+" service at the company's Investor Day conference in April, predicting the business will lock in between 60 million and 90 million subscribers in five years. With such a deep portfolio of intellectual properties, this new division could represent an existential threat to players like Netflix, Inc. (NASDAQ:NFLX) and Amazon.com, Inc.'s (NASDAQ:AMZN) "Amazon Prime Video." (Source: "Disney's Investor Day 2019 Webcast," Walt Disney Co, April 11, 2019.)
Bottom Line: As a rule, investors should be skeptical of flashy acquisitions. But once in a while, you come across an exception. Walt Disney Co's brilliant investment strategy makes DIS stock one top dividend stock for the next 10 years.