Disney Stock: Dividend Magic for Income Investors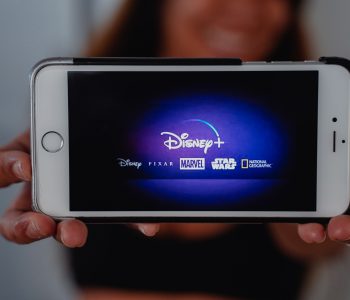 Big Investors Should Pay Dividends for Disney Stock
For years, Walt Disney Co (NYSE:DIS) has put smiles on children's faces. What's less well known is that Disney stock has made plenty of income investors happy, too.
Buoyed by rising sales and profits, DIS shares have delivered a compounded annual return of 17.5%, excluding dividends, over the past decade. And lately, that performance has gotten even better. Disney stock has popped 38.6% in value year-to-date, suggesting that Wall Street sees more good times ahead.
Of course, the company's 1.2% yield won't impress some people. But given Disney's prospects, that payout could soon surge. And for patient investors, that could mean magical returns in the years to come.
Here's why.
Admittedly, Disney stock isn't the dividend growth name it once was. In 2018, management bumped its semi-annual distribution only five percent to $0.88 per share. That constitutes a big slowdown from the increases we've seen in previous years.
The reason? Less money coming in.
For fiscal-year 2019, Disney's operating cash flow dropped 89% to $1.1 billion. (Source: "The Walt Disney Company Reports Fourth Quarter and Full Year Earnings for Fiscal 2019," Walt Disney Co, November 7, 2019.)
Management also reported big declines in operating income (down five percent from the previous year), net income from continuing operations (down 17%), and earnings per share (down 19%).
But this plunging cash flow is the result of big investments, not a troubled business.
CEO Bob Iger has splurged on a number of major acquisitions in recent years: Pixar in 2006, Marvel in 2009, Lucasfilm in 2012, and 21st Century Fox in 2018. He has also plowed billions of dollars into the company's streaming business, "Disney+," cutting out middlemen like Netflix Inc (NASDAQ: NFLX).
These deals have paid off due to the flywheel effect. After buying a new business, Iger can fold the property into Disney's collection of different divisions. That allows him to squeeze every last dollar out of these investments.
It works like this: first, Disney makes millions of dollars on the release of a hit movie. Then the company pads its income further through cruise ships, merchandise deals, theme parks, and—very soon—streaming subscriptions.
Those investments have started to pay off.
In November, Disney's movie studio posted a record $3.3 billion in box office sales year-to-date, driven by hits like Aladdin, Captain Marvel, and Avengers: Endgame. The company will pad this figure further with the release of Frozen II and another Star Wars movie in December. (Source: "Disney shares rise 5% on jump in revenue," MarketWatch, November 10, 2019.)
Disney+ could emerge as a cash cow, too. Earlier this year, executives predicted they would reach 60 to 90 million subscribers by 2024.
But after a successful launch in November, when an onslaught of site visitors crashed the company's servers, some analysts now think the service will hit management's targets way ahead of schedule. (Source: "Disney+ surpasses 10 million subscribers on first day," The Verge, November 13, 2019.)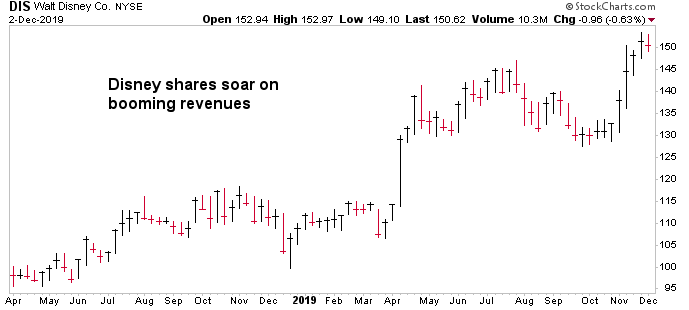 Chart courtesy of StockCharts.com
As Iger dials back the company's investments, Disney stock should reemerge as a cash machine. Over the next five years, Wall Street expects the company to grow its earnings per share at a mid-teen annual clip. Given the firm's conservative payout ratio (about 25%), management should have no issue boosting the dividend at a comparable rate.
Bottom line: Disney stock's skimpy dividend policy might not impress some income investors. But behind the scenes, Bob Iger continues to work his business magic. Patient shareholders will likely be well rewarded.