Digital Realty Trust, Inc.: Thousands in Royalties From Facebook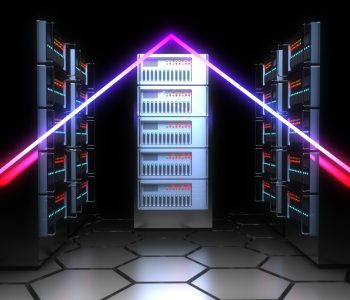 iStock.com/andrii zakoliukin
Digital Realty Trust, Inc.'s Distribution Keeps Growing
Every minute, users upload 243,055 photos to "Facebook." That amounts to more than 10.5 billion pictures each month. And now, thanks to a little-known loophole, investors can legally skim a small amount of cash off of each one of those files.
Facebook, Inc. (NASDAQ:FB) isn't the only business mailing out royalties to investors, either. Other Internet companies, including Oracle Corporation (NYSE:ORCL), IBM (NYSE: IBM), and Uber Technologies Inc (NYSE:UBER), payout millions of dollars each month. Altogether, these royalties totaled $930.8 million in 2018.
And those payouts look poised to grow in the coming years.
I'll reveal how to begin collecting these royalty payments in a minute. But first, I want to set the stage by explaining what drew me to this business—and why you should consider this investment opportunity.
The Industry Poised to Grow Multi-Fold
I spend a fair amount of time on the computer—writing e-mails to colleagues, downloading videos and music, and uploading photos to social media. If you're anything like me, then you never have enough storage space.
I solve this problem by keeping files on an external hard drive, black boxes that provide extra storage space for media hogs like me. They also provide a convenient backup in case your personal computer goes on the fritz.
Now imagine the storage needs of entire businesses.
The amount of digital data in existence has ballooned in recent years, thanks to the proliferation of smartphones, streaming video, and social media. For example, each minute, users upload 500 hours of video to "YouTube." (Source: "More Than 500 Hours Of Content Are Now Being Uploaded To YouTube Every Minute," Tube Filter, May 7, 2019.)
In July, JPMorgan Chase & Co. (NYSE:JPM) signed a five-year deal with artificial intelligence startup Persado, mostly as an attempt to make sense of the mountains of information generated from the bank's customers. (Source: "JPMorgan Chase Announces Five-Year Deal with Persado For AI-Powered Marketing Capabilities," Persado, July 30, 2019.)
That growth looks poised to accelerate with the adoption of 5G mobile technology and the emerging Internet of Things.
How much information are we talking about?
Research analysts at IDC estimate that the total amount of data that humanity has created and copied doubles every two years. By the end of 2020, this "digital universe" will reach 44.0 trillion gigabytes. (Source: "The Digital Universe of Opportunities: Rich Data and the Increasing Value of the Internet of Things," IDC, last accessed October 15, 2019.)
If this digital information was represented by the memory in a stack of iPad tablets, it would reach from Earth to the moon almost seven times.
So you might be thinking, "Where do companies keep all these bits and bytes?" Businesses have turned to data centers in recent years—gray, nondescript buildings that house rows of storage terminals.
Site owners provide power, physical space, and cooling systems for servers and other computer hardware used by companies. In exchange, businesses pay fixed, monthly fees—with additional charges for power consumption. These rates vary around the world.
At Digital Realty, businesses pay, on average, $116.00 per square foot of space and $131.00 per kilowatt of power used. (Source: "Digital Realty Reports Second Quarter 2019 Results," Digital Realty, Inc., July 30, 2019.)
And this market is big. Initially, I expected that the customers in this niche would be limited to technology or telecommunications companies. As it turns out, companies in dozens of industries have started renting data centers, from healthcare and finance to retail and utilities.
Either that or companies outsource their storage needs to cloud service providers, which basically amount to middlemen between the data center and the end customer.
Last year, the number of such facilities owned and operated by data-center landlords, cloud services, and other technology firms globally topped 7,500. (Source: "Data Center Market Powers Up to Meet Cloud Demand," The Wall Street Journal, August 27, 2019.)
But thanks to the booming demand for data storage, developers are putting up new sites as fast as they can. By 2020, analysts at IDC project that the number of data centers worldwide will reach 10,000.
So how can investors cash in on this opportunity?
The Income Stream You Likely Haven't Considered
Digital Realty Trust, Inc. (NYSE:DLR) is one of the largest owners of data centers in the world. The company was spawned from the wreckage of the dotcom bust when private equity firm GI Partners purchased a collection of 21 terminal warehouses at bankruptcy auctions.
Over the decades, the company has swallowed the assets of smaller players in the business. The latest of such acquisitions was the $7.8-billion takeover of rival DuPont Fabros Technology in September 2017.
More recently, Digital Realty executives have chosen to spend billions of dollars on constructing new data centers from scratch.
Today, Digital Realty operates as a linchpin of the Internet. The partnership owns 200 data centers in San Francisco, Hong Kong, Austin, New York, London, Paris, and other major cities around the world. In other words, dense urban centers that serve as hubs for Internet traffic—exactly the locations where technology companies want to set up shop.
Digital Realty does business with most of the companies in the Fortune 500. Facebook is its largest customer by revenue, accounting for 7.5% of the annual base rent. Comcast Corporation (NASDAQ:CMCSA) and Verizon Communications Inc. (NYSE:VZ) are also customers, along with dozens of financial institutions. (Source: "Investor Presentation September 2019," Digital Realty, Inc., last accessed October 15, 2019.)
So when you send an e-mail, hail an Uber, or publish a post on social media, that data likely passed through a Digital Realty site somewhere on the planet.
For investors, this critical position endows the business with many of the characteristics I look for in top dividend stocks.
First, tenants usually sign long-term lease agreements, which provide good cash flow visibility. Moreover, customers also tend to be "sticky," as relocating servers presents a big hassle. These high switching costs endow Digital Realty with significant pricing power, allowing management to raise rents year after year.
Furthermore, data center earnings are nearly recession-proof. People don't stop sending e-mails or checking their social media feeds during an economic downturn. As a result, investors count on these businesses for reliable income.
And business has been booming. Digital Realty Trust, Inc.'s revenues have grown at a steady pace over the past two decades. That revenue is split 80/20 between data centers in the United States and overseas. (Source: Ibid.)
That ratio, however, will likely change in the years to come. Thanks to rapid growth in emerging markets, Digital Realty executives see a big opportunity in places like Singapore and South America.
That puts Digital Realty in a position to return buckets of cash to stockholders.
One Top Dividend Stock for the Next 10 Years
Since going public in 2004, Digital Realty Trust stock has paid a distribution every single quarter. Over that period, the payout to investors has grown at an 11% compounded annual clip. Today, DLR stock pays a quarterly distribution of $1.08 apiece.
That, on a full-year basis, comes out to a yield of 3.3%.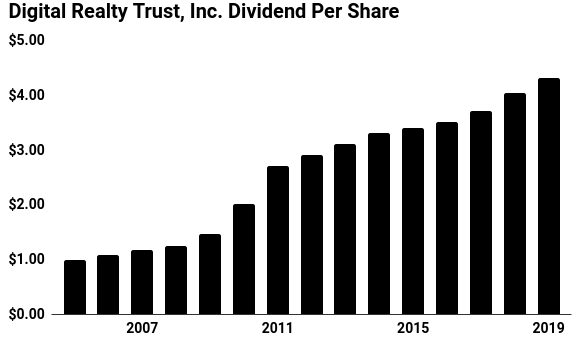 (Source: "Dividend History," Digital Realty, Inc., last accessed Oct 15, 2019.)
But here's the best part: those royalties will likely surge in the years to come. Wall Street expects that Digital Realty will grow its profits at a high-teen annual clip over the next five years, driven by a combination of acquisitions, rent hikes, and new construction.
And that forecast looks conservative, as management has a tendency to under-promise and over-deliver.
Moreover, Digital Realty pays out only $0.71 for every dollar generated in fund flows from operations, a common measure of profitability in the real estate business. This leaves management with plenty of financial wiggle room to keep raising the dividend in line with profits.
The Bottom Line on Digital Realty Trust, Inc.
Digital Realty Inc. allows investors to begin collecting royalties from Internet companies like Facebook, IBM, and LinkedIn.
With a 3.3% (and growing) dividend yield, recession-proof profits, and booming cash flows, income hunters might want to consider adding this trust to their portfolios.