15.3%-Yielding Diana Shipping Inc Swings to Q1 Profit & Hikes Dividend 25%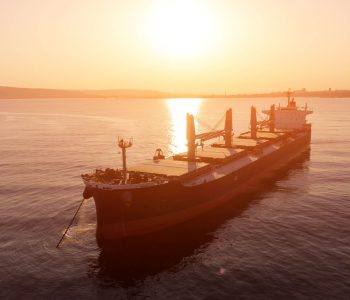 Up 75% Year-to-Date, DSX Stock Is Still Bullish
In 2022, many investors have been singing the praises of Diana Shipping Inc (NYSE:DSX), a market-trouncing marine shipping company that recently reported first-quarter earnings and revenue beats and hiked its ultra-high-yield dividend by 25%.
Based in Athens, Greece, the company provides global marine shipping transportation services. Its fleet consists of 35 dry bulk vessels: four Newcastlemax, five Post-Panamax, six Kamsarmax, eight Panamax, and 12 Capesize ships. (Source: "About Us," Diana Shipping Inc, last accessed June 7, 2022.)
The fleet's combined carrying capacity is approximately 4.5 million deadweight tonnage (dwt), with a weighted average of 10.3 years.
What's not to love about Diana Shipping stock?
These days, the entire marine shipping industry is doing well, having navigated through one of the most turbulent markets in decades. Global supply chains continue to be under significant pressure, fueled by the post-pandemic economy and the recent lifting of COVID-19-related lockdowns in Beijing and Shanghai. This bodes exceptionally well for the marine shipping industry in the second half of this year.
The good times cannot go on unabated, though; there will be ebbs and flows. Concerns about a recession and ongoing supply-chain disruptions could negatively impact results in late 2022 and early 2023, but over the long haul, the outlook for marine stocks like DSX stock is robust.
Diana Shipping stock has been seriously outpacing the S&P 500 and Dow Jones Industrial Average. As of this writing, DSX stock is up by:
26% over the last month
30% over the last three months
63% over the last six months
75% year-to-date
44% year-over-year
It's exceptionally bullish, trading approximately 20% above its 50-day moving average.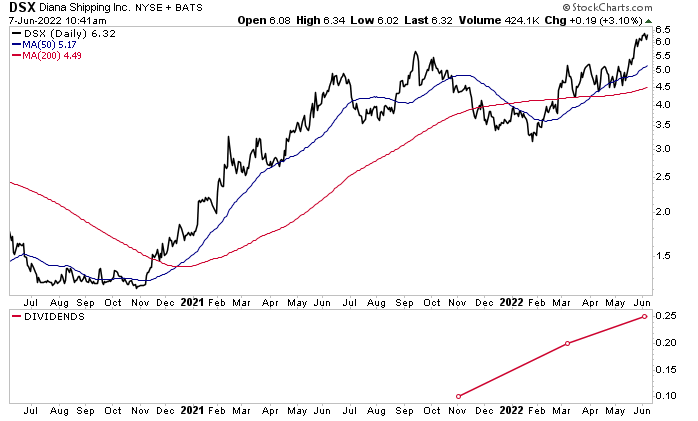 Chart courtesy of StockCharts.com
Diana Shipping Inc Announces Revenue & Earnings Beats
For the first quarter ended March 31, Diana Shipping reported first-quarter revenue of $65.9 million, a 60% increase over the $41.1 million in the same prior-year period. Analysts were looking for revenue of $64.1 million. (Source: "Diana Shipping Inc. Reports Financial Results for the First Quarter Ended March 31, 2022; Declares Cash Dividend of 25 Cents per Share for the First Quarter of 2022," Diana Shipping Inc, May 24, 2022.)
In the first quarter of 2022, the company saw an increase in its time charter revenues. That was due to increased average time charter rates that were partly offset by decreased ownership days, compared to the same quarter in 2021.
The company said this was due to vessel sales and the November 2021 spin-off of its wholly owned company OceanPal Inc (NASDAQ:OP). Every Diana Shipping stockholder received one OceanPal share for every 10 Diana Shipping shares they held. (Source: "Diana Shipping Inc. Announces Filing of Draft Registration Statement Relating to Proposed Spin-Off of Three Dry Bulk Vessels and Declaration of Cash Dividend," Diana Shipping Inc, October 19, 2021.)
At the time of the spin-off, Diana Shipping's CEO, Semiramis Palio, said the spin-off of a separate, publicly traded dry bulk company focusing on older vessels with shorter duration charters would enhance shareholder value by providing greater exposure to the shorter-term charter market. This allows Diana Shipping to continue to focus on its long-term managed growth.
Diana Shipping reported first-quarter 2022 net income of $26.0 million, or $0.31 per share, versus a first-quarter 2021 net loss of $1.3 million, or $0.03 per share. Wall Street analysts were expecting earnings of $0.28 per share .
Dividend Increase
Diana Shipping only recently restarted its quarterly dividend program after suspending it in late 2008. In November 2021, DSX stock paid out a quarterly dividend of $0.10 per share and doubled that to $0.20 per share in March 2022. (Source: "Dividend History Common Shares (NYSE:DSX)," Diana Shipping Inc, last accessed June 7, 2022.)
In May 2022, the company raised its dividend again, by 25% to $0.25 per share, for a current yield of 15.3%. With a payout ratio of just 31.6%, there's every reason to believe that Diana Shipping Inc will raise its dividend again this year.
The Lowdown on Diana Shipping Stock
Diana Shipping stock has everything going for it right now.
The marine shipping industry is running on all cylinders, Diana Shipping Inc reported first-quarter earnings and revenue beats, and the company has hiked its inflation-trouncing dividend by 150% over the last three quarters. Moreover, the chances of another dividend hike for DSX stock in 2022 are pretty high.