DHT Holdings Inc: Undervalued Stock Pays a Frothy 17.3% Dividend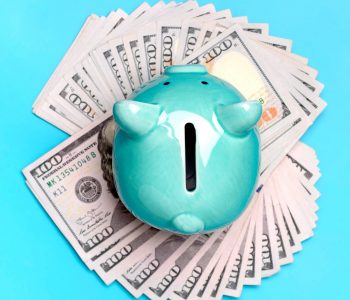 DHT Stock Remains a Long-Term Passive Income Hog
The crude oil tanker industry took a massive, unprecedented hit in 2020, with profits going from their highest to lowest ever in just under a year. But with the rollout of COVID-19 vaccines and the reopening of the global economy, the industry is poised to rebound. And DHT Holdings Inc (NYSE:DHT) could be one of its biggest beneficiaries.
DHT Holdings is an independent crude oil tanker company with an international fleet consisting of 28 crude oil tankers in the very large crude carrier (VLCC) segment. Each of these ocean behemoths can transport 2.0 million barrels of oil. (Source: "Our Business," DHT Holdings Inc, last accessed March 18, 2021.)
DHT Holdings operates through integrated management companies in Monaco, Norway, and Singapore.
Not surprisingly, DHT Holdings stock took a hit in the early part of 2020 as the coronavirus pandemic shuttered much of the global economy. With cars parked, planes grounded, and the economy grinding to a halt, the demand for crude oil tanked and investors ran for the exits.
But it wasn't all bad for oil-related stocks. Oil still had to be pumped out of the ground and shipped or stored somewhere. Last year actually ended up being a boon for crude-oil supertankers.
In March 2020, VLCCs were earning $279,259 per day; that's the second-highest level since 1990. Instead of transporting and unloading crude oil over a set period, VLCCs were used as floating storage tanks, sitting idle day-after-day. (Source: "Not-So Supertankers Deserve a Look as Pandemic Fades," The Wall Street Journal, March 15, 2021.)
The reverse is happening now, though. Demand for oil is rebounding, and so too are oil prices. But first, the industry needs to get rid of all the oil that's been sitting in tankers. As a result, from the first quarter to the fourth quarter, profits at big crude oil shippers like DHT Holdings Inc have fallen.
In the first quarter of 2020, DHT Holdings reported net income of $72.2 million ($0.49 per share), up from $17.2 million ($0.12 per share) in the first quarter of 2019. In the second quarter of 2020, the company's net income was $135.8 million ($0.92 per share), versus a loss of $10.5 million ($0.07 loss per share) in the same prior-year period.
In the third quarter of 2020, DHT Holdings reported net income of $50.7 million ($0.32 per share), versus a third-quarter 2019 net loss of $9.4 million ($0.07 loss per share). In the fourth quarter of 2020, the company reported net income of $7.3 million ($0.04 per share), versus fourth-quarter 2019 net income of $75.9 million ($0.52 per share).
Despite swinging to a fourth-quarter loss, DHT Holdings announced the acquisition of two VLCCs built in 2016, for a total of $136.0 million. The vessels will be delivered during the first half of 2021. The company will finance the acquisition with available liquidity and projected mortgage debt. (Source: "DHT Holdings, Inc. Announces Acquisition of Two VLCCs," DHT Holdings Inc, January 21, 2021.)
Moreover, the company's reduced net income took a bite out of its quarterly dividend payments. That isn't a total surprise, since the payouts are based on earnings, so they're going to be more cyclical.
| | |
| --- | --- |
| Period | Dividend Amount |
| Q4 2020 | $0.05 |
| Q3 2020 | $0.20 |
| Q2 2020 | $0.48 |
| Q1 2020 | $0.35 |
(Source: "Dividend Information," DHT Holdings Inc, last accessed March 18, 2021.)
Thanks to a strong balance sheet, DHT Holdings' dividend yield stands at 17.3%, with an annual dividend rate of $1.08 per share. The payout ratio is 83.9%, well below the 90% threshold I like to see. This suggests that DHT Holdings will continue to reward investors with an ultra-high dividend.
History is on its side. The company's trailing annual dividend yield is 16.3% and its five-year average dividend yield is 9.6%.
What's really interesting is that DHT Holdings has been able to maintain its high yield even as its share price continues to march steadily higher. DHT stock is up 14% year-over-year and up 57% since bottoming in March 2020.
Since the start of January 2021, DHT Holdings stock has rallied by an impressive 21.5%.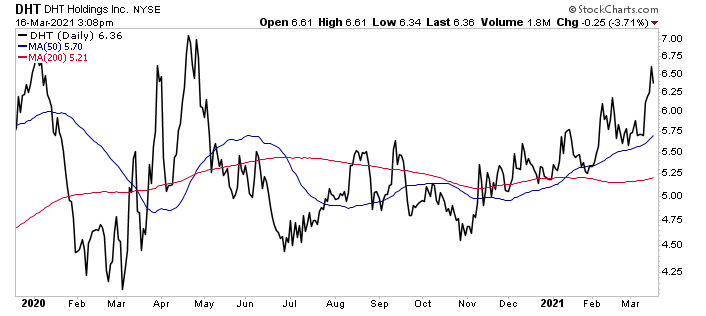 Chart courtesy of StockCharts.com
The Lowdown on DHT Holdings Inc
A leading independent crude oil tanker company, DHT Holdings Inc is financially robust, is expanding its fleet, and is poised to take advantage of improving industry fundamentals.
Despite reporting strong share-price gains, DHT stock still manages to provide investors with a huge 17.3% dividend. That's an amazing combination at a time when the global economy is set to reopen.