Devon Energy Corp: Bullish 7.2%-Yielder Raises Dividend in 6 Straight Quarters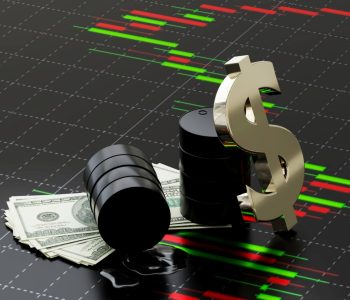 Why DVN Stock Could Be a Good Opportunity
With energy prices soaring, it looks like 2022 and 2023 could be the sweet spot for the oil and gas sector. Thanks to rising oil and natural gas prices (fueled by a tight global supply and Russia's unprovoked attack on Ukraine), energy companies have been reporting significantly higher profit margins. This has been juicing their returns to shareholders.
While many oil and gas companies have been paying out frothy dividends, few are as overt about their desires to reward passive income investors as Devon Energy Corp (NYSE:DVN).
Devon Energy is a leading U.S. independent oil and natural gas exploration and production company. Its portfolio of oil and gas properties is a stable platform for long-term financial growth. The company's first-quarter 2022 daily production was 575,000 barrels of oil equivalent (BOE) per day, with oil accounting for 50% of that volume. (Source: "Devon Energy Reports First-Quarter 2022 Financial and Operational Results," Devon Energy Corp, May 2, 2022.)
For the remainder of 2022, management expects the company's production to be in the range of 570,000 to 600,000 BOE per day, with an upstream capital investment of $1.9 to $2.2 billion—but even that number could go up.
Devon Energy Corp Increases its Dividends & Share Repurchases
On June 8, Devon Energy announced an agreement to purchase the leasehold and related assets of RimRock Oil & Gas Inc. in the Williston Basin for $865.0 million. (Source: "Devon Energy Announces Bolt-On Acquisition in the Williston Basin," Devon Energy Corp, June 8, 2022.)
The transaction is expected to be immediately accretive to earnings, cash flow, free cash flow, and net asset value. RimRock's first-quarter production was approximately 15,000 BOE per day (78% oil), with its production volume expected to increase to an average of 20,000 BOE per day over the next year.
Once the transaction closes in the third quarter of 2022, the board will approve a 13% increase to its fixed quarterly dividend. Devon Energy Corp said this will be accretive to the variable dividend in 2022 and beyond.
Returning profits to shareholders is where Devon Energy shines.
In February, the company announced its fourth-quarter dividend and the next steps in its cash-return strategy. (Source: "Devon Energy Announces Fourth-Quarter Dividend and Next Steps in Cash-Return Strategy," Devon Energy Corp, February 15, 2022.)
The board increased Devon Energy stock's fourth-quarter fixed dividend by 45% to a then-record $1.00 per share. The board went on to say that, after the fixed dividend is funded, up to 50% of the company's excess free cash flow each quarter will be distributed to shareholders through the variable dividend.
Commenting on the big returns to shareholders, Rick Muncrief, Devon Energy Corp's president and CEO, said, "Today's announcements further demonstrate Devon's commitment to lead the energy industry in cash returns and reflects the confidence we have in our underlying business and financial strength as we head into 2022." (Source: Ibid.)
Wanting to lead the industry in cash returns should warm the cockles of every dividend hog's heart.
In May, Devon Energy declared a fixed-plus-variable dividend of $1.27 per share, for a yield of $7.2%. The company has raised DVN stock's dividend for each of the last six quarters. (Source: "Dividends," Devon Energy Corp, last accessed June 17, 2022.)
Note that Devon Energy's payout ratio is just 49.9%. That gives the company more than enough financial wiggle room to continue raising its dividend.
Devon Energy also said it was accelerating its returns to investors through an aggressive share-repurchase program. In the fourth quarter of 2021, it repurchased 14 million shares at a total cost of $589.0 million. After that, the board increased its share-repurchase authorization by 60% to $1.6 billion. (Source: Devon Energy Corp, February 15, 2022, op. cit.)
In May, the company announced a further increase in its share repurchase authorization by 25% to $2.0 billion. (Source: Devon Energy Corp, May 2, 2022, op. cit.)
Chances are good this trajectory will continue. Goldman Sachs Group Inc (NYSE:GS) recently increased its price forecast for Brent crude oil by $10.00 to $135.00 per barrel for the second half of 2022 and the first half of 2023. (Source: "Goldman Raises Brent Price Outlook on Unresolved Supply Deficit," Reuters, June 7, 2022.)
Great Financial Results & Share-Price Performance
Devon Energy can afford the aforementioned cash returns because the company makes a lot of money. For the first quarter of 2022, it reported net earnings of $1.0 billion, or $1.48 per share. The company's adjusted core earnings in the first quarter were $1.88 per share. (Source: Devon Energy Corp, May 2, 2022, op. cit.)
Devon Energy's operating cash flow in the first quarter went up by 14% year-over-year to $1.8 billion. This resulted in record free cash flow of $1.3 billion.
The company continued to strengthen its investment-grade financial position in the first quarter, with its cash balance increasing by $354.0 million to $2.6 billion. Devon Energy Corp expects to further improve its financial strength by retiring low-premium debt of approximately $1.0 billion in 2022 and 2023.
The company's consistently strong financial results have resulted in outsized increases to Devon Energy stock's price. As of this writing, DVN stock is up by:
25% over the last three months
64% over the last six months
50% year-to-date
141% year-over-year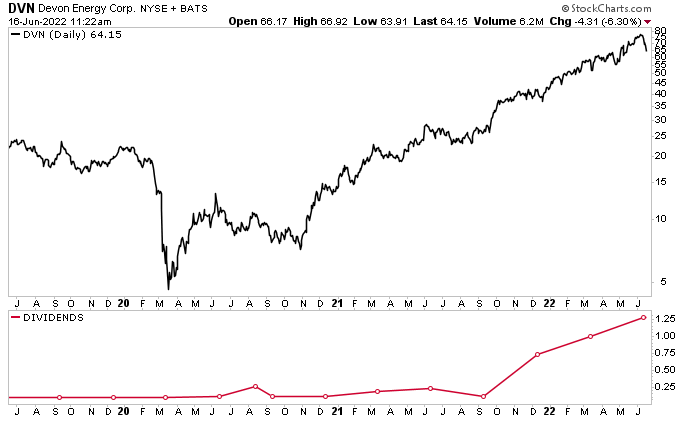 Chart courtesy of StockCharts.com
The Lowdown on Devon Energy Corp
As an energy play, Devon Energy stock will fluctuate based on economic factors including supply and demand. Right now, we're in a sweet spot for oil and gas, which has helped the company report record-setting first-quarter free cash flow.
Devon Energy Corp's continued strong financial performance allowed it to dramatically accelerate the return of capital to shareholders by declaring the highest dividend in DVN stock's history and by expanding the company's share-repurchase program.
Moreover, the company's acquisition of RimRock will help juice its production. This should further enhance the company's high-yield dividends and its share repurchase programs.